1956 Asian Cup
Winner: South Korea
Runner-up: Israel
Host: Hong Kong
The first edition of the AFC Asian Cup took place just two years after the creation of the Asian Football Confederation and saw Hong Kong awarded the hosting rights, with all games scheduled to take place at the Government Stadium. An unusual ruling meant that all games were 80 minutes long, with an extra 30 minutes extra time if the game was drawn at full time (although this didn't happen due to bad light)
Qualification saw the 20 entrants plsced into three qualification zones: Central, Eastern and Western, based on geographical location and set on a knockout system with home and away legs, with the winning team qualifying
Compared to modern international qualifying tournaments, the first Asian Cup qualification tournament was a chaotic affair, with 12 of the teams that entered either declining to play a match or withdrawing without playing a match, with some getting to the final tournament despite not playing a game.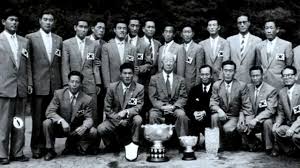 The Western Zone was the worst affected by withdrawals, with not one game taking place and Israel qualified by default after all the other nations withdrew. They were informed by the AFC that Pakistan and Afghanistan had refused to host them, then the final was a walkover as Burma, India, Iran and Nepal had all withdrawn.
South Vietnam qualified from the Central Zone, beating Malaya over two legs and then qualifying by default after Thailand withdrew from the final, while South Korea, who had represented Asia at the 1954 World Cup in Switzerland, won home and away against Philippines and Taiwan to win the Eastern Zone competition.
Hong Kong (as hosts) and Israel kicked off the tournament on 1 September 1956, with Yehoshua Glazer the difference maker with two goals against a battling host team who, despite two goals from Au Chi Yin, lost 3-2.
Five days later, the hosts took to the field again when they faced South Korea and threatened a shock when they went 2-0 up, but the more experienced Koreans fought back and secured a draw, then scored a decisive victory with a 2-1 win over Israel just two days later that left their destiny in their own hands.
Hong Kong ended their participation in the first Asian Cup with a battling draw against South Vietnam, who then lost 2-1 against Israel with Nahum Stelmach finishing his tournament as top scorer with four goals after two early goals left South Vietnam with too much to do.
In what became an unofficial final, South Korea and South Vietnam served up a thrilling encounter with eight goals, including six in a breathless 25-minute period. South Korea took the lead twice and were pegged back each time, but two goals in two minutes gave them an advantage they would not lose, with the Koreans finally winning 5-3 and securing the first ever AFC Asian Cup.