1968 AFC Asian Cup
Winner: Iran
Runner-up: Israel
Hosts: Iran
The 1968 AFC Asian Cup was the biggest tournament to date, with five teams competing for the title of Asian Champions in a round-robin format with no final for what would the last time.
It was also the first tournament with 90-minute games, after 80-minute games in the first three editions of the tournament.
1968 saw more teams enter qualification than ever before, with 14 teams playing games in Central Eastern and Western zones for the three tournament places alongside hosts Iran, who were playing in their very first Asian Cup, and Israel, defending the title they won in 1964.
Central Zone qualifying was dominated by the established order, with Hong Kong hosting the tournament and winning every game to qualify ahead of Thailand, South Vietnam, Malaysia and Singapore, but surprises occurred in the East and West, with Taiwan qualifying on goal difference ahead of Japan, with previous two-time winners South Korea failing to qualify alongside Indonesia and Philippines.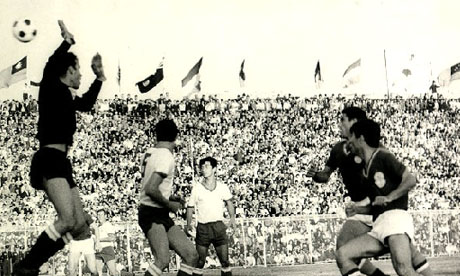 In the West, Burma hosted the qualification tournament and proved a formidable team, winning each game and not conceding a single goal to qualify ahead of Cambodia, Pakistan and an Indian team that were disappointed not to be going back to the finals after finishing second in 1964.
The Amjadieh stadium in Tehran was the venue for a game a day over nine days in May 1968 and Iran kicked off the tournament with a 2-0 win over Hong Kong.
Following this, Burma and Taiwan played out a 1-1 draw, before Israel opened their tournament defence with a 6-1 win against Hong Kong, while Iran then put four past Taiwan to set themselves up as the team to beat.
Burma then caused another shock to go with their qualification for the tournament as a Suk Bahadur goal just before half time proved enough to beat Israel and leave Iran as the favourite to win the cup.
After Hong Kong and Taiwan played out a 1-1 draw, Iran and Burma took to the field in front of 30,000 people in a game with huge tournament implications for both teams and which delivered on the pitch as Kalani scored two minutes in, but Iran were then pegged back after 50 minutes when Aung Khi equalised for the Burmese.
However, Iran were not to be denied and after Akbar Eftekhari put the Iranians back in front, Homayoun Behzadi put the Burmese away with a well-taken strike for a 3-1 win that left Iran one win away from their first tournament victory.
Following this, Israel played themselves into final contention with a 4-1 thrashing of Taiwan, while Burma ended their tournament with a 2-0 victory over Hong Kong that secured a top three victory in their first Asian Cup.
Once again, the final match proved to be an unofficial final, albeit one that Iran only required a draw and Israel needed to win by seven goals to retain their title.
Another capacity crowd at the Amjadieh stadium saw a game that started slowly, with Iran happy to sit back and soak in the pressure from Israel, while looking for a counter-attack opportunity.
After a goalless first half, Israel came out the stronger in the second half and were rewarded when 1964 top scorer Spiegel netted from close range to put Israel ahead.
With the Israelis searching for goals to peg back the goal difference, they left gaps at the back and Iran turned a one goal deficit into a lead with two goals in five minutes as Behzadi equalised with a shot that just crossed the line, then Parviz Ghelichkhani wrote himself into Iranian Football history with a 25-yard rocket that secured a 2-1 win and Iran's first ever Asian Cup.
An interesting footnote to this tournament is that, apart from Iran, none of the other teams have ever qualified for the Asian Cup finals since this tournament, either through political reasons or being unsuccessful in qualification competitions.