Al Maktoum Stadium, Dubai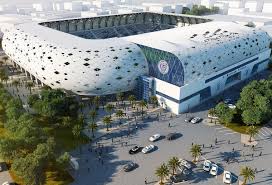 Name
Al Maktoum Stadium, Dubai
Capacity
13,000
Address
11th Street, Dubai
History
The stadium was inaugurated in 1995 and was built as the centrepiece of a major sports complex located in the heart of old Dubai in Oud Metha. It is named after Dubai's ruling family.
Matches being hosted in Asian Cup
Match 6 – 7th January – South Korea vs Philippines – Group C

Match 13 – 10th January – Bahrain vs Thailand – Group A

Match 21 – 12th January – Lebanon vs Saudi Arabia – Group E

Match 32 – 16th January – Iran vs Iraq – Group D

Match 37 – 20th January – Winner Group B vs 3rd Group A/C/D – Round of 16

Match 45 – 24th January – Winner Match 37 vs Winner Match 40 – Quarter-final

Notable Matches played
Al Nasr played European Cup champions Liverpool in a friendly on 26th May 1978
Who the stadium is home to
Al Nasr SC
Special Features
Designed by OBE Architects, the renovated stadium is expected to become 'European' with the creation of fully covered auditorium and illuminated outer wrap. Very similar to the one in Uyo, Nigeria, the cladding would be made out of translucent diamond-shaped panels. By day they would be white, by night turning turquoise and this way completing the club's blue and white colours.