Khalifa Bin Zayed Stadium, Al Ain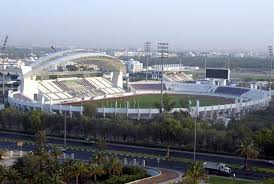 Name
Khalifa Bin Zayed Stadium, Al Ain
Capacity
12,000
Address
Al Sarooj, Al Ain, United Arab Emirates

---

History
The stadium was opened in 1971 and was built near the same area where Football was played in Al Ain between locals, expats and British soldiers. It was the original home ground of Al-Ain FC

---

Matches being hosted in Asian Cup
Match 5 – 7th January – China PR vs Kyrgyzstan – Group C

Match 14 – 10th January – Jordan vs Syria – Group B

Match 22 – 13th January – North Korea vs Qatar – Group E

Match 27 – 15th January – Australia vs Syria – Group B

Match 34 – 17th January – Japan vs Uzbekistan – Group F

Match 41 – 21st January – Runner-up Group B vs Runner-up Group F – Round of 16

---

Notable Matches played
Hosted all Group E games and two Round of 16 games at 2003 FIFA World Youth Championships

---

Who the stadium is home to
Al Ain FC (training pitch)

UAE national team also play there on occasion

---

Special Features
In 2002, the stadium underwent a series of renovations, resulting in an all new, state-of-the-art architectural design that has become a landmark of modern sports development in the UAE. The stadium, comprises a main lounge, ballrooms, office space, changing rooms, clinic and physical therapy unit.