Zayed Sports City, Abu Dhabi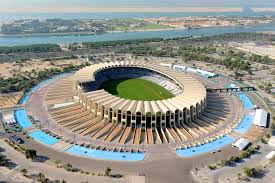 Name
Zayed Sports City Stadium, Abu Dhabi
Capacity
43,630
Address
Al-Khaleej Al Arabi Street, Abu Dhabi, United Arab Emirates

---

History
The stadium was the main part of the first project phase of a directive to the Town Planning department from His Highness Sheikh Zayed bin Sultan Al Nahyan in the role of sports toward youth and their future role in building the country through the creation of a multi-sports complex.

The stadium build was completed in 1979 with a capacity of 60,000 and opened its doors in January 1980, at a total cost of AED 550 million. It included gull size grass pitch surrounded facilities to host athletics events, an electronic board and a sound system, plus a modern electronic irrigation system.

It has been renovated over the years to accommodate the high-quality international events it was designed for, including hospitality areas, VIP and media seating, plus two new scoreboards in 2003 which helped reduced the capacity to 43,791 when it was most recently renovated in 2009 for the FIFA World Club Cup.

---

Matches being hosted in Asian Cup
Opening match on 5th January – UAE vs Bahrain – Group A

Match 8 – 8th January – Iraq vs Vietnam – Group D

Match 15 – 10th January – India vs UAE – Group A

Match 23 – 13th January – Oman vs Japan – Group F

Match 35 – 17th January – Saudi Arabia vs Qatar – Group E

Match 42 – 21st January – Winner Group A vs 3rd Group C/D/E – Round of 16

Match 47 – 25th January – Winner Match 43 vs Winner Match 44 – Quarter-final

Match 51 – 1st February – Winner Match 49 vs Winner Match 50 – Final

---

Notable Matches played
1996 AFC Asian Cup Final

2003 FIFA World Youth Championship Final

2007 Gulf Cup of Nations Final

FIFA Club World Cup Finals 2009 & 2010

---

Who the stadium is home to
UAE National team since 1980

---

Special Features
The stadium is a traditional, open-air stadium that is defined on its exterior by iconic arches. Within the stadium is a full-size football pitch and a wide concrete apron surrounds it.

Surrounding the stadium is a pre-event plaza, then a series of fountains. Beyond this is the ring road, parking lots, training pitches and the rest of the Zayed Sports City facilities.