Winner – Canada
Runner-up – Trinidad and Tobago
12-team final (Colombia, Peru and South Korea as guests)
Just two years after withdrawing from the 1998 Gold Cup amidst rumours of financial troubles and player issues, Canada surprised everyone by winning the 2000 CONCACAF Gold Cup.
They did it the hard way, having had to qualify for the first time, then beating some of the best teams in the region and beyond to become only the third country to win the Gold Cup.
The tournament would take place in Los Angeles, San Diego and Miami and was expanded to 12 teams for the first time, although this didn't mean an increase in the number of Concacaf nations competing. Instead, it saw three invited guests in Colombia and Peru from South America and South Korea from Asia.
They would join the defending champions Mexico and hosts USA from the North American Zone, the winners and runners up of the 1998 Caribbean Cup, the top three nations from the 1999 UNCAF Nations Cup and, for the first time, the top two teams from a four team play-off group, which included Canada as the lowest ranked North American team, Cuba and the third placed team in the 1998 Caribbean Cup and fourth place team in the 1999 UNCAF Nations Cup.
Caribbean Qualifying
After the chaotic qualification process for the 1998 Caribbean Cup, the 2000 tournament qualification was a lot simpler, with only two withdrawals along the way and with the six group winners qualifying for the finals tournament in Jamaica and Trinidad and Tobago.
The Netherlands Antilles showed their potential by going undefeated in Group 1, playing out a 3-3 draw with Surinam before beating Aruba 1-0 and French Guiana 2-1 to win the group.
Group 2 saw Martinique qualify on goals scored ahead of Saint Lucia, but only after they recovered from a humiliating 4-1 defeat in St Vincent. Their subsequent 4-1 win over Barbados left their fate in their own hands against Saint Lucia and their 2-1 win put them through to the finals.
Group 3 saw a surprise as Dominica topped the group ahead of 1997 finalist Saint Kitts and Nevis, their 2-1 victory against Saint Kitts proving decisive, with a 4-1 win over British Virgin Islands earning them top spot with an undefeated record.
Group 4 was won by the host nation Antigua and Barbuda, who stayed undefeated after a 2-2 draw with Guyana, a 7-0 win against Anguilla and a 2-1 win against Grenada. Anguilla suffered greatly in the group, conceding 35 goals in three games, including 14-1 and 14-0 defeats.
Group 5 saw US Virgin Islands withdraw beforehand, but didn't affect the final rankings as Haiti won both games, scored nine goals and conceded no goals as they qualified ahead of Dominican Republic and Puerto Rico.
Group 6 was reduced to three teams after Turks and Caicos Islands withdrew and was a closely run affair, with Cayman Islands qualifying on goal difference ahead of Cuba after a 2-0 win against Bermuda.
The finals tournament was split into Group A in Trinidad and Tobago and Group B in Jamaica and saw both host teams win their groups with flawless records.
Trinidad and Tobago won all three games, taking the first two games with a battling 3-2 win against Antigua and Barbuda and a last-minute Stern John goal that clinched a 2-1 win against Martinique.
They then cut loose in the last game and put eight goals past Dominica, with Stern John adding four goals to his tournament tally in a dominant performance. Antigua joined Trinidad in the Semi-finals with a 5-1 thrashing of a demoralised Martinique.
Jamaica copied their co-hosts with three wins out of three, putting four past Cayman Islands, edging a 3-2 win over Netherland Antilles after a late Walter Boyd goal, then securing top spot with a 2-1 win against Haiti, who made the Semi-finals after winning their first two games.
The Semi-finals showed who the current lead nations were in the Caribbean as, first, Jamaica held off a determined Antiguan side to win with an Onandi Lowe goal in extra time for a 1-0 win, then Trinidad and Tobago showed why they were the team to beat with a 4-1 win against Haiti, with Stern John adding two more to his tournament tally.
Haiti secured their place in the Gold Cup playoff group with a 3-2 win in the 3rd place playoff against Antigua and Barbuda, before Jamaica and Trinidad and Tobago emerged for the showpiece Caribbean Cup final, with Trinidad favourites to win another Caribbean Cup.
However, the Jamaicans, who had just come from their first appearance in the World Cup, had other ideas and tore into the Trinidadians straight away, with the rewards coming from an Oneil McDonald goal after just six minutes.
That shook the Trinidadian team and Jamaica were able to give themselves a cushion when Dean Sewell added a second after 34 minutes. Despite Stern John getting his 10th goal of the tournament, Trinidad and Tobago couldn't find a second goal and Jamaica celebrated their second Caribbean Cup.
Central American Qualifying
In the 1999 UNCAF Nations Cup, held in Costa Rica, the Panamanians declined to enter, leaving six teams divided into two groups.
Group A saw Honduras win the group with two wins, beating Belize 5-1 and hosts Costa Rica 1-0, the hosts having already qualified with a 7-0 win over Belize, while Guatemala and El Salvador went through from Group B after 1-0 wins over Nicaragua, with both teams sharing top spot on four points and equal goal difference and goals scored.
The final round was a real battle between three teams, with El Salvador the unlucky team as they lost all three games to enter the playoff tournament.
Costa Rica, Guatemala and Honduras each won two games and lost against a rival in the group, but Costa Rica's 4-0 win against El Salvador saw them win their third UNCAF Nations Cup on goal difference.
The playoff tournament was played out over four days in Los Angeles and saw Canada emerge as the top qualifier with two wins and a draw, while El Salvador bowed out with only a solitary point.
The second qualifying place came down to a tie-breaking measure that caused controversy as Haiti and Cuba finished on four points, but the Cubans had a better goal difference than the Haitians.
However, CONCACAF had decided before the tournament to use the result between the two teams as the first tie-breaker, so Haiti qualified for their first Gold Cup on the back of a 1-0 win against Cuba. The Cubans protested afterwards, but their protest was rejected and Haiti were able to prepare for their first Gold Cup, having won the Concacaf Championship in 1974.
Finals Tournament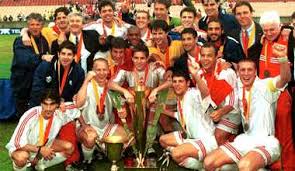 At the finals tournament, Group A and Group B were played together as double-headers at the Miami Orange Bowl.
Group A saw one of the first surprises of the Gold Cup when after Colombia and Honduras had beaten Jamaica to send the Caribbean team home, Honduras then shocked the Colombians with two late goals for a 2-0 win that helped them top the group.
Group B was dominated by the hosts USA as they beat Haiti 3-0 and Peru 1-0 to top the group, with the Peruvians sneaking through in second place on goal difference after they had drawn 1-1 with Haiti.
Groups C and D followed the same double-header path as the other groups, with games taking place in San Diego and Los Angeles.
Group C was won by Mexico after they thumped Trinidad and Tobago 4-0 in the first game of the competition and played out a 1-1 draw with Guatemala, with the Trinidadians making their way to the quarterfinals after a 4-2 win Guatemala.
Group D was the closest group of the lot as every game finished in a draw between Costa Rica, Canada and South Korea. Costa Rica topped the group on goals scored after 2-2 draws with Canada and South Korea, with the other game a goalless draw. With all the other tie-breaking procedures not being viable to use, it required a coin toss to decide the second place in the quarterfinals, which Canada won to go through.
For the first time in Gold Cup history, the knockout stages began with a Quarter-final round, with the first two taking place in Miami at the Orange Bowl.
The first Quarter-final brought the hosts up against an improving Colombia side. The game was a back and forth encounter, with Brian McBride giving the USA the lead after 20 minutes, only for Faustino Asprilla to equalise four minutes later.
Chris Armas put the Americans back into the lead just after halftime, but Colombia levelled it up against at 2-2 from a Gerardo Bedoya finish. Golden Goal extra time couldn't separate the teams, so it went to a penalty shootout. So began one of the nerviest penalty contests of the modern era as six players missed their penalties, with only three finding the target. Ben Olsen's miss ended the USA's tournament and put Colombia through to the Semi-finals.
The other Quarter-final at the Orange Bowl was another classic, full of goals, passion and controversy, as Honduras and Peru shared eight goals.
Peru led 2-0 after just 14 minutes and 4-1 after 52 minutes, but never looked fully comfortable as Honduras kept fighting back and kept attacking and they gave themselves hope of a comeback with a Pavon penalty and a Pineda goal within two minutes of each other to bring the score back to 4-3.
A Waldir Saenz goal with just three minutes left ended that hope and a pitch invasion forced the referee to abandon the game, with the score staying at 5-3, giving the Gold Cup an all-South American Semi-final.
The next day saw the other two Quarter-finals at Qualcomm Stadium in San Diego.
The first game brought two of the rising forces in CONCACAF football together as Costa Rica faced off against Trinidad and Tobago. After Arnold Dwarika gave the Trinidadians the lead, it looked like they had done enough to hang on and make their first Semi-final, only for Paulo Wanchope to fire home an equaliser with two minutes remaining.
It was a shock to the Trinidadians and they could have been forgiven for not focussing as Golden Goal extra time began. However, they found their focus and Mickey Trotman wrote himself into Trinidadian football history when he scored the golden goal to send the delirious Trinidadians through.
The other Quarter-final was just as dramatic and produced one of the great tournament shocks between Canada and Mexico. It seemed like another routine win for the tournament holders when Ramon Ramirez danced through the Canadian defence to put Mexico ahead.
However, Canada were not to be overawed by the occasion and their opposition and Carlo Corazzin headed home an equaliser with just seven minutes left. This meant the game ended 1-1 after normal time and brought about another golden goal period.
Canada then ended the Mexican domination of the Gold Cup when, just two minutes into the first period, Richard Hastings ran onto a Martin Nash pass, took one touch and fired the winning goal into the roof of the net to send Canada through.
This meant a new team would be crowned Gold Cup champion, with the Semi-final between Trinidad and Tobago and Canada deciding who would be CONCACAF Champion.
That game took place at the LA Memorial Coliseum and was a tight affair, played out in a sparsely attended Coliseum. It was a game that would take one goal to decide the winner as both teams looked for their first Gold Cup final and after Craig Forrest saved a Dwarika penalty, Mark Watson nodded home the only goal after 68 minutes to put Canada into their first ever Gold Cup final.
They would face Colombia in the final after an own goal by Marcial Salazar and a well-taken goal by Victor Bonilla gave them a lead that Peru could not comeback from, despite a Roberto Palacios goal that set up a thrilling last 15 minutes.
The showpiece final was not a big draw fan-wise, with just 7000 people in attendance for the final, but it was still a huge occasion for Canadian Football as they looked to become only the third winners of the Gold Cup against a very good Colombian team.
It was a rainy day in Los Angeles and the ball became slick to handle for the goalkeepers. It was from this that the opening goal came as Diego Gomez fumbled a Jason de Vos header over the line, giving Canada the lead just on halftime.
This gave Canada the momentum and they doubled their lead after 68 minutes when Carlo Corazzin fired home a penalty after Jeff Clarke was fouled by the on-rushing Gomez.
Colombia had a chance to reduce the arrears, but Faustino Asprilla hit a weak penalty in to the arms of Craig Forrest, and Canada were able to play out the remainder of the game to win the Gold Cup with a 2-0 win for an unlikely, but very well received victory.