It was entirely predictable that Sepp Blatter's comments on the 2022 World Cup in Qatar being played in January raised a howl of protest.
Not only does it seem extraordinary that after the game is over, the rules of the game are changed, but the near-revolution this would cause to the European game is incalculable.
But what has been missed in all this is that Blatter, the most consummate of sports politicians – one who could teach those who make a living out of politics a trick or two – is not actually concerned about whether the World Cup moves to winter.
His remarks are really part of an elaborate re-election strategy designed to clip the wings of Mohammed Bin Hammam, lest his World cup triumph give the Qatari fanciful ideas.
Blatter eyes are on June of this year when the FIFA Congress meets in Zurich, and Blatter goes for yet another term as President.
Until the afternoon of December 2, this seemed fairly straightforward. Blatter was going to stand again, there seemed no other candidate who dared oppose him and, as happened last time round, he would win unopposed and by acclamation.
But then on the afternoon of December 2, he opened the envelope and there was the name of Qatar printed next to 2022 World Cup.
What is more, Qatar had won it in style, getting 11 votes in the first round and fairly annihilating a field which included United States and Australia.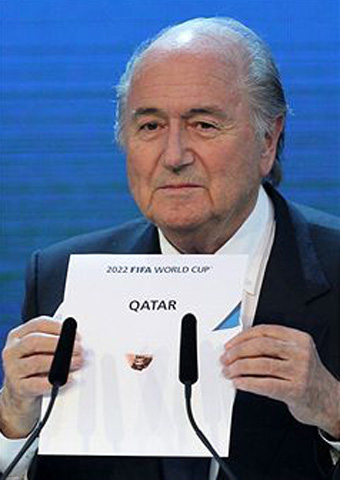 Blatter has made no secret of the fact that he would have loved to be a showman. The job he loved best in FIFA was the World cup draw and he retained his showman's instincts as he congratulated Qatar.
His talk was all about taking the World Cup to a new frontier, the first Muslim country, the first time in the Middle East. But there can be little doubt he was truly shocked.
Although the votes of the FIFA Executive members are secret, and there has been much speculation as to who votes for whom – the mystery of the second vote England got still continues and may never be resolved – there is not much doubt about how Blatter voted.
He wanted Russia for 2018 but did not want Qatar for 2022. Australians sources are pretty confident Blatter was their lone supporter and then his support appears to have switched to USA. Qatar's 2022 victory was the one victory Blatter could not have wanted.
It meant that Mohamed Bin Hammam, the Qatari head of the Asian Football Confederation, who also sits on the FIFA Executive, was once again a huge power in world football.
Once a close friend of Blatter, but since then estranged, the whole Qatar campaign had shown Bin Hammam could punch well above his weight.
For Blatter this spells great danger. Could Bin Hammam now think of standing for election as FIFA President? If he could deliver Qatar the World Cup, how much easier would it be for him to dethrone Blatter?
You can see the outline of any Bin Hammam campaign. All the FIFA presidents so far have been either European, or of European stock like João Havelange.
If this body that controls world football is really to be global, then it must at some point have a non-European head. It has taken the World Cup to new continents – Africa and now to the Middle East. So who better than Bin Hammam to be the man to represent the new frontier?
And this is where Blatter's remarks about 2022 Qatar moving from summer to winter comes in.
He made the remarks while he was in Doha for the Asian Cup. Qatar had not asked for such a move and the remarks were clearly designed to put Qatar and Bin Hamman on the defensive.
Their bid was that, despite the heat, Qatar could handle the World Cup. Now by making so much play of the summer heat and protecting the players, Blatter has re-opened the debate, just when Qatar was hoping everyone would forget and they would have 11 years to somehow convince the world a summer World Cup in the Middle East desert was possible.
This is very similar to the way Blatter used Vladimir Putin's remarks about the British press just before his executive was getting ready to vote.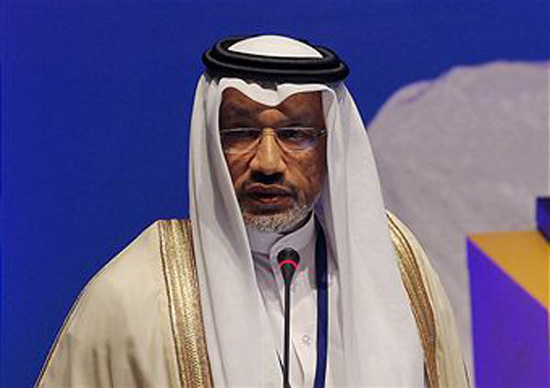 Blatter, recall, reminded his fellow executive members of the way the British press had behaved. Now he was putting Bin Hammam (pictured) on the back foot where almost any response would merely expose Qatar's bid and cast doubts on his leadership.
What does he say: no, we can still hold it in summer, as we said in the bid book? Or does he agree that the bid was made under a false prospectus, and Blatter is right to protect the players and say it has to be in January, not July?
Blatter further increased the pressure on Bin Hammam by saying he could see 2022 being spread around Middle East countries.
No remark could have been designed with the election more in mind. There are lots of votes in that region and Blatter was cosying up to them.
The remarks were designed to arouse expectations, and again put Bin Hamman in an awkward position. What does he say: no thank you we need no help, which will make him even more unpopular in his region?
Or does he say yes we shall share, which would again raise questions as to how upfront Qatar was when it made the bid?
Blatter, the astute politician, must have calculated all this and, as Bin Hammam squirms, he is enjoying this.
However shrewd he is, Blatter is also courting danger. The clubs in Europe view the prospect of a winter World Cup with something approaching horror.
At the moment they are inside the big FIFA tent, but only just. Should they feel Blatter is threatening to choke them, then some of them might decide that it is worth taking Blatter on.
The often-rumoured move is a breakaway League. However, a World Cup in January, which threatens their competitions, could be seen as violating the Treaty of Rome and, should matters relay get serious, these clubs could petition the European Commission against FIFA.
It could become a sort of big club version of the Bosman case. That would be interesting.
But my feeling is all his talk of a January World Cup shared by many countries in the Middle East will come to nothing. Blatter will make these noises till he knows who will contest against him for the Presidency. If no one stands, then this proposal, like the one about World Cups every two years, will disappear.
Bill Clinton's campaign manager for the 1992 Presidency said "it is the economy, stupid".
With Blatter, the watch words are "it is the election, stupid".
Mihir Bose is one of the world's most astute observers on politics in sport and, particularly, football. He formerly wrote for The Sunday Times and The Daily Telegraph and until recently was the BBC's head sports editor