English football fans are be capable of much humour, no little inventiveness and a warmth and goodness that can be truly uplifting, but the capacity for some fans to be vile should not be underestimated. Events at some recent matches have once again demonstrated that.
So during their Carling Cup encounter, Manchester United fans were taunted by chants from Leeds fans about the Munich air crash and United fans, in turn, retaliated with chants of Istanbul, a city where Leeds fans were killed. Fans of other clubs have also indulged in such behaviour and in the past, clashes between Manchester United and Liverpool have seen extremely disgraceful references to Munich and the death of Bill Shankly.
For a long time now, English football has developed a default position on this. Everyone agrees how deplorable such chants are, that they have no part in any football match and that the fans who behave in this fashion do not represent the game. These fans are presented as an alien minority who have somehow infiltrated the game and reflect more the ills of society rather than the ills of the game. In my opinion, that argument has always been a cop out.
Football fans, of course, reflect society and must contain a share of those who have helped many people, including the Prime Minister, conclude that we live in a broken society. But for English football to pretend that this sort of vile chanting is not a problem that football has to deal with, is to revisit the awful road football authorities journeyed back in the 70s and 80s when the game in this country was forced to deal with racism.
Back then, football had pretended for a long time that racism was not a problem within the game, but merely a reflection of the ills of the wider society. It required long campaigns by Kick It Out and others before football accepted that it had a problem which it had to deal with. And to football's credit, it did. Racism has not been eliminated, but it is nothing like it was back in the 1980s. In much the same way, football needs to tackle some of the vile chanting which has been tolerated for far too long and is an inevitable product of the tribalism that the game has encouraged over the last few decades.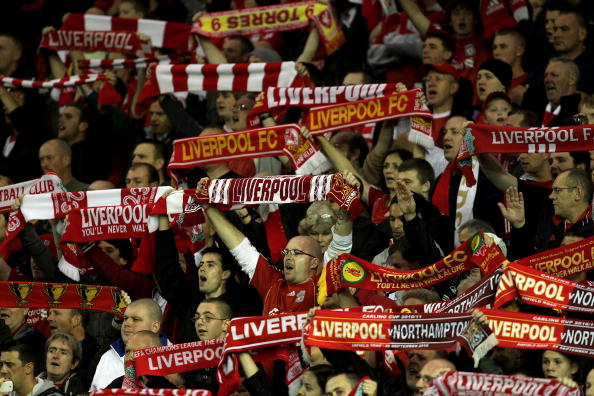 This has bred a fan culture where the club you first support is the only club you can ever support. People may change their political allegiances, their partners, their faiths, some can, and even have, changed their skin colour, and, of course, live using kidneys and other vital organs that were once part of another human being, but you cannot change your club. Do that and you are branded as a traitor. In a world where everything can change, the one thing that cannot change is your football club. And loyalty to the club has to be demonstrated, so players must broadcast their loyalty and kiss the badge and join fans in abusing rivals. Should they move club, they must never ever show any joy in beating their previous club. Do that and you are condemned forever.
Football authorities have, perhaps unwittingly, encouraged this climate of hate by segregating fans. I'm well aware that segregation came about as a reaction to the violence of the 70s and 80s, but it is amazing that two sets of supporters cannot sit next to each other in a sporting contest without there being fear of violence. In other sports such as rugby or cricket, such segregation is unthinkable. In cricket, Indian and Pakistani supporters – and these are two countries that have thrice gone to war in the last 60 years – cannot only sit next to one another but often share a paratha (Indian bread). But in football, home supporters are at one end of the stadium, the opposition supporters at the other, encouraging a sort of medieval confrontation.
It is in such a climate that these vile chants have flourished.
Football support was not always about such tribalism. Hard as this may be to believe, there was a time, even as late as the 60s, when you could get a Tottenham season ticket holder who also had an Arsenal season ticket. His first club may have been the Lilywhites, but he had no problem going every other Saturday to Highbury. And that was also the case in Manchester where Moss Side one week, Old Trafford the other, was not all that uncommon.
And, of course, football players were not devoted to just one sport, but adept at other games. This was a time when most clubs had players who played both football and cricket, some with such skill that dual internationals were not that uncommon. That age does sound prehistoric now, but it was only half a century ago. The demands of the modern game, football as much as cricket, means another Dennis Compton, Wembley followed by Lord's, is impossible.
However, that does not mean that football authorities cannot encourage fans to accept that support for their club, even love and affection for it, does not have to be converted into hate for their opponents. And what is encouraging is we are now getting chairmen of clubs who are not afraid to declare that, yes, they once had another football love, indeed, they still love that other club. In recent weeks, I have met two who are quite willing to talk about their first football love, even as they guide the destiny of a very different club.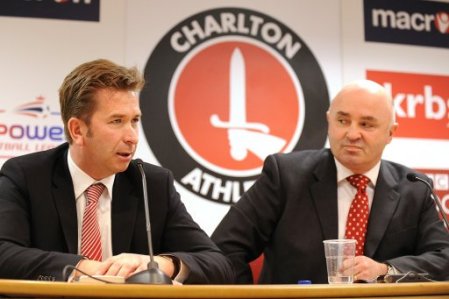 The first of them was Michael Slater (pictured left), the Charlton chairman. A solicitor, who now manages property funds and investment groups, he is not a man who is ready to reveal much. So he would not tell me how much he and his partner, Tony Jimenez, paid for the League One club when they bought it last December. All he would say was that it was a nominal amount. I later ascertained that he had paid a pound ($1.6/€1.15) to take on debts of £14 million (S22 million/€16 million).
Slater is even more tight lipped on how much the club has spent on the transfer market, which saw 18 new players arrive and 14 leave. Yet, with a candour that marks him out for a chairman ready to take on the tribal beasts of football, he readily admitted, "I still have a season ticket for Man City. I grew up six miles from Moss Side and I was taken to Maine Road when I was five. I have family there, my mother lives in south Manchester. On match days, I drive up, have tea with my mother, then meet friends and go to the Eastlands. It is quite easy."
There then followed memories of the Manchester City's players of the 70s and how he had been to this season's opening game against Swansea where Sergio Agüero, as he recalled, "scored two incredible goals".
Slater did wonder when he bought Charlton, whether he could square being chairman with his love for the Manchester club. He now says he has since learned to love Charlton, but admits that should the two clubs meet – they could only do so in a cup competition – it would be a "a tricky" situation.
But what reassured Slater, and this is significant, is that Charlton fans understand. He had been open about his City allegiance. Of course, it helped that Charlton were close to administration when he bought the club. Since then, he has made one of the fans favourite players, Chris Powell, the manager, bought new players, and the club is top of League One. He can present himself as a genuine person who has not come in to make a quick buck.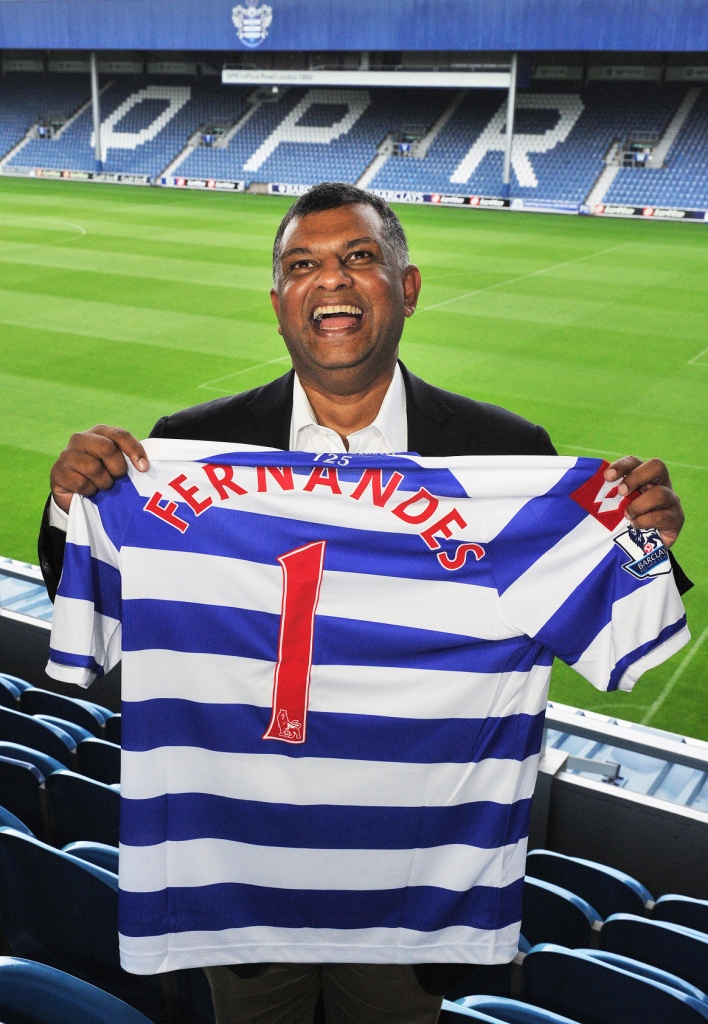 Interestingly, Tony Fernandes (pictured), who came close to buying Charlton before Slater nipped in, has also not shirked from talking of his first love, even as he bought another club. The man who made such a success of Air Asia has been a West Ham fan since the age of eight. He has a vivid memory of how he fell in love with the Hammers.
"Growing up in Malaysia we used to get these matches, after about three months. The programme was called Star Soccer, a Central TV production. Generally, they showed matches between Stoke, Wolverhampton Wanderers and Birmingham, it was awful football. The pictures were really muddy and it was all long ball. And one day I saw this team playing Wolves, West Ham. They played from the back, and they played really attractive football and I was like, 'Wow!', and that was it. I said 'I'm going to support West Ham.' I started listening to Paddy Feeney on the BBC World Service."
Fernandes tried to buy West Ham several times, failed and it was this that led to Bernie Ecclestone, the QPR owner, keen to get rid of the west London club, offering it to him. It helped that he had always liked QPR. When he first moved to London as a student, he lived near the ground and went there often. But if QPR is his second club, his first club remains West Ham. However, unlike Slater, he is not a season ticket holder.
In time, no doubt both chairmen may come to love the clubs they own more than the ones they followed as boys. However, the fact that both of these chairmen are willing to openly discuss their first love, even admit that it is quite alright to fall in love with one club and then manage another, marks a welcome dent in the tribal wall that football has built up over recent decades.
We need other chairmen and people who run football to be more open about their feelings and take on the tribal merchants of hate. That will only be a first step. Eventually, football needs to return to the time when supporters were not segregated and you could go and sit next to a rival fan, josh each other about your rival teams, but not fill the air with hate. Until that happens, the vile chants will not cease.
Mihir Bose is one of the world's most astute observers on politics in sport and, particularly, football. He formerly wrote for The Sunday Times and The Daily Telegraph and was formerly the BBC's head sports editor. Follow Mihir on twitter.