The Football Association (FA) does not often deserve sympathy. It has certainly had little over the John Terry affair which had such dramatic consequences that it produced, arguably, the most unexpected collateral damage ever seen in the game. England lost their manager Fabio Capello just months before the second most important tournament in the world. And this, in turn, set off a chain of reactions that also contributed to the departure of Harry Redknapp from Tottenham Hotspur.
Yet it is hard not to feel a smidgen of sympathy for the organisation as it considers whether it should now charge Terry, having resumed its inquiry now that he has been cleared in a criminal court of racially abusing Anton Ferdinand (pictured below). It is interesting to note that no sooner was the verdict reached, many in and outside the game made it clear the FA should carry out its own investigation. As Paul Elliott, Chelsea's first black captain, put it to me: "Not withstanding that John Terry has been cleared in a criminal court, the FA must see if any rules of football have been violated."
In the two weeks since, the FA has said nothing and this has lead to further unease. As Clarke Carlisle, chairman of the Professional Footballers' Association and a current player told me: "There is confusion in the football community and a complete lack of communication from the FA with regard to this issue. The court case finished nearly two weeks ago and there has been no statement from the FA in regard to where it is heading. Football needs to have closure on this issue as we face the new season. We need to put this debacle behind us. This is affecting both the black and white players of my union."

The problem for the FA hierarchy is that on this issue they must be seen to be behaving in exactly the right fashion. So David Bernstein, chairman of the FA, was at pains to stress to me: "This is an absolutely independent process. I, as chairman, and the executive are not involved. We have to maintain a Chinese wall and the process is moving as fast as it can. The FA is being advised by leading QC and it is a complicated process."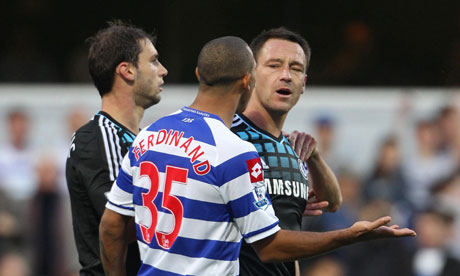 He can certainly say that again as I discovered when I spoke to Simon Pentol, a leading London barrister. Pentol's views are fascinating. He is in the same practice that successfully defended Terry, although Pentol, himself, did not act for Terry and therefore can be considered neutral on this issue. For a start, Pentol questions the common view that the FA would have to charge not only Terry but also Ferdinand.
This may seem strange given that in the trial both men admitted using foul and abusive language and this would come under FA Rule E3(1) which deals with threatening, insulting or abusive words or behaviour.
But listen to Pentol: "If they charged both players their defence would be that everybody does it, it is an accepted part of the game. Nobody complained, not even the off-duty policeman whose complaint about Terry using racial language led to the criminal trial. You cannot bring a charge of bringing the game into disrepute if it is already in disrepute and you are doing something in common practice. On that basis almost every professional player in England will have to be charged."
He accepts that Terry could be charged under Rule E3(2) which deals with racially aggravated behaviour. This would result in a hearing similar to the three-man commission that found Liverpool's Luis Suárez guilty of racially abusing Manchester United's Patrice Evra (pictured below). Suárez was banned for eight games and fined £40,000 ($62,000/€51,000).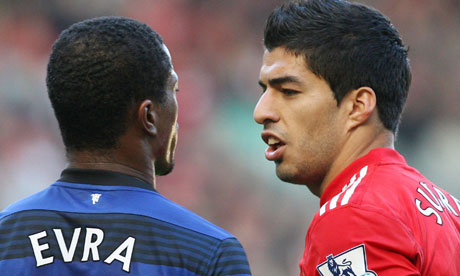 Pentol goes on to argue that, in a sense, the FA could go where the criminal court could not: "The FA misconduct charge is slightly different to the criminal charge. In the criminal charge it requires an intent to be abusive. Terry successfully showed that he had no intent to racially abuse Ferdinand. He admitted saying 'f*cking black c*nt', but this, he argued, was rhetorical. Now, had the lip reader found he had prefaced it by using the word you that would have been a killer. But the lip reader did not, and Terry's defence was successful."
However, Pentol cautions this distinction may not hold water: "The lip-reading evidence was very inconclusive. Lip reading cannot judge tone. Terry made much of the tone in which he used the words and there was no evidence to contradict him. The chief magistrate found him 'a credible witness'. If the FA should charge him, he will argue that this is a retrial of his criminal case where he was cleared. This could result in Terry challenging the decision to charge him in front of the tribunal. If he was unsuccessful, he could seek redress before the courts. The result of this could be the FA charge him, but the case does not proceed to trial."
Pentol also cautions against those, like former FA chief executive Mark Palios, who have made much of the fact that an FA tribunal decides on balance of probability, a lower threshold than that of beyond reasonable doubt used by criminal courts: "Balance of probability could in theory mean that, in a case where the evidence is weighed 51 per cent against the defendant, there could still be a finding against him. However, the more serious the charge, this percentage rises as it did in the Suárez case. The result is that it effectively means that balance of probability comes close to becoming reasonable doubt and there is very little difference in how strong the evidence has to be to lead to a conviction. And remember, Terry successfully showed in his trial that the lip readers – both defence and prosecutor had one – could not prove that he meant to use the words as racist abuse. So there is every chance he would be able to do the same in front of the FA tribunal.


"I am well aware that if the FA do not charge Terry, many in the black community, the Kick It Out campaign (pictured above) and correct-thinking people in this country will raise a storm. But the problems of the case are such that the FA will be damned if they charge Terry and damned if they do not. They cannot win on this one."
Penton's conclusions are very interesting: "Whether the FA charge Terry or not, this case provides it with a chance to draw a line. Make it clear that in future, such behaviour will not be accepted in the game. I take the point of Clarke Carlisle that while 25 per cent of the players are black, they are not adequately represented in the boardroom or in the dug-out. Imagine if Paul Ince is your manager. You could not use such words. And this is where Liverpool went wrong in their defence of Suárez. It showed a lack of realisation of the impact such words have. While the legal issues are far from easy to resolve, the case does provide the FA with an opportunity to act decisively. On race, it is not enough just to back Kick it Out, something more needs to be done by way of clear and unambiguous directive by the FA at all levels of the game that foul and abusive language on the one hand, and racially inflammatory language on the other, will not be tolerated under any circumstance."
The FA's willingness to act will prove whether or not it means business on this issue.
Mihir Bose is one of the world's most astute observers on politics in sport, particularly football. He wrote formerly for The Sunday Times and the Daily Telegraph and was the BBC's head sports editor.
Follow Mihir on Twitter.
www.mihirbose.com