This is how the Swiss national football team lines up, proudly ranked as one of the eight top ranked teams for the World Cup in Brazil…
…..and this is how that team would look if players with immigrant backgrounds were taken out.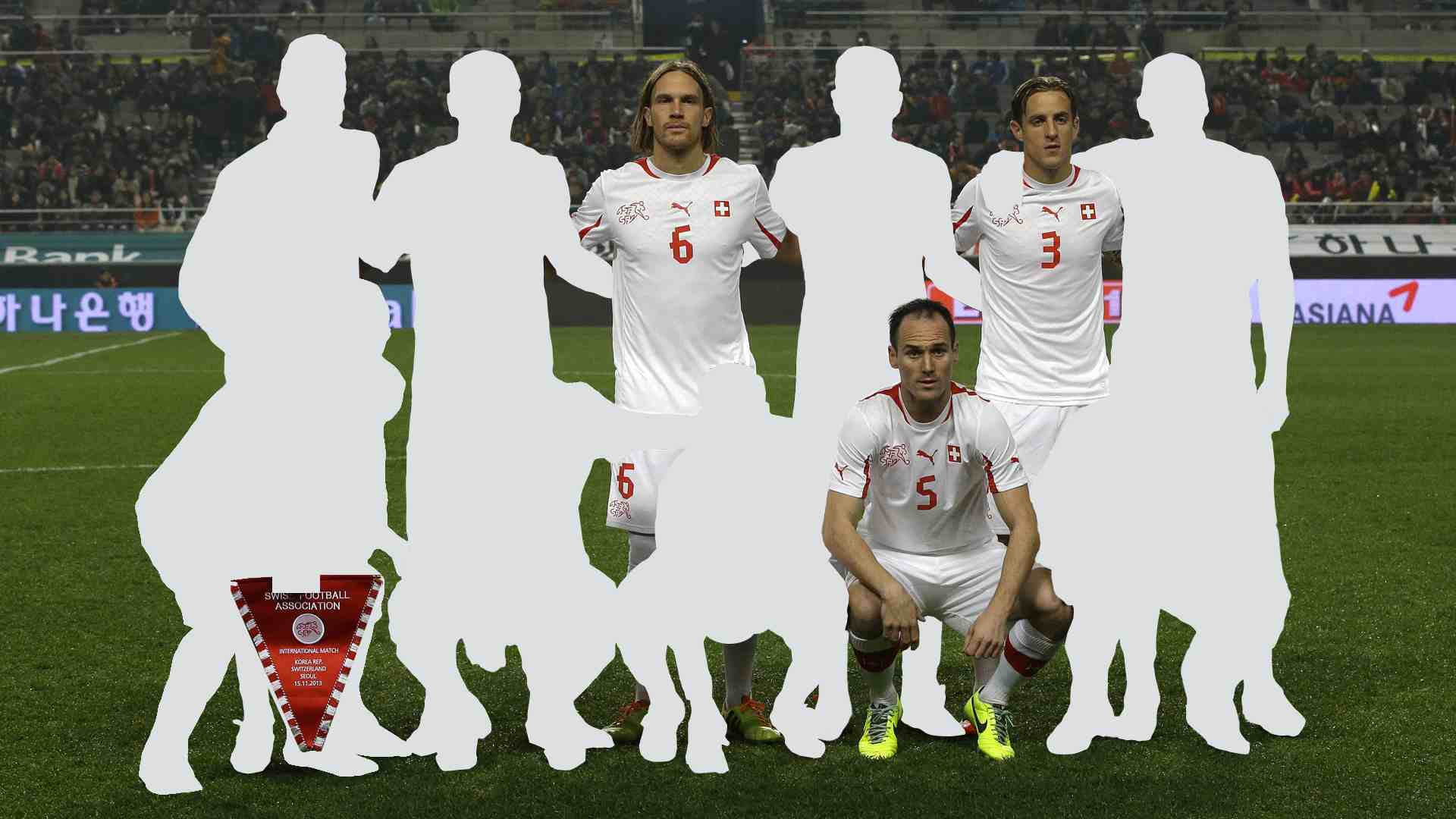 The team provides a snapshot of where Switzerland is in 2014 and where it might be heading. It's citizens are trying to make sense of what they have just voted for – a limit on immigration.
Switzerland is proud of its 'direct democracy', theoretically allowing its people to shape the destiny of their alpine nation. But this referendum has caused serious unease, and a major stir across Europe and beyond,
The 'winning' margin of 'yes to quotas' was slender, 0.6 per cent. I spoke this week to many Swiss people from a mix of backgrounds and ethnicity. It's a far more subtle situation than a split in the middle or a hotbed of extreme views. Does anyone know what it means to be Swiss in the year 2014? With its various influences and cultures, who do the yes voters want to keep at bay? Immigrants from Eastern Europe, immigrants from Western Europe, German speakers, French speakers, Italian speakers….or is it another vote against the EU?
Some express concern about the size of Switzerland, where about 8 million people live with approximately a quarter having immigrated, the second highest percentage in Europe. But the vote has sent a confusing message to the world.
People told me how some friends and relatives voted without fully considering the consequences – they weren't necessarily expecting a YES vote to prevail. Outside of cities and towns the proportion of yes votes was relatively high…opposition to immigrants in towns where the immigrant population is relatively small. There is also talk of second generation immigrants voting yes because they now feel the country is full. This referendum has certainly roused Switzerland.
Nina Brunner is one of the leading news and current affairs broadcasters in the country. Over a game of table football she tells me: "Wherever you go, in the tram station, where you eat, with your families, people are talking about this – quite furiously sometimes. You can't just say they are racist that would be too easy, but let's say for about about 10% of the vote – we don't really know where the yes came from."
Jurg Stahl is a politician of the SVP, the Swiss people's party. They are in favour of quotas. He says resisting EU control and French/German influences is a factor, but maintains he is not against 'talented young' immigrants coming to the country but things can't 'get crazy' pointing to my own nation, the UK, as an example where people are concerned at immigration levels.
Stahl is also a passionate football fan and is aware of the apparent contradiction between the national football squad and the referendum on immigration. The squad is a perfect snapshot of a multicultural society, a team that has developed and succeeded together and made Swiss people proud.
Around two thirds of the squad expected to be selected for Brazil have come from immigrant backgrounds, mainly Balkan nations. Several have Kosovar roots including star player Xherdan Shaqiri. Captain Gokhan Inler was born in Switzerland but has Turkish roots. There are players from Italian backgrounds, Albania, Croatia, Serbia, Bosnia, Spain, Cape Verde and the Ivory Coast, where defender Johan Djourou was born,
"Of course the players talk about it that's normal, we are human not just footballers and we look at what's going on around us. For a country like Switzerland that has so many different nationalities of course it's a big deal. Switzerland has a lot of values and those values are from the people abroad. I think we should not forget that and try to keep society as it is now," said Djourou.
The coach is the experienced German Otmar Hitzfeld. There is apprehension and surprise around in a media conference when I ask him about immigration quotas and how it will change Switzerland and the look of its football team. But he politely accepts the issue needs to be considered: "They will talk about in the next three or four years but with the guys we have now there is lots of heart and ambition in the team. They choose Switzerland and nothing will change."
I travelled from Zurich to St Gallen for Switzerland's latest World Cup warm-up match against Croatia. The match encapsulates how national identity in Switzerland is not straightforward. Like many Swiss towns St Gallen has Croatian immigrants. There are Swiss players in the home squad with Croatian backgrounds, and the not for the first time the Croatian team has a player – born and raised in Switzerland, Ivan Rakitic.
Josip Drmic, of Croatian descent, scores both of Switzerland's goals in an entertaining 2-2 draw and the reaction in the crowd is fascinating. I am surrounded by people in the 'home' supporters section in Croatian scarves and colours…and these people go up with delight when Drmic scores. It's like a double whammy – Drmic is Swiss AND Croatian to them. But to add to the complicated scenario Drmic was booed by some Croatian fans who were in St Gallen purely to support the 'away' team.
National identity in Switzerland is no easy subject – people draped in Swiss flags talk about welcoming Croatians, and Croatians immigrants tell me they love living in Switzerland. Yet there's undoubtedly tension between some groups of supporters – vocal Croats and a threatening group Swiss fans in 'plain clothes' clearly looking to agitate and intimidate as they barged through the large Croatian contingent. Yes this was an insight into modern Switzerland no doubt. A tapestry of cultures, influences and opinions.
At the World Cup in Brazil the team will represent years of Switzerland looking outwards and opening its doors.
The politics of how an immigration limit is implemented in law will develop over the next few years. It will determine how the Swiss teams of the future will look, how the Switzerland of the future will look.
Lee Wellings is the Sports Correspondent for Al Jazeera English based in London. Contact him at ten.a1634926403reeza1634926403jla@s1634926403gnill1634926403ew.ee1634926403l1634926403. Follow Lee on twitter @LeeW_Sport