By Paul Nicholson
July 21 – English Premier League fans are getting ripped off when it comes to buying tickets, compared to their continental neighbours. The findings come via an analysis by KPMG's Football Benchmark team which show Barcelona, Bayern Munich and Real Madrid give the best value for money in Europe's football elite.
In comparison Arsenal, Spurs, Liverpool, Chelsea and Everton are all over-priced when it comes to giving value for money, according to the Football Benchmark analysis.
The report looks at a correlation between what Football Benchmark defines as Enterprise Values of clubs and the price of their cheapest season tickets.
Enterprise Value (EV) is calculated by the Football Benchmark teams on five criteria: profitablility (staff costs to revenue ratio); popularity (social media numbers); sporting potential (value of squad); broadcast rights value; and stadium (who owns and whether it is modern). The authors say the measure "indicates what the business is worth regardless of the capital structure used to finance its operations."
The study looked at 32 elite European clubs.
The chart shows that clubs in the yellow area offer fair value for money for season tickets. Of the seven teams in the analysis only the two Manchester clubs fall into this area.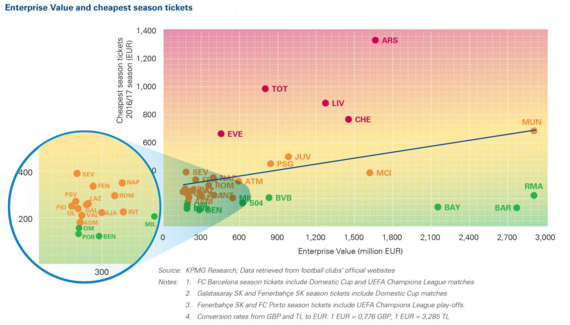 Clubs in the red area are seriously bad value for money for fans, according to this analysis, and Arsenal are right out there in this respect.
At €1,663 million, Arsenal are 5th in the EV ranking. They have a lowest price for season tickets (€1,334) which is almost six times higher than Real Madrid, the most valuable football club in the world alongside Manchester United. The authors point out that Arsenal have a slightly higher EV than Manchester City (€1,620 million), the their cheapest season ticket is more than three times more expensive than City's (EUR 385). There may be the 'London weighting' effect in ticket pricing as despite their 12th position in the EV ranking (€801 million), offer the second highest priced season tickets, at about €1,000.
With season tickets starting from €132, Barcelona's offer is described as "unquestionably reasonable".
About a third of the clubs appear in the yellow area of the chart, indicating that they have a good understanding of their season ticket value to fans. Juventus and Paris Saint-Germain, dominant in Italy and France in recent seasons, are clubs that according to the authors, "have aligned season ticket prices in relation to their Enterprise Values". They are also the highest two non-English clubs in the ranking of season ticket price, in 7th and 8th places.
The analysis doesn't take into account demand factors – English stadia are overall smaller than German, Italian and Spanish stadia – or more general economic factors (though the high prices on Merseyside suggest that football has little relation to the real-world economy in Liverpool).
To see the full analysis go to https://www.footballbenchmark.com/value_for_money
Contact the writer of this story at moc.l1618611036labto1618611036ofdlr1618611036owedi1618611036sni@n1618611036osloh1618611036cin.l1618611036uap1618611036