August 16 – The Premier league season opened with London clubs Arsenal and Chelsea packing their stadiums with barely a seat in the stadium free. But the league as a whole was on average was down on opening day last season.
With an average attendance of 94.14% across the Premier League, opening day figures were down compared to the average of 97.36% for round one of the 2015/16 season.
Across the 10 home games at the start of the 2015/16 season just 6,878 seats were left unfilled. This compared to16,116 unfilled seats this weekend. And that was on a total number of seats available of 351,120, more than 20,000 less than last season.
The three Premier League new boys brought up the bottom of the table with a combined 10,105 unfilled seats between them. Hull City, who have struggled with the preparation for the season with no permanent manager and endless talk over the sale of the club, had a worrying 4,563 empty seats. Whether this was fans boycotting matches because of discontent with the club's owners, or whether there is a lack of appetite for the Premier League football remains to be seen.
Hull opened their season with a surprise win over Premier League champions Leicester City, so the gaps in the crowd will be concerning for any new owner.
Arsenal and Chelsea topped the attendance table with over 99% of their stadia capacity filled. Neither team kicked off at the 3pm Saturday time, and both clubs had their matches televised live.
Eight teams filled over 90% of their capacity, with six of them over 95%.
The Insideworldfootball attendance table is compiled from clubs' reported attendance figures. Some stadia will see their capacities reduced due to seat kills for safety reasons or media requirements. Those seat kills are not reflected in these figures.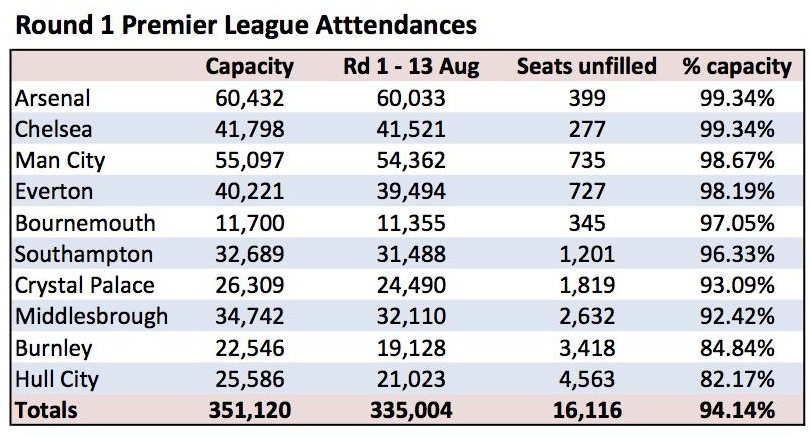 Contact the writer of this story at moc.l1596590041labto1596590041ofdlr1596590041owedi1596590041sni@n1596590041osloh1596590041cin.l1596590041uap1596590041