October 3 – West Ham's move into their new stadium has so far brought with it an ugly side that doesn't seem to be clearing up. For the third time in four home matches West Ham fans clashed with opposition supporter, this time Middlesbrough fans.
Three men were arrested, two on suspicion of affray and one on suspicion of assaulting a police officer. One elderly Middlesbrough fan was reportedly hit with a bottle. Police had to separate supporters after clashes outside the stadium.
With fans even signing songs about wanting to return to their former home stadium, Upton Park, these are uncomfortable times for the club that is also failing to find consistent form on the pitch, though had looked to have got everything right off it until the fans spoiled the party,
West Ham are on a fixed price policing deal with the local authority as part of their controversial agreement to move to the London 2012 Olympic Stadium. That will likely need to be redressed if the contract allows and the current violent fan behaviour from West Ham continues.
The one certainty is that West Ham, despite their owners' initial negotiation position that they were taking a big risk in moving to a much bigger stadium, are having no trouble filling the capacity of the stadium, which will rise to 60,000 if the issues with the fans are resolved. They are currently filling the stadium at over 99% of its capacity.
Elsewhere Swansea and Manchester United again filled more than 99% of their capacities. Eight of the 10 home matches in the Premier League had more than 93% of their capacity filled.
Sunderland improved slightly on their previous home attendance with over 40,000 watching their home draw with West Brom. But they still were bottom in terms of the percentage capacity of their stadium filled. In terms of absolute attendance numbers they were third in the Premier League behind Man Utd and West Ham.
Insideworldfootball figures are based on the official ground capacities and the reported attendances. They do not take account any stadium reductions for seat kills due to safety or media requirements.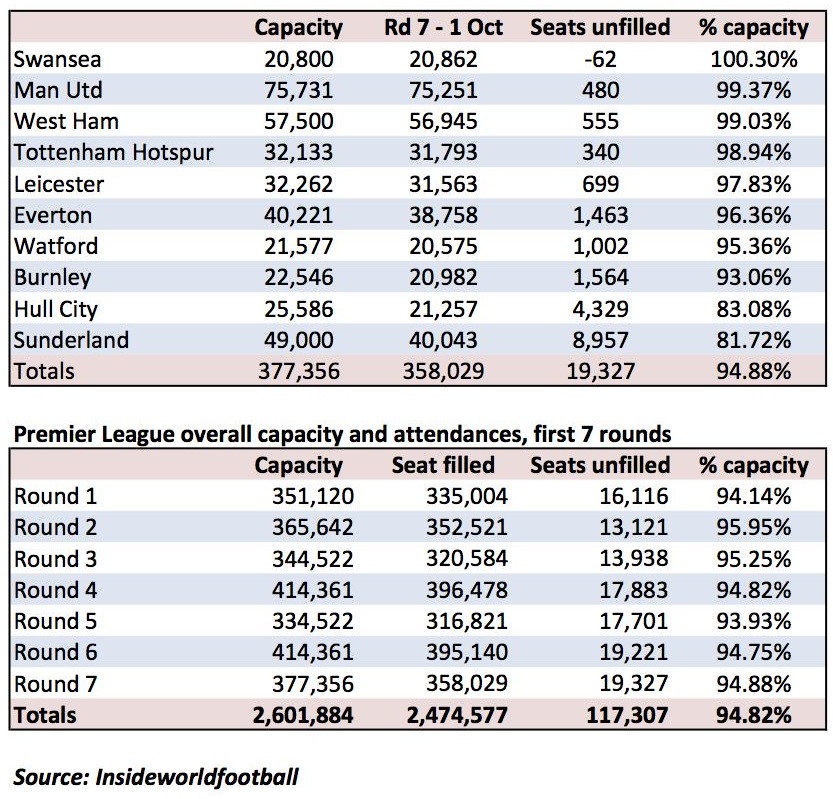 Contact the writer of this story at moc.l1539995506labto1539995506ofdlr1539995506owedi1539995506sni@n1539995506osloh1539995506cin.l1539995506uap1539995506