October 19 – Arsenal and Chelsea have filled more than 99% of the capacity of their stadium for every Premier League home fixture this season (they have each played four), but for efficiency Stoke topped the weekly stadium capacity table with just 42 unfilled seats and a stadium capacity of 99.85%.
Eight Premier League teams filled their grounds to more than 90% of capacity, seven of the ten home fixtures being sold out.
Southampton and Middlesbrough, both playing Sunday, were the bottom two teams in the stadium capacity chart accounting for 3,649 and 6,611 unfilled seats respectively. These two clubs are at opposite ends of the country and quite often experience low away support at their grounds.
Middlesbrough hosted Watford for a Sunday lunchtime kick off – a 600 mile round trip for Watford fans. Saints kicked off a couple of hours later against Burnley – a 520 mile round trip Burnley fans who so far this season haven't managed to fill their own ground yet.
Crystal Palace are now starting to see higher attendances as the team puts behind a poor start to the season. West Brom still have some work to do but are consistently over 90% of their stadium capacity.
Insideworldfootball figures are based on the official ground capacities and the reported attendances. They do not take account any stadium reductions for seat kills due to safety or media requirements.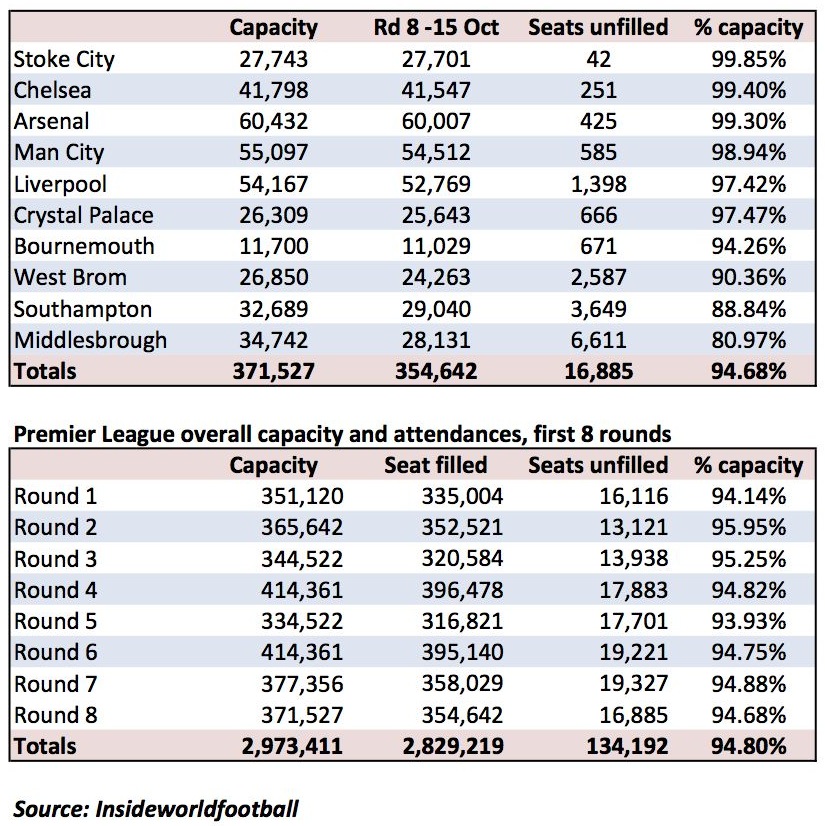 Contact the writer of this story at moc.l1539972025labto1539972025ofdlr1539972025owedi1539972025sni@n1539972025osloh1539972025cin.l1539972025uap1539972025