November 15 – German and English clubs are among the most stable workplaces for players in Europe, coming in the top three of a ranking of 31 top division European national leagues.
But even in these countries an astonishing 37.8% of players in England and 36.3% in Germany only joined the first team of their employing club after January 1, 2016.
The data was compiled by the CIES Football Observatory and highlight the fluidity of the player transfer market and suggest that the opportunity to make money in the transfer market rather than the sale of players based on football analysis and team requirements is what is driving the player movement.
The most stable country in the list is Austria with 31% of players joining their clubs after January 1. At the other end of table Bulgaria set a new record of 64% of players joining their clubs after January 1.
Europe's Big-5 leagues of England, France, Germany, Italy and Spain are relatively more stable with the figures varying between 36% in Germany and 45% in Italy and Spain.
CIES points out: "Southern and Eastern European leagues are over-represented among those with the most unstable squads. In eleven championships, more than half of players joined the first team squad of their employer club since less than one year. Among these leagues notably are the Portuguese (56% of new players) and Turkish ones (53%)."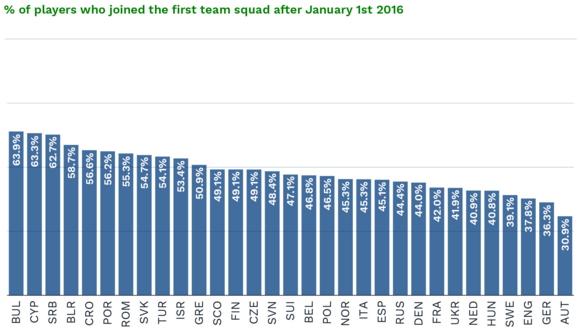 Source: CIES Football Observatory
Contact the writer of this story at moc.l1614322837labto1614322837ofdlr1614322837owedi1614322837sni@n1614322837osloh1614322837cin.l1614322837uap1614322837