November 21 – Premier League clubs amassed a whopping 700,000+ new social media connections in the week ending November 13, with more than 277,000 of them on Instagram.
Man Utd accounted for over 200,000 of these new connections, with more than 100,000 on Instagram, more than double second-placed Arsenal's gain of 46,000.
Instagram is by far and away the fastest growing area of social media in total weekly total numbers.
But not all clubs are have fully embraced the platform yet – 10 clubs grew followers by less than 1,000 over the week, with Middlesbrough gaining just 180 and Sunderland just 590 – too dark for pictures at the Stadium of Light?
Different clubs have strengths on different social media platforms. Manchester City for example, perform much more strongly on Facebook where they were just 5,000 new followers behind table toppers Man Utd. In contrast City ranked fourth on Twitter and Instagram.
Hull gained a very sad looking 70 new followers on Facebook to come bottom of the table by some distance. Overall Hull managed just over 2,200 new connections across all three platforms, making them the shy-est of the Premier League clubs.
With new Chinese owners reportedly waiting in the wings perhaps they are on the verge of finding some new love, at least from Asia.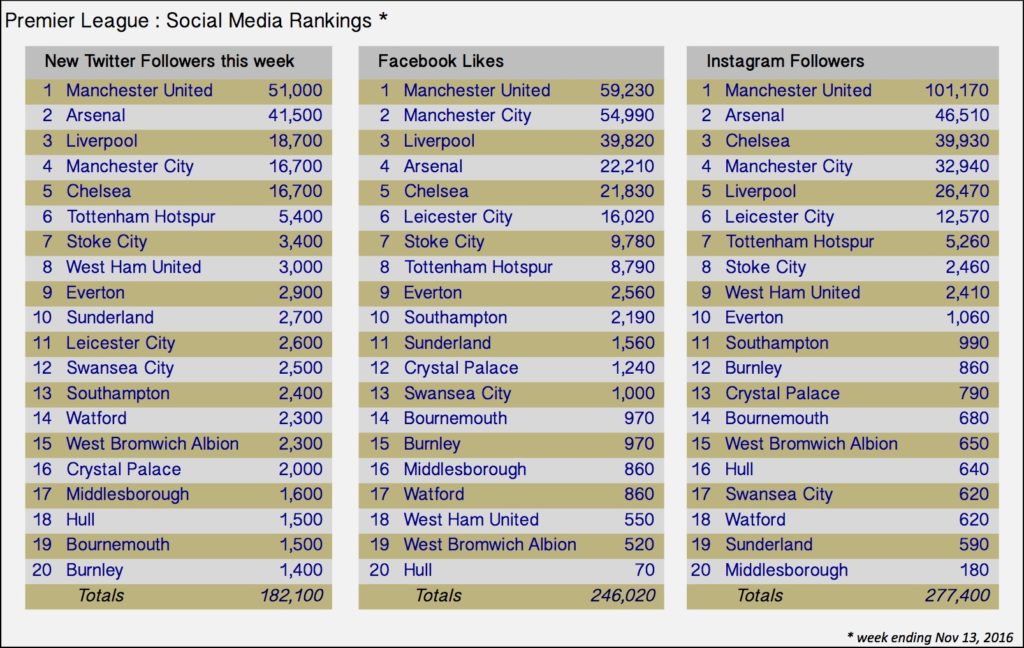 Source: Insideworldfootball.com
Contact the writer of this story at moc.l1634565146labto1634565146ofdlr1634565146owedi1634565146sni@n1634565146osloh1634565146cin.l1634565146uap1634565146