December 15 – The Premier League pre-Christmas rush of matches – three games in eight days – has had very little impact on attendance levels, with eight clubs reporting over 93% of their stadiums full.
Of 21,749 unfilled seats, 13,375 were at Sunderland and West Brom. West Brom, in a lower capacity 26,850 stadium have been regularly at the bottom weekly attendance chart even though the team has been positioned itself in mid-table this season with solid –if not scintillating – performances on the pitch.
West Ham continue to prove that filling the new London stadium was in reality never going to be an issue, with just 10 unfilled seats. The phenomenally cheap deal done for the move to the revamped London Stadium is looking better and better as the club, with the local authorities, now seems to have taken control of previous fan violence issues.
Everton are also packing fans in indicating they are behind the Ronald Koeman revolution, even if they have had a poor run of results. They were rewarded with a win over Arsenal who quite often find winter in the north a little too cold and unwelcoming for their southern European bias.
Clubs are back in action this weekend, the last weekend of shopping before Christmas Day the following weekend. Premier League action returns on Monday December 26 with Round 18 of fixtures.
Insideworldfootball attendance statistics are taken from the official reported stadium capacities and match attendances. No account is taken of seat kills due to safety reasons or media requirements.
Premier League attendance stats, Round 16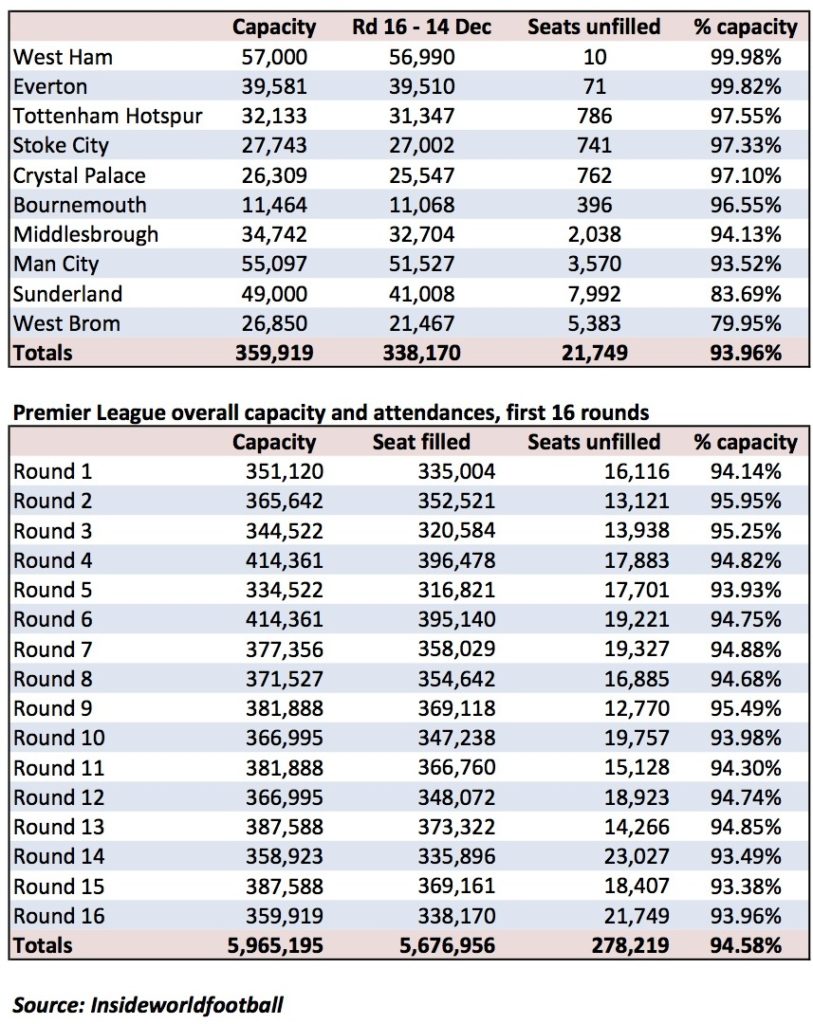 Contact the writer of this story at moc.l1611329258labto1611329258ofdlr1611329258owedi1611329258sni@n1611329258osloh1611329258cin.l1611329258uap1611329258