January 5 – The more games you give them more they want, would seem to be the evidence of the back-to-back rounds of Premier League fixtures over the past 5 days. Round 20 fixtures delivered an average stadium capacity of 95.87%, the third highest of the season and just beating the Round 19 fixtures. The highest average capacity of the season was recorded for the Round 18 Boxing Day fixtures at 97.22%.
The post-Christmas rush of fixtures has drawn criticism from managers including Arsene Wenger, Jose Mourinho and Sam Allardyce, who feel that the scheduling puts too much pressure on players as well as is unfair with some teams gaining more rest than others before crucial fixtures.
Things do not look likely to improve in 2017 with a draft Premier League schedule that would see clubs playing six games in 17 days from December 16 to January 1. This is to enable an earlier season end to help England prepare for the 2018 World Cup in Russia.
This season clubs have played four fixtures between December 17 and January 4. A main issue of complaint has been the way the fixtures have been spread out over a number of days due to broadcast requirements – hence the different recovery times between clubs. Managers are saying that 24 hours extra recovery time is making the difference between winning and losing matches.
It is an issue for the Premier League and its broadcast partners, but if attendances are a measure of the appetite for a lot of fixtures in the holiday period then the evidence is firmly in favour of packing them in.
Round 20 fixtures completed last night saw more than stadium capacities at more than 93% at nine of the home fixtures. Even Sunderland, who over the past two season have struggled to fill the 49,000 capacity Stadium of Light, were almost 95% full for their drawn game against Liverpool.
At the top of the table West Ham showed that they are now comfortably growing into their new London Stadium in terms of operations and are ready for a raising of the capacity from the current 57,000 cap to the full 60,000 capacity the stadium has been built for.
West Brom were bottom of the table with 3,448 unfilled seats – a disappointing turnout for a team that is finding form in the top half of the league.
There were just 13,260 unfilled seats at Premier League stadia for Round 20. Insideworldfootball stats are taken from the official stadium capacity figures and the official reported attendances. No allowance is made for seat kills due to media or safety requirements.
Round 20 Premier League attendances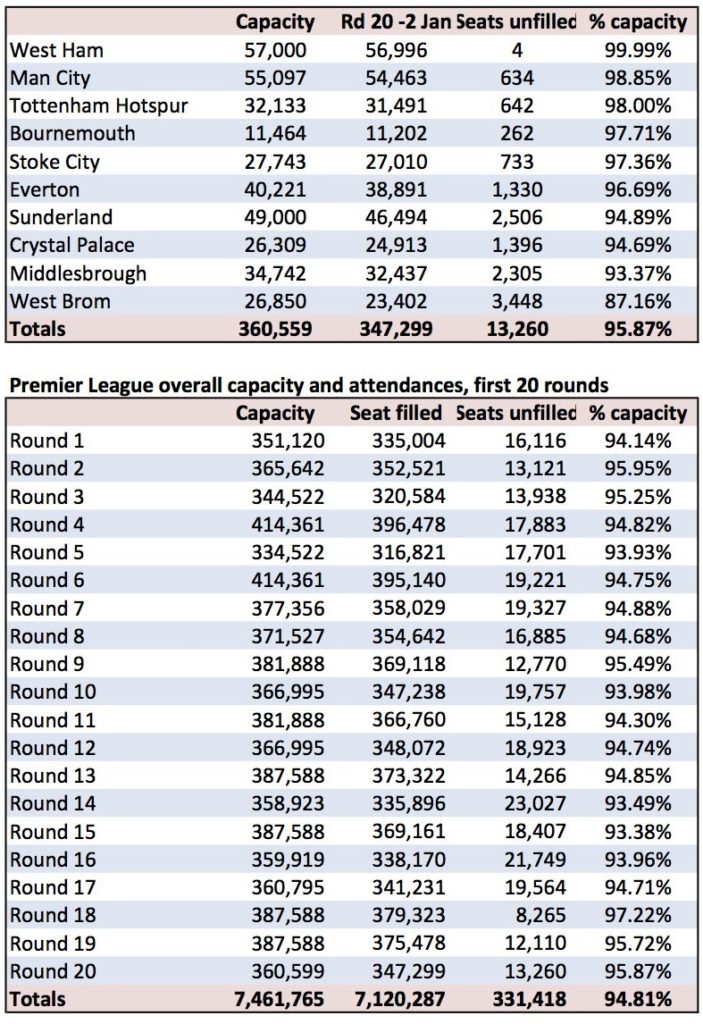 Contact the writer of this story at moc.l1540188764labto1540188764ofdlr1540188764owedi1540188764sni@n1540188764osloh1540188764cin.l1540188764uap1540188764