March 15 – The past week has been a good one for growth in Twitter followers to Premier League clubs. Manchester United topped the weekly growth stats again with 70,500 new followers compared to 59,200 the previous week.
Arsenal weren't far behind with 65,100 new followers (a 0.7% growth), up from 52,700 new followers the previous week. Chelsea were more than 20,000 new followers behind in third place. But Everton topped the percentage growth across the league with a 0.86% growth.
What is more interesting is that Everton for the second week beat Spurs in the weekly growth stats. Everton tweeted 250 times in the week compared to Spurs' 180 times, which looks likely to be a main reason, but Spurs had plenty to crow about with the FA Cup win and perhaps missed an opportunity.
At the bottom of the league Middlesbrough with 0.84% had the percentage growth, but this still equates to just 1,800 new followers.
Most tweets this week goes to West Ham with 360 – clearly happy to tell everyone that they are holding ticket prices at the same level for next season. Second highest twitter activity comes from Hull with 350 tweets.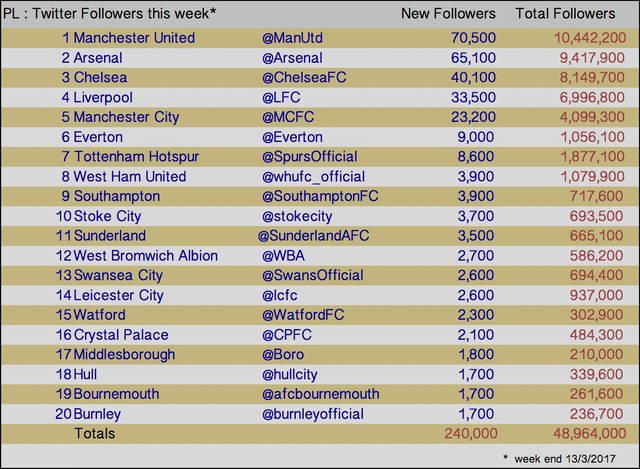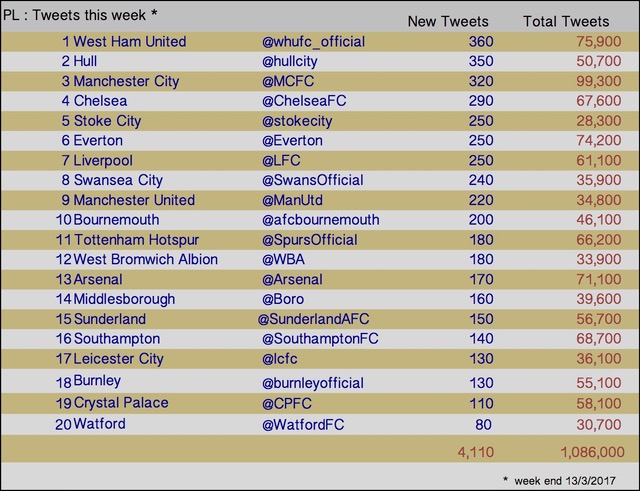 Source: Insideworldfootball
Contact the writer of this story at moc.l1638367265labto1638367265ofdlr1638367265owedi1638367265sni@n1638367265osloh1638367265cin.l1638367265uap1638367265