April 11 – The issue of competitive balance in European competition was brought into political focus recently with UEFA's new Champions League qualification criteria which sees four teams from the top four nations automatically qualify for the group stages. Not only does this reduce the opportunity of other teams from smaller leagues to challenge but it will likely concentrate more of the revenue towards the biggest teams.
The rich get richer while the poor continue to be blown away.  So in reality, how dominant are the big clubs and which competitions have become the most imbalanced in terms of big vs little? And could competitive imbalance eventually lead to a lack of interest from non-core football fans. Are one-way thrashings what competition is all about
Research by the CIES Football Observatory into the percentage of matches in 31 European leagues that ended with a three-goal gap or more found that the Champions League is the third 'most unbalanced' competition in Europe.
From the group stages up to the current stage in the competition "the goal gap for more than a fifth (21.0%) of Champions League matches was at least three." Only the Cypriot (22.5%) and Austrian (21.5%) show more unbalanced matches.
In contrast matches in the Europa League are generally much tighter with a percentage of 13.5% and a ranking at 26. The Big 5 leagues of Europe are all in the top half of unbalanced competitions with Ligue 1, the Premier League, La Liga and Serie A all closely grouped around 17%.
CIES concludes: "This finding reflects the increasing wealth gaps between participating teams. To re-balance competitions, the only solution would be to improve the distribution of financial (TV rights) and human (transfer market) resources at both national and international level."
See the full table at http://www.football-observatory.com/IMG/sites/b5wp/2016/184/en/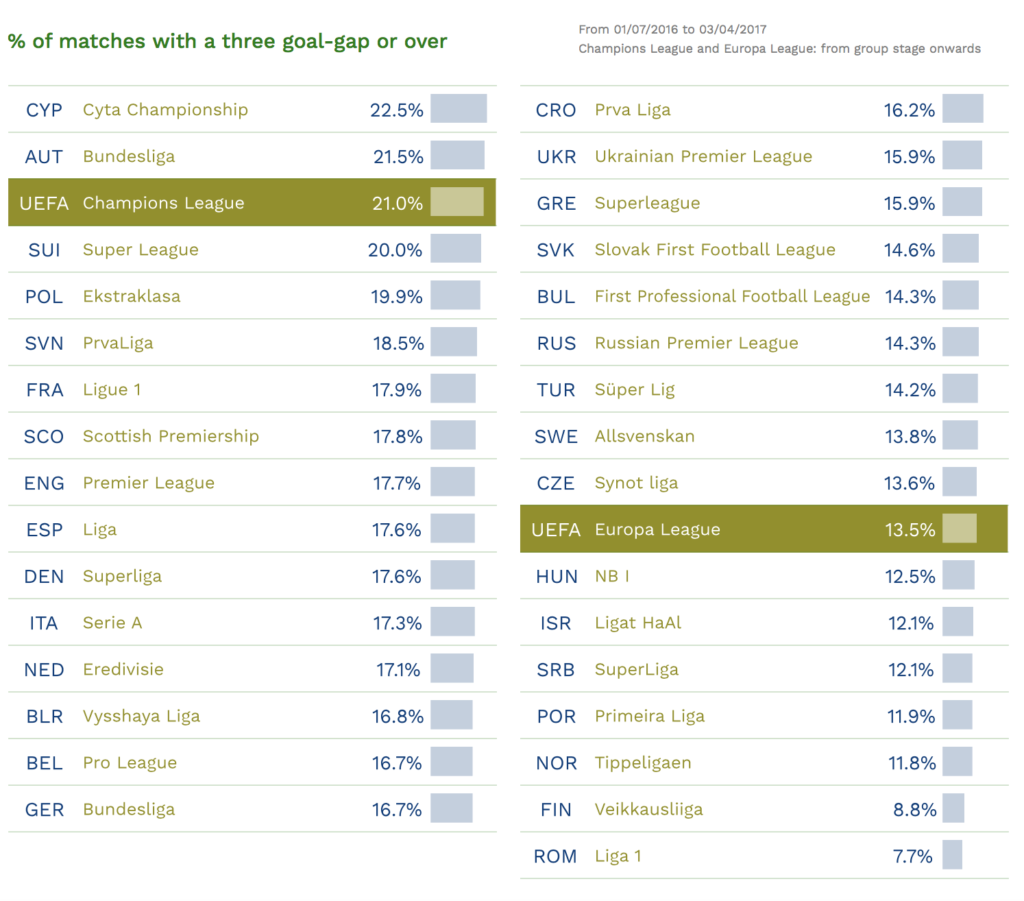 Source: CIES Football Observatory
Contact the writer of this story at moc.l1593829388labto1593829388ofdlr1593829388owedi1593829388sni@n1593829388osloh1593829388cin.l1593829388uap1593829388