By Paul Nicholson
April 13 – Manchester United pay their players on average 281 times more than their fans earn, the third highest differential in Europe, only beaten by Spanish giants Barcelona and Real Madrid who pay their players 350 times what the average fan earns.
A cross-European study looking at which teams have the biggest disparity between average weekly wage of players and fans by MyVoucherCodes.co.uk shows how unconnected fans and players are financially.
The average weekly wage of a Man United player is a staggering £110,961. The average fan from Manchester earns £393.64 per week. Across town the average wage of a Manchester City player is £104,289 per week, that's 264 times more than the average fan's wage.
Perhaps surprisingly there is a significant drop-off to London where Chelsea players earn on average £86,800 per week, 161 times more than the average Londoner (£538.50).
At the other end of the Premier League scale, the research finds "Burnley fans and players are most closely aligned. The average wage of a Clarets player is £18,354, that's only 45 times as much as the £400 average weekly wage of a Burnley fan.
Bournemouth and Hull City also have similar levels of disparity, with Bournemouth players being paid 55 times more than the fans and Hull players 61 times the average fan of the club.
In Spain the average Barcelona player is paid £108,636 per week, 357 times more than the average fan living in the city, while Real Madrid pay an average weekly wage of £97,151 – 309 times more than the average £314 wage fans earn in the Capital. Atletico Madrid fans are nearer their players earning 158 times less than the average £49,680 a week Atleti player receives.
At the other end of the scale Alaves and Eibar have the lowest disparity between players and fans. The average players for Leganes earns £5,237, only 16 times more than the average fan in the area. Alaves have a differential of 17 times.
In Italy's Serie A unsurprisingly Juventus art 267 times, has greatest gap between the average Turin wage and average player wage. Juventus players earn on average £76,491 per week. Napoli players come second in the disparity stakes earning an average £37,281, 204 times the £182 weekly wage of fans. Roma players earning on average £56,849 a week, good for 177 times the average weekly wage of fans.
On the other end of the scale, Chievo, Pescara and Empoli players earn around £8,000 per week, around 25 times the average wages of local people.
In Germany the differences are not so great, but still large. Bayern Munich pays their players over 140 times more than fans are earning. The average Bayern Munich player earns £80,107, £10,000 more than Arsenal players, whilst fans in Munich earn £571 – the most of any fan base in Europe.
Darmstadt 98, FC Ingolstadt 04 and Mainz are Europe's champions of the four leagues examined, in terms of keeping wages nearer those of their fans. Darmstadt players earn only 10 times more than the fans per week, the lowest in Europe's top leagues. Ingolstadt players are also paid ten times more with the Mainz footballers being paid 16 times more – with an average wage of £9,703.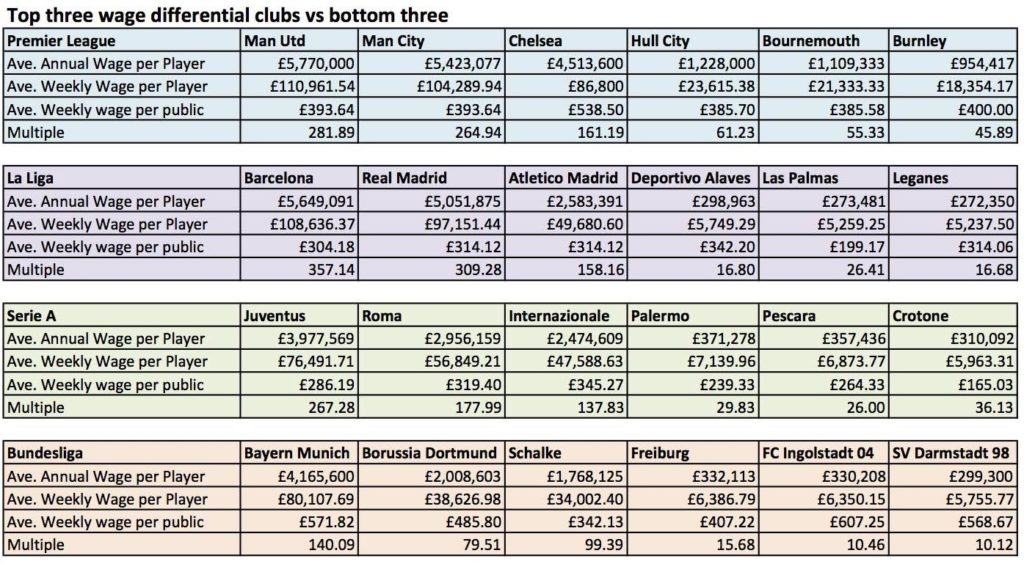 Source: MyVoucherCodes.co.uk
Contact the writer of this story at moc.l1631949139labto1631949139ofdlr1631949139owedi1631949139sni@n1631949139osloh1631949139cin.l1631949139uap1631949139