By Paul Nicholson
April 25 – Multi-club ownership has gained an increased profile with City Football Group's (CFG) recent addition of Atlético Torque (Uruguay) to their portfolio, while Atlético de Madrid have invested in Atlético San Luis (Mexico) and AS Monaco have agreed to acquire Cercle Brugge KSV (Belgium). But is it the pathway to financial profit?
The KPMG Football Benchmark team have reviewed multi-club ownership across Europe's 'big five' leagues. Their conclusion is that multi-club ownership will likely grow because of the synergies and leverages the clubs can provide as a group, but there are challenges and the threat of regulation.
The report says: "When the objectives of the ownership-sharing clubs are complementary, a broader network may result that can leverage synergies from both a sporting (e.g. improve scouting networks) and business perspective (e.g. mutualize sponsorship efforts, cost efficiencies, sharing expertise and best practices)."
While ownership of multiple top tier clubs in Europe quickly comes across UEFA rules UEFA prohibiting any company or private individual to have control or influence over more than one club in the same European competition, there has been movement towards the model of one lead club within the group and smaller clubs feeding off the synergies.
The report takes the Italian Pozzo family investments as a case study. "The family has demonstrated an impressive capability in identifying talent at Udinese Calcio, Granada CF – recently sold to Chinese firm Desport – and Watford FC. A larger club network has helped to minimize player acquisition costs while maximizing the profit from surging transfer fees as players were loaned between 'sister clubs' and later sold at a premium. However, clubs have also profited from this unique network with both Granada CF and Watford achieving promotion to LaLiga and Premier League respectively," say the authors.
European multiple-club ownership is generally focussed on owners opting for lower division clubs that could provide low investment access to local talent – that provides a trading incentive for clubs in terms of player development and transfers, and if the club rockets through the leagues to the top tier then it becomes a more valuable asset, but one which would likely need to be sold. Red Bull could be faced with exactly this issue if both of its clubs – in Austria and Germany – qualify for next season's European club competitions.
Looking further afield geographically, the report points to cross-continent club ownership where there is no regulation barrier. "Emerging football markets such as United States, where CFG owns Major League Soccer (MLS) franchise New York City FC, or India, where both Atlético and AFC Fiorentina partially own Indian Super League (ISL) franchises, provide unique exposure and access to key markets," says the report.
The report concludes: "In a growing football market, a larger number of clubs may follow the examples of the above-mentioned organisations to grow their brands, diversify their business and optimize their operations. In most cases, multi-club structures are expected to continue having a single club at the centre of their strategy. However, in a changing environment, regulators will continue to play a key role and, as was the case with ENIC in 2000, next season's Champions League edition may yet set a new precedent."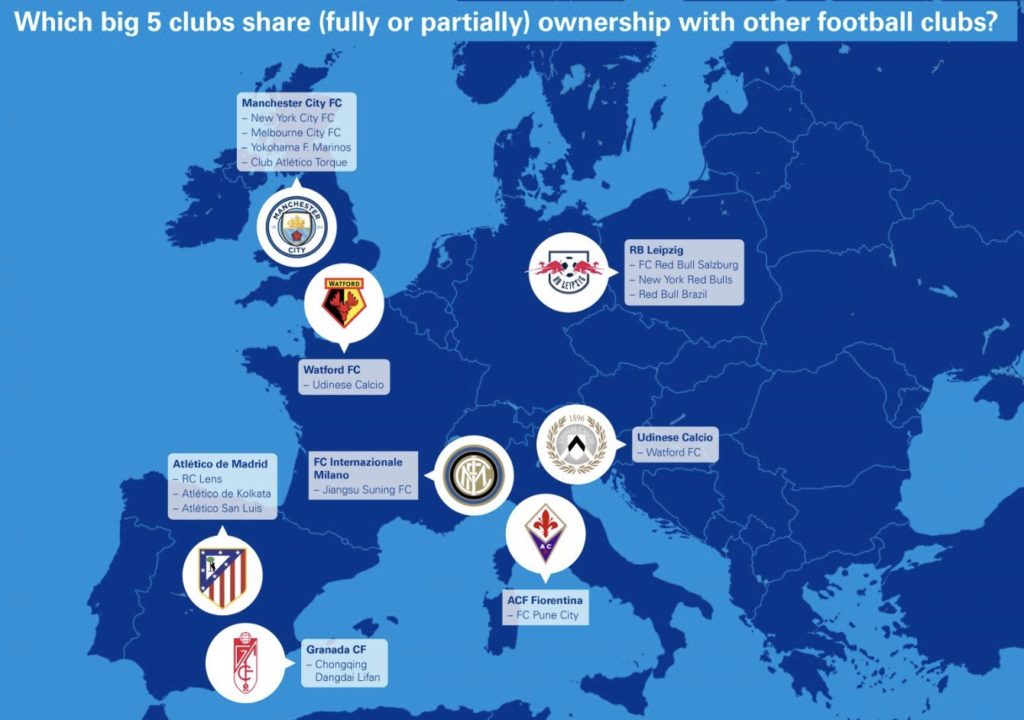 Source: KPMG Football Benchmark
Contact the writer of this story at moc.l1603366652labto1603366652ofdlr1603366652owedi1603366652sni@n1603366652osloh1603366652cin.l1603366652uap1603366652