May 11 – Brazil is still the country that provides most players to clubs worldwide with 1,202 Brazilians plying their trade outside of Brazil. France has the second highest number of players overseas with 781 (107 of them in England) and Argentina is the third highest with 753.
The data from the CIES Football Observatory ranked England as the fifth highest (behind Serbia) with 452 players abroad though mainly in Wales (143 players) and Scotland (114).
CIES examined data for 137 leagues from 93 national associations. "In total, 12,051 expatriates originating from 174 national associations are currently present in the 2,120 clubs studied," said the report. Their overall percentage in squads is 21.6%.
Brazil has long been the largest exporter of footballer with many transiting through Portugal looking for that big European club deal. In the latest stats 221 Brazilians play in Portugal.
"Among the associations with more than 200 expatriates are nine European nations, four from South America and two from Africa. With the exception of Argentina, Uruguay and Colombia, all these countries have a majority of nationals in clubs from UEFA member associations. This result reflects the centrality of Europe in the world football economy," says the report.
The biggest exporter at CONCACAF level are the US (130 players abroad), while Japan tops the list for the AFC (also 130 players abroad).
"Thirteen of the 20 associations whose number of expatriates is between 100 and 200 are also European. The remaining countries are to be found in Africa (Cameroon, the Ivory Coast and Senegal), North America (United States), South America (Paraguay), as well as in Asia (Japan and South Korea). Among these different origins, the Paraguayans, the Japanese and the Koreans are the only ones for which Europe is not the principal destination."
The CIES data is made up of players present on 1 May 2017 in the first team squad of clubs from the leagues analysed. On average, a team has 5.7 expatriate footballers (21.6% of squads). These values vary from 7.6 (27.9%) in the OFC (New Zealand) to 3.2 (11.9%) at CONMEBOL level.
See the full report at http://www.football-observatory.com/IMG/sites/mr/mr25/en/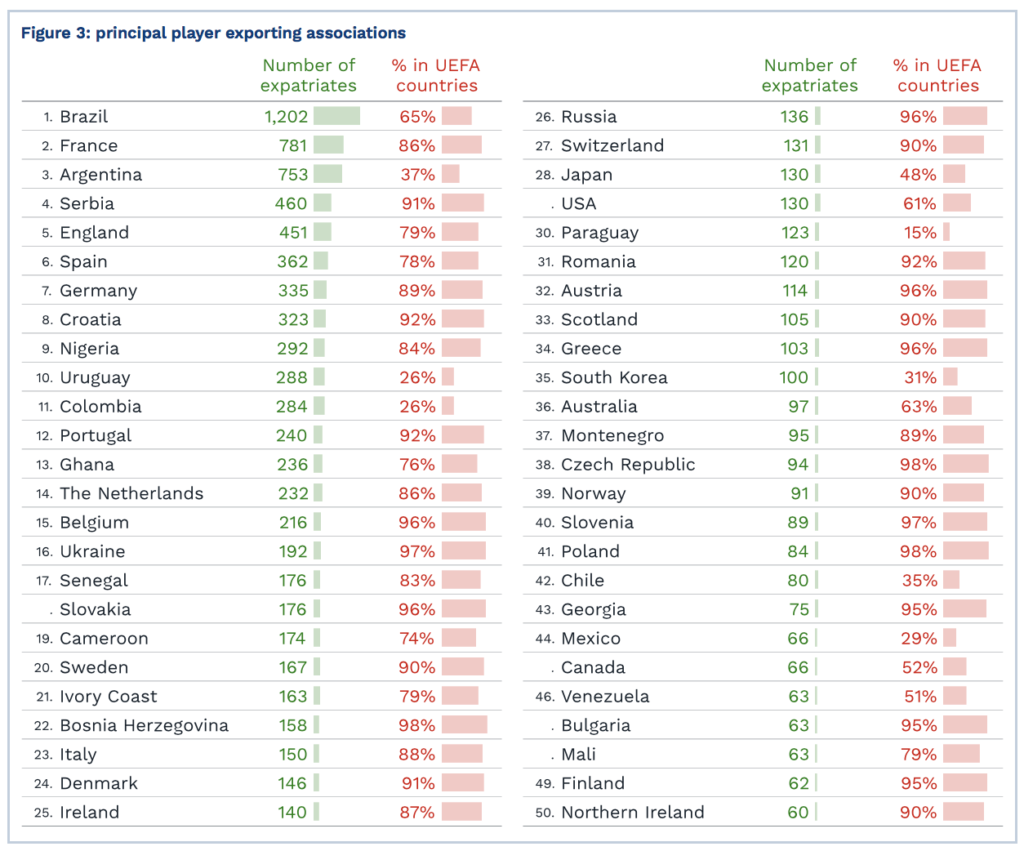 Contact the writer of this story at moc.l1593827863labto1593827863ofdlr1593827863owedi1593827863sni@n1593827863osloh1593827863cin.l1593827863uap1593827863