June 5 – A survey of UK workers asking them which football manager they would most and least like to run their office on a day-to-day basis found Chelsea's Antonio Conte top of the pile, while toxic Jose Mourinho came bottom.
The survey, commissioned by leading jobs board totaljobs, asked 2,000 UK workers what qualities make for a good and bad manager in the workplace. Workers were then asked what characteristics they associate with a series of famous football managers to establish a league table of which managers would be best prepared to make a move into a traditional UK work environment.
Mourinho was the only manager in the survey whose negative characteristics were deemed to outweigh the positive.  Whilst respondents said he was undeniably successful (47%), almost 1 in 3 (29%) said he was 'arrogant'.
In contrast, Antonio Conte was the manager workers most wanted in their workplace with his success, passion and ambition viewed as key character positives for their choice.
Four of the bottom five managers have previously managed England. Sven Goran Erikson and Sam Allardyce sit just above Mourinho – Allardyce was felt by many in the survey to be resistant to change. Roy Hodgson and Fabio Capello only just missed the bottom three positions.
In contrast current England manager Gareth Southgate is a well-place fourth place – his humble nature and loyalty were deemed as positives for the every day work environment
The English love affair with Claudio Ranieri was demonstrated by his second place finish. Unfortunately his bosses at Leicester weren't so enamoured with him and if reports are to be believed, not all his co-workers were either.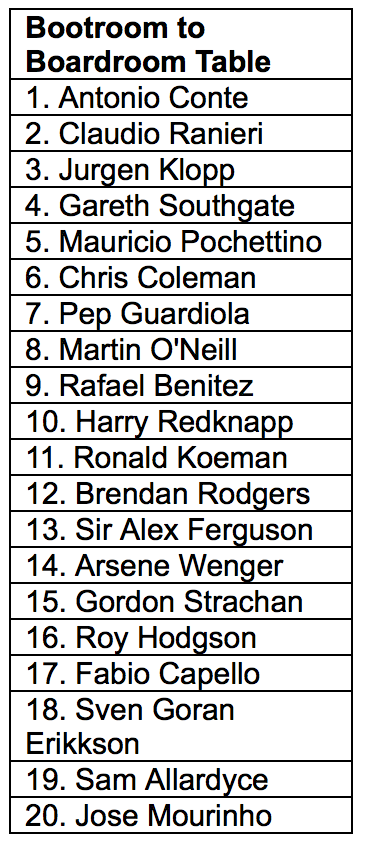 Contact the writer of this story at moc.l1601539247labto1601539247ofdlr1601539247owedi1601539247sni@n1601539247osloh1601539247cin.l1601539247uap1601539247