August 21 – Tottenham Hotspur's first Premier League home game at their temporary Wembley home drew a crowd of 73,587, more than double the capacity of White Hart Lane last season.
Spurs' stadium capacity will be increased to 61,559 when they return and the Wembley turnout suggests they will have little difficulty filling. What will be more interesting is how close Spurs can get to filling the 90,000 capacity of the national stadium. Sunday's 4pm kick off, the showpiece match of Sky's Sunday broadcast coverage, had just over 16,000 seats unfilled, though it wasn't noticeable on the TV coverage.
The capacity for Wembley at the weekend was reduced from the full 90,000 at the request of the police because of fears that tickets on general sale to London fans for a London derby could see opposition fans end up in the same seating areas.
Swansea, who themselves are bidding to take a stronger ownership position in their Liberty Stadium with a view to expansion, topped the stadium capacity chart with just 226 seats unfilled.
Stoke City have adapted quickly to their increased capacity and recorded just 630 seats unfilled.
Overall the Premier League average capacity filled was at 94%, with six clubs over 96%. This is down from the 97.67% of the opening round where there were just 8.030 unsold seats and below the average for the 2016/17 season. The difference is mainly in Spurs' numbers.
However, Burnley and Manchester City both dipped below 90% capacity which will disappoint their ticket marketing people. Man City had 5,989 seats unsold.
Insideworldfootball figures are taken from the official reported ground capacities and match day attendances. They do not take into account any seat kills for media or safety reasons.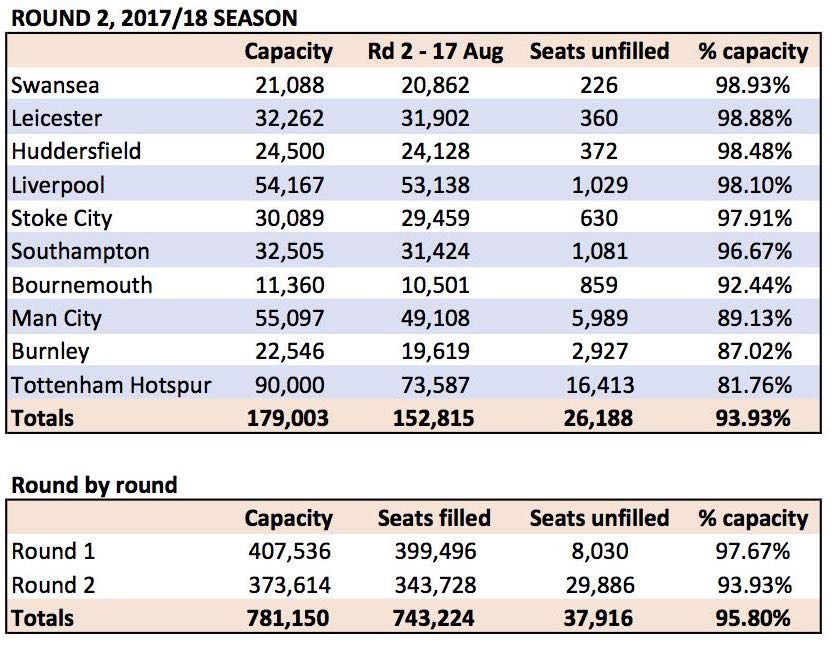 Contact the writer of this story at moc.l1544758338labto1544758338ofdlr1544758338owedi1544758338sni@n1544758338osloh1544758338cin.l1544758338uap1544758338