By Paul Nicholson
August 24 – Clubs that are relegated from one of Europe's Big 5 leagues to their national second tiers will not be saved by parachute payments alone, that money will only soften the blow, according to research by KPMG's Football Benchmark teams.
What clubs really need is "to operate on an efficient basis in order to maximize their chances of a quick return to the elite," say the authors.
Football Benchmark looked at the variations across the second tier leagues in England, Spain, Italy, France and Germany – home to the big five leagues. The differences between the countries are quite marked in terms of structure, but the research concludes that in all cases "the gap between first and second tier clubs is expected to continue widening, which underlines the continued importance of parachute payments received by relegated clubs."
Only two of the leagues, the English Championship and the Italian Serie B, operate separately from their top-tiers. "By contrast, Spain's Segunda División, Germany's 2. Bundesliga and France's Ligue 2 are organised and commercialised alongside their first division and therefore, through different revenue distribution mechanisms, directly benefit from the recently increased value of centrally negotiated media rights." But even this isn't stopping the gap widening.
While clubs closely tied to the commercial fortune of their associated top leagues is an obvious support for their financial survival, it doesn't necessarily create a healthier or more competitively engaging league.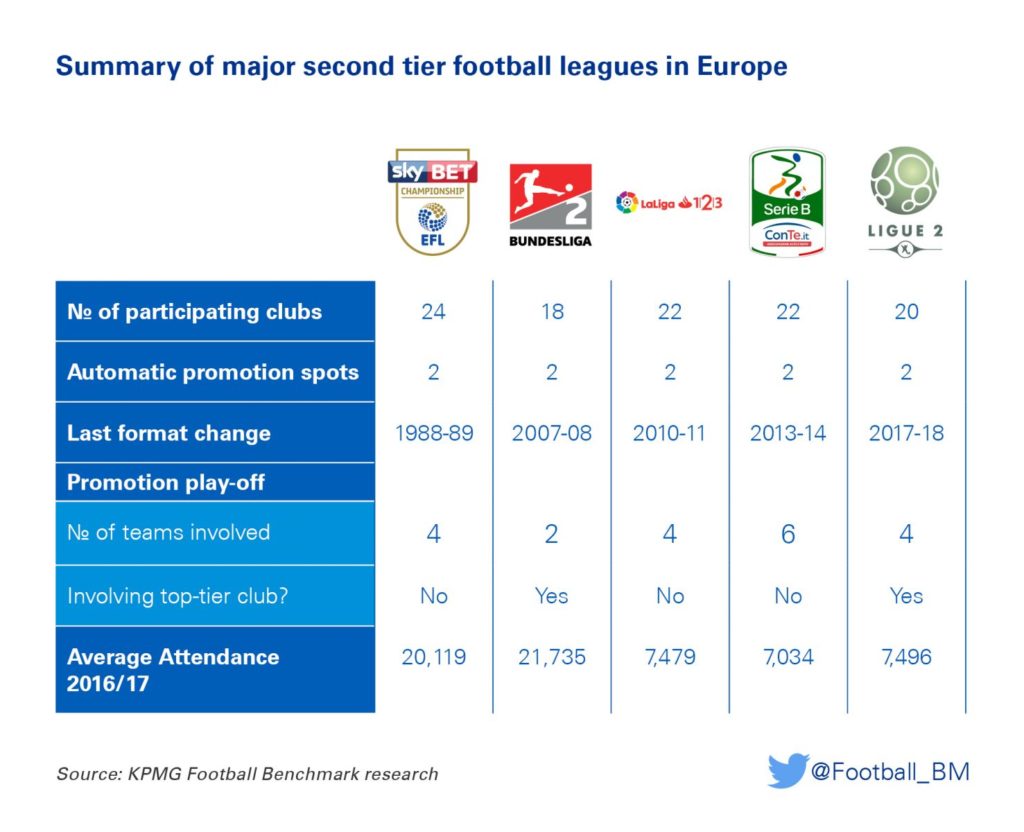 The report finds: "The attractiveness or format of these competitions, if measured in terms of stadium attendance, does not seem to be strictly related to their association with the wealthier top-tier. Indeed, in the 2016/17 season, the English Championship, part of the English Football League, and German 2. Bundesliga, recorded average attendances above 20,000 spectators per match. While these impressive figures were impacted by the presence of clubs such as Newcastle and VfB Stuttgart, the average crowds of comparable competitions in Spain (7,479), Italy (7,034) and France (7,496) were significantly lower."
English and German second tier clubs are able to hold on to sizeable fan bases, despite strong competition from more prominent clubs in their top divisions. This does not appear to happen in Spain, France or Italy, finds the research.
The report also looks at the different league formats for promotion and relegation and how far they determine the commercial success of the league.
"Despite clubs increasingly developing more stable revenue streams, the impact of relegation on a club's operation underlines the volatile nature of European football as a business compared to other sports – notably closed league structures – and the broader corporate world," says the report.
For the full report go to: Aspiration and realism: Europe's second tier leagues
Contact the writer of this story at moc.l1618616039labto1618616039ofdlr1618616039owedi1618616039sni@n1618616039osloh1618616039cin.l1618616039uap1618616039