September 14 – It seems footballers are following the example of their administrators by being leaders when it comes to a comparison of athletes from different sports who commit crime off the pitch.
Research by Ticketgum.com into sport stars looked at what the most common conviction is for nine sports. The research was collated by looking at a list of 297 convictions of professional sportspeople.
The results show that Wayne Rooney is not alone at having been caught for a criminal driving offense (in his case driving under the influence of alcohol). The results find 52% of all driving convictions amongst sport stars were committed by footballers.
Footballers also come out badly when it comes to sex crimes which the research finds were more likely to be committed by a footballer than most other types of sports players.
Footballers were also more likely to commit a crime than any other type of sports player, though boxers are more than twice as likely to commit theft than footballers.
The most common convictions for each sport (offence as % of all convictions for that sport) are:
Football: Driving offences (23%)
Baseball: Drug offences (35%)
Basketball: Drug offences (29%)
Boxing: Theft/burglary offences (24%)
Cricket: Fraud (38%)
Darts: Assault (83%)
Motorsports: Drug offences (36%)
Skateboarding: Drug offences (56%)
American Football: Drug Offences (25%)
When it comes to sports whose athletes are most likely to commit a crime the stats point to the roundball game of football coming top and above the oval ball game of American Football.
Football – 20% of all sports figure convictions
American Football – 18% of all sports figure convictions
Motorsports – 17% of all sports figure convictions
Baseball – 14% of all sports figure convictions
Boxing – 12% of all sports figure convictions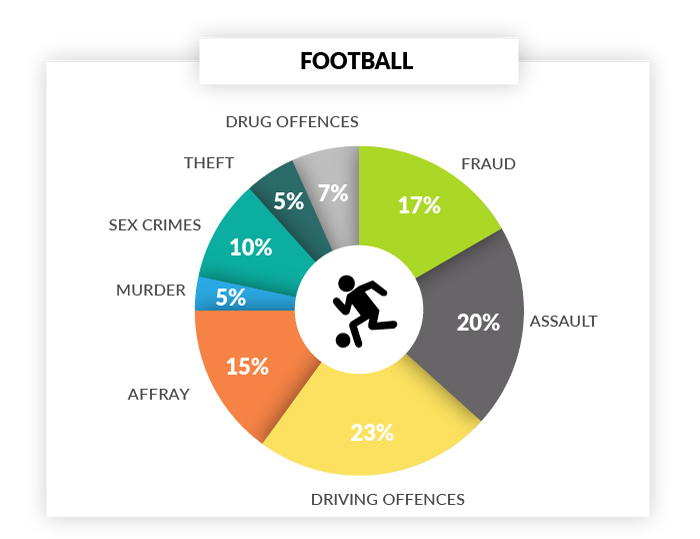 Contact the writer of this story at moc.l1529804500labto1529804500ofdlr1529804500owedi1529804500sni@n1529804500osloh1529804500cin.l1529804500uap1529804500