October 4 – The Premier League had another sold out weekend for Round 7 of the season with four clubs reporting over 99% of their stadium capacity full, eight clubs over 95% and all ten home teams over 90%.
West Ham continue to top the table with Newcastle United following hard on their heels. Both clubs edged regular table toppers Chelsea. Across the three clubs there were less than 320 seats unfilled.
Across the league there were only 7984 seats reported unfilled out of 420,187 tickets on sale. An average total capacity of 97.21%.
West Brom and Bournemouth, with the smallest capacity stadium in the league, still struggle with maximising their capacities =but these are due to restrictions rather than demand.
The Insideworldfootball attendance figures are taken from the official stadium capacity numbers and the official reported attendance. No account is taken for seat kills due to safety or media reasons.
The Premier League schedule breaks this week for the international fixtures.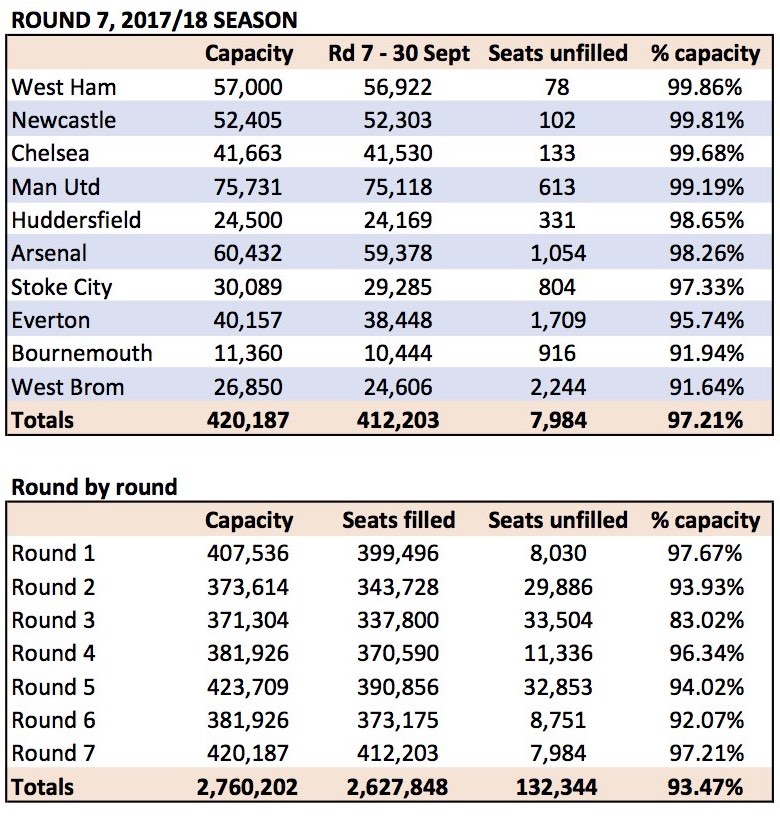 Contact the writer of this story at moc.l1561545191labto1561545191ofdlr1561545191owedi1561545191sni@n1561545191osloh1561545191cin.l1561545191uap1561545191