October 17 – Predictions that Tottenham Hotspur would break the Premier League's 10-year attendance record in their clash against Bournemouth fell 2,600 fans short with Spurs only filling 81.67% of Wembley Stadium (73,502 was the official attendance figure) for their clash with Burnley.
While Spurs had the largest crowd of the weekend they were bottom of the table in terms of percentage of the stadium full.
Manchester United still hold the Premier League attendance record, set in 2007 against Blackburn with a crowd if 76,098.
Early Spurs sales figures for the Bournemouth clash looked strong but they weren't strong enough and still a long way off Spurs' best attendance at Wembley of 85,512 against Bayer Leverkusen in the Champions League. Spurs will have plenty more opportunity to break the attendance record this season, and perhaps even into next season as reports are that the White Hart rebuild is behind schedule and can't guarantee a delivery in time for the 2018/19 season kick off.
Crystal Palace topped the attendance capacity table with an improbable crowd of more fans than the Selhurst Park capacity who watched an improbable win over Chelsea and their first two Premier League goals of the season.
Nine clubs had over 92% of their stadia full, only Spurs dipped below 90% with 16,458 unfilled seats out of a total 25325 seats unfilled for Round 8.
Insideworldfootball figures are taken from the official stadium capacities and the official reported attendance figure. No seat kills for media or s=ground safety issues are taken into account.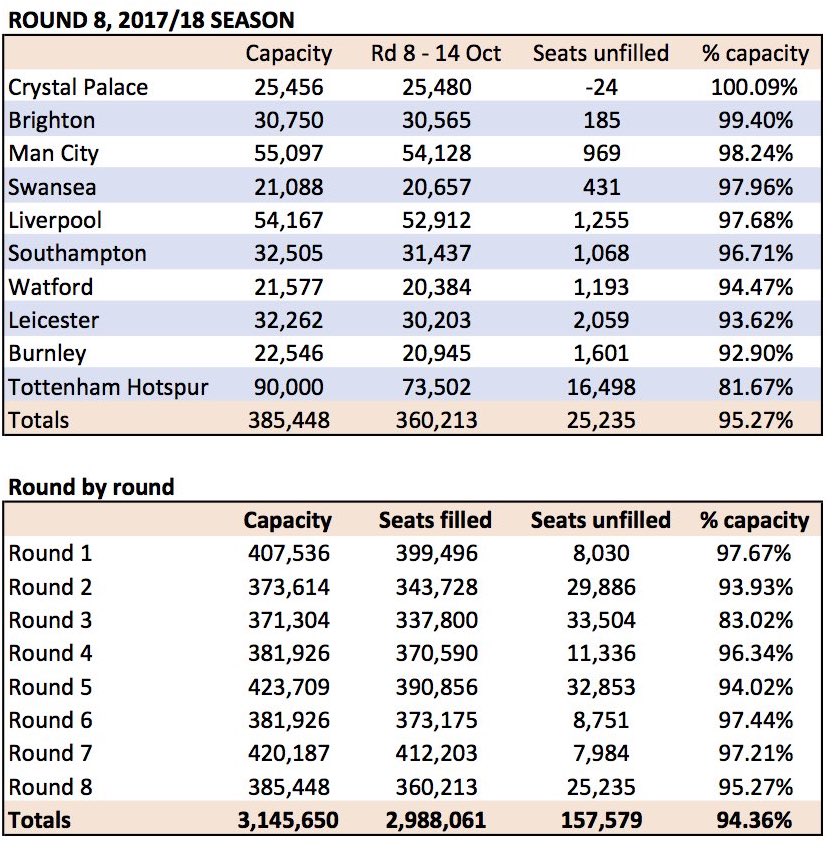 Contact the writer of this story at moc.l1548245099labto1548245099ofdlr1548245099owedi1548245099sni@n1548245099osloh1548245099cin.l1548245099uap1548245099