January 5 – LaLiga has released details of its broadcast income and its club distribution. TV income rose year-on-year to in €1.247 billion from 1.237 billion, with Barcelona being the top club earner with €146.2 million.
Real Madrid were the second biggest earner with €140 million, followed by a very distant Atletico Madrid with €99 million.
The 2016/17 season was the second of the collective bargaining agreement for TV rights for LaLiga. In the last season where clubs sold their own rights LaLiga collectively earned €851 million.
But while the revenue number has increased dramatically for the league, so the gap has widened between the top earners and bottom earners in the income distribution which is split with 50% of the total pot being divided among the 20 teams equally, with the remaining 50% divided based on results during the past five seasons, and the number of television subscribers and the television audiences for each match.
While Barca were picking up €146 million, Alaves and Leganes, at the bottom of the income table and who both just avoided relegation, earned just €39.3 million each. 10% of the TV income is distributed to the second tier Segunda B.
Athletic Bilbao were fourth highest in the income distribution table with €71 million (less than half that of Barcelona) while Valencia were fifth with €67.4 million.
LaLiga is currently negotiating its next round of broadcast deals – the second under its collective bargaining agreement – with president Javier Tebas predicting the number could reach €2.3 billion.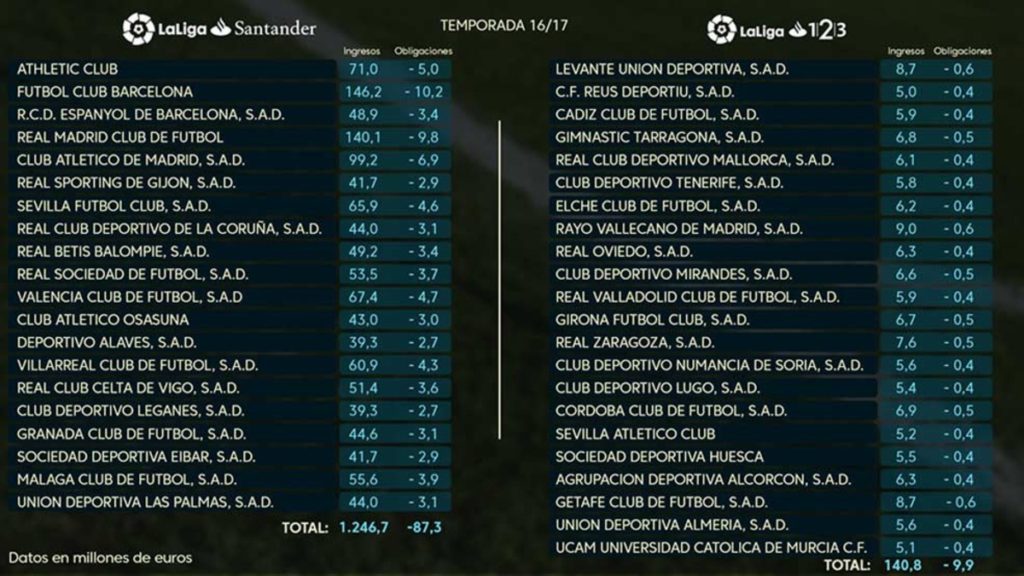 Contact the writer of this story at moc.l1539899498labto1539899498ofdlr1539899498owedi1539899498sni@n1539899498osloh1539899498cin.l1539899498uap1539899498