By David Owen
January 18 – Manchester United has by far the highest net debt among European football clubs, according to the latest UEFA Club Licensing Benchmarking Report, published this week.
The exhaustive analysis of the European club landscape includes a listing of the Top 20 clubs by net debt covering the 2016 financial year. The Old Trafford club are emphatically in first position with net debt put at €561 million.
This is not far off double the €309 million recorded for the second-placed club, another strongly associated with the colour red, Benfica of Portugal. Milan's Internazionale completes the top three with €303 million, ahead of Juventus and Liverpool.
UEFA take pains to emphasise that debt should be analysed in context, and indeed United's ratio of net debt to revenue (0.8) is less than one-third of Benfica's (2.5). Nonetheless, finance costs do impose an expenditure item on significant debt-carrying clubs not faced by some rivals.
If the focus is put on fastest-growing net debt year-on-year, meanwhile, another English club, Newcastle United, takes the honours among these 20, with a figure of 119%, ahead of Liverpool (66%) and Atlético Madrid (65%).
As a whole,  European clubs are becoming less indebted, with UEFA calculating that the combined net debt of the continent's top-flight clubs has fallen from the equivalent of 60% of revenue to 35% in the space of six years.
A listing of the top 20 leagues by average net club debt places England first with €76.3 million ahead of Italy (€63.6 million). While the Premier League figure is contracting, however, underlying growth in Italy was put 11%. If those trends continued, it would not take long before Serie A assumed the lead.
Only three of these top 20 leagues had net debt that exceeded revenue, in ascending order, Ukraine, Portugal and Moldova. The lowest figure among the 20 was recorded for Germany, whose €99 million aggregate net club debt equated to just 4% of total revenue.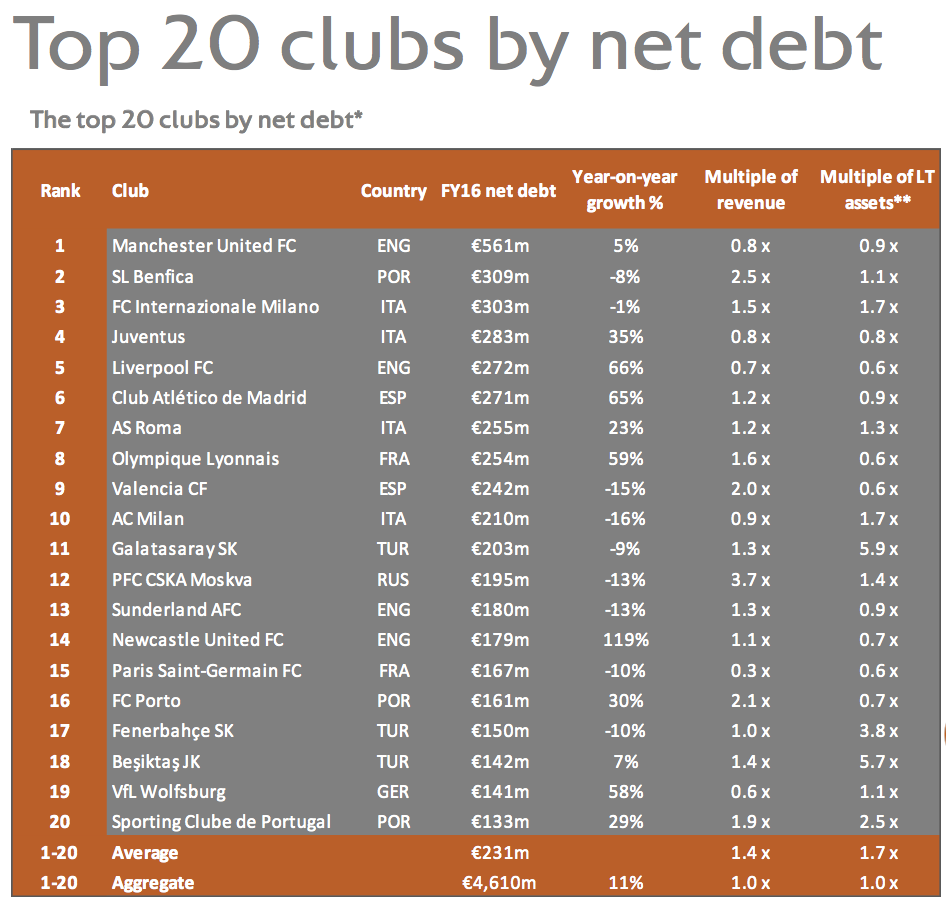 Contact the writer of this story at moc.l1590575679labto1590575679ofdlr1590575679owedi1590575679sni@n1590575679ewo.d1590575679ivad1590575679