January 31- A review of the 30 'most prominent' football stadia built in Europe over the past five years shows Turkey topping the list of countries developing their football infrastructure with nine venue. Russia, hosts of this year's World Cup, is second with five stadia.
The research by the KPMG Football Benchmark looks at the trends in the development of stadia, as clubs are increasingly turning back to bricks and mortar to leverage new revenue streams and improve community assets.
Out of the 30 analysed stadiums, the venue with the highest capacity is the Baku National Stadium in Azerbaijan, with 69,870 seats. The arena, which will host four matches during the 2020 European Championships and the final of the 2019 Europa League, is closely followed by Zenit St. Petersburg's Krestovsky Arena (68,134).
Within the top five largest stadiums opened there are two venues in LaLiga, Atlético de Madrid's, Wanda Metropolitano (3rd, 67,703 seats – pictured), and Athletic Club Bilbao's new San Mamés (5th, 53,289), which the report authors say "highlights the on-going renovation of LaLiga's infrastructure." Olympique Lyonnais' Groupama arena (4th, 59,286) are the first major privately-owned stadium in French football.
Looking at the list in terms of development cost, the authors point to a different ranking. "Focusing on development cost per seat, the top five is dominated by Russian venues, including Zenit Arena (1st: €12,517 /seat), Sochi's Fisht Olympic Stadium (2nd: €11,315 /seat), CSKA Moscow's VEB Arena (3rd: €9,364 /seat) and Kazan Arena (5th: €8,521 /seat). Outside the top five, some of the largest stadia hosting Euro 2020 play-off matches, such as Baku National Stadium (6th: €7,746 /seat) or Olympique Lyonnais' Groupama Arena (7th: €6,916 /seat) are high in the ranking."
In contrast, in Spain the Wanda Metropolitano (€4,579 /seat) or San Mamés (€3,960 /seat), both have a significantly lower cost per seat and most of the venues built in Turkey and Central-Eastern Europe were relatively inexpensive by comparison.
KPMG conclude that "while the construction of stadium infrastructure is still largely driven by major international tournaments, but the development cost of these venues – designed to meet strict UEFA and FIFA requirements to host world-class events – continues to increase. At the same time, there is also a growing number of inexpensive and functional stadia, highlighting an increasing awareness of the various factors impacting the financial viability of sporting infrastructure projects."
Download the full report A Blueprint for a successful stadium development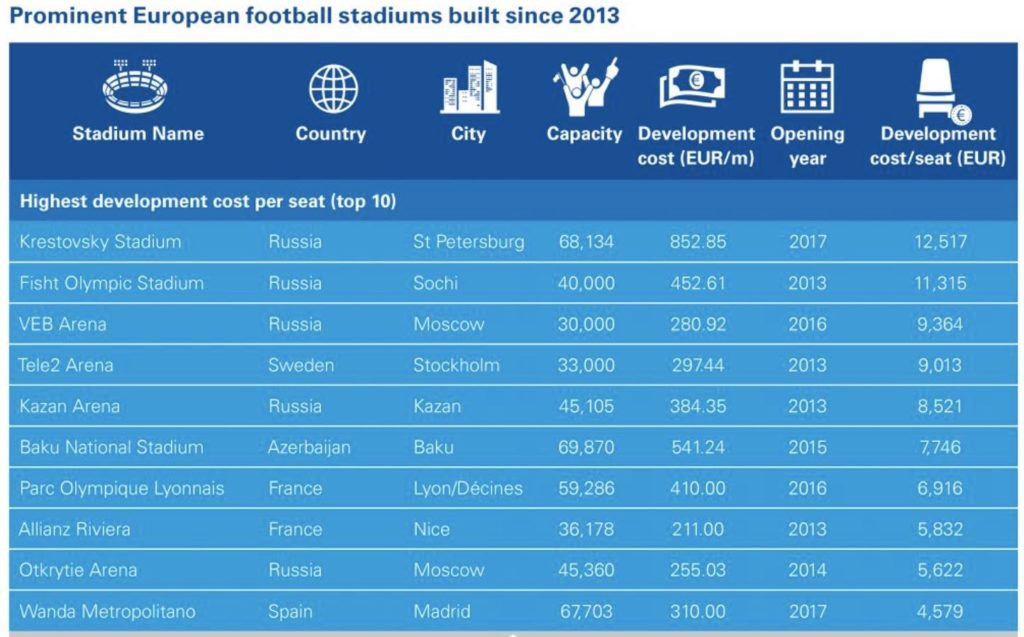 Contact the writer of this story at moc.l1606831763labto1606831763ofdlr1606831763owedi1606831763sni@n1606831763osloh1606831763cin.l1606831763uap1606831763