By Paul Nicholson
May 24 – The top end of European football's club financial pyramid is growing faster than Europe's leading market-quoted businesses, according to KPMG global head of sports Andrea Sartori (pictured), speaking at the official unveiling of the third edition of the firm's football club valuation report.
In 2017 the report showed an aggregate growth of 14% for the top 32 clubs. That dropped to 9% for the current year examined in the report, but still outstripped a top 50 index of European stock market quoted companies that showed a 5% year-on-year growth.
While the growth is obviously encouraging for speculative football investors, the concern for football's governing bodies will once again focus on the issues surrounding competitive balance.
The report shows that 66% of the aggregate growth of the top 32 clubs is coming from just nine clubs. Five of those clubs are English, with the Premier League having nine clubs in the top 32 ranking.
Those English clubs account for a massive 42% of the total enterprise value (club value as calculated by KPMG's algorithm). In comparison, Spain's six clubs account for 23% of the aggregate enterprise value.
The top 14 clubs in the ranking were unchanged from last year, while Sartori said that 27 out of the 32 clubs have been present in all three editions of the report, emphasising that in club football the rich are getting richer.
Nowhere is this more evident than at the top of the food chain where Manchester United, Real Madrid and Barcelona account for more than 25% of the total 32-team aggregate enterprise value.
Sartori pointed out Olympique Lyonnais (130% growth), Sevilla (74% growth) and Spurs (61% growth) as standout performers this year, saying that new stadia is an important factor in their growth in value.
He also highlighted the resurgence of Napoli "who have become the second most valuable club in Italy. Eleven years ago they were in the third division."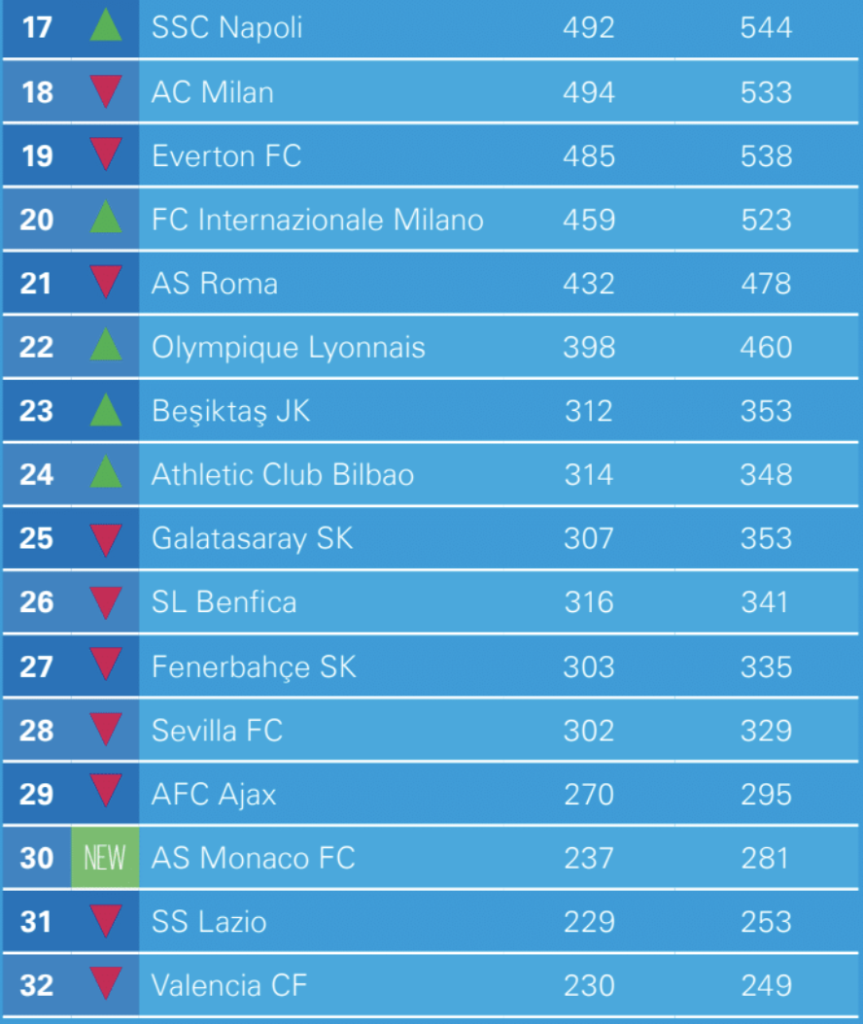 See the full report at https://www.footballbenchmark.com/documents/files/public/KPMG%20Football%20Clubs%20Valuation%20The%20European%20Elite%202018%20web.pdf
Contact the writer of this story at moc.l1614660444labto1614660444ofdlr1614660444owedi1614660444sni@n1614660444osloh1614660444cin.l1614660444uap1614660444