June 12 – Portuguese technology company Primetag has launched a social media ranking tool ahead of the Russia 2018 World Cup that provides up-to-the-minute aggregated data from the Instagram accounts of players, coaches and teams with the purpose of measuring influence.
Primetag calculates that there are more than 1 billion following World Cup players on Instagram and that there will be "over eight billion digital interactions are expected during this summer's World Cup, the equivalent of every person in the world liking or commenting on content related to the tournament."
Instagram has been chosen as the primary source of data as 88% of players participating in Russia are active on the platform. Interestingly the top 5 ranked players on social media are from five different countries but all speak Spanish or Portuguese.
The World Cup in Russia is guaranteed to shatter social media records across all platforms. The Primetag technology monitors and ranks players' activity on social media in real time enabling media watchers to measure influence on the social channels.
The Primetag tool is for players, teams, brands and media to "access key information to help them harness the power of social media and maximise their influence on the global stage," said a press release. Primetag will be made available to media throughout the tournament, "so they can easily track players' activity and keep up to date with the most "liked" and "shared" moments of the World Cup, dramatically enhancing the depth and availability of player and team social media data during the global event."
Ahead of the opening match of the World Cup, Primetag has ranked the top 20 players on Instagram:
England are ranked 11th with 31,960,003.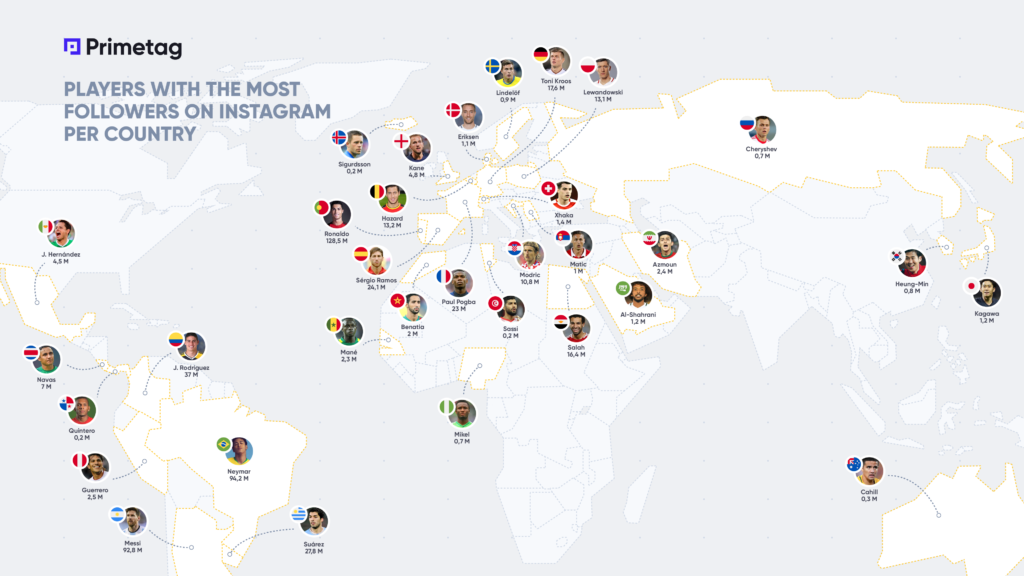 Contact the writer of this story at moc.l1548079498labto1548079498ofdlr1548079498owedi1548079498sni@n1548079498osloh1548079498cin.l1548079498uap1548079498