By David Owen
June 22 – This week's belated publication of Crystal Palace's accounts means that Insideworldfootball's 2016-17 Premier League of Profits listing can at last be unveiled.
The main point to retain is the mammoth £570 million-plus aggregate pre-tax profit generated by the 20 clubs who played in English football's top tier in Chelsea's most recent title season. As predicted by this website as long ago as last November, this smashed the previous record set in 2013-14.
The main explanation for this stellar performance was the large increase in the value of the league's media rights for the 2016-19 cycle. With the 2019-22 TV auction set seemingly to generate a significantly smaller revenue jump for clubs, even if the value of the league's foreign rights is expected to show significant growth, this record total may well remain the financial pinnacle for some time to come – unless that is clubs can exercise a measure of cost control that has hitherto eluded them.
The table once again shows a degree of correlation between financial and footballing failure and success. Leicester City's remarkable performance in topping this profits table, after two consecutive years in fourth place, is the legacy of their earnings from the Champions League, which were made possible by the club's utterly gobsmacking achievement in winning the 2015-16 Premier League title under Claudio Ranieri.
The only loss-making club in this table, Sunderland, will actually start 2018-19 in English football's third tier after ending up rock bottom of last season's Championship.
There was also consistency at the top end of the profits table, with three of the prior season's top four – Leicester, Spurs and Manchester United – comprising the top three this time.
The only one of the leading quartet from 2015-16 to see a relative slide in their profits performance was Manchester City, deservedly crowned Premier League champions last month, who managed only a tiny pre-tax profit in 2016-17, leaving them trailing all bar the bedraggled Black Cats.
Six of the bottom eight clubs in the 2016-17 Premier League ended up similarly in the bottom eight of this new profits table, with Hull City and buoyant Burnley the exceptions.
While the match between on-field and financial performance was less pronounced at the top end of the table, three of the top six were also in the top six for profits.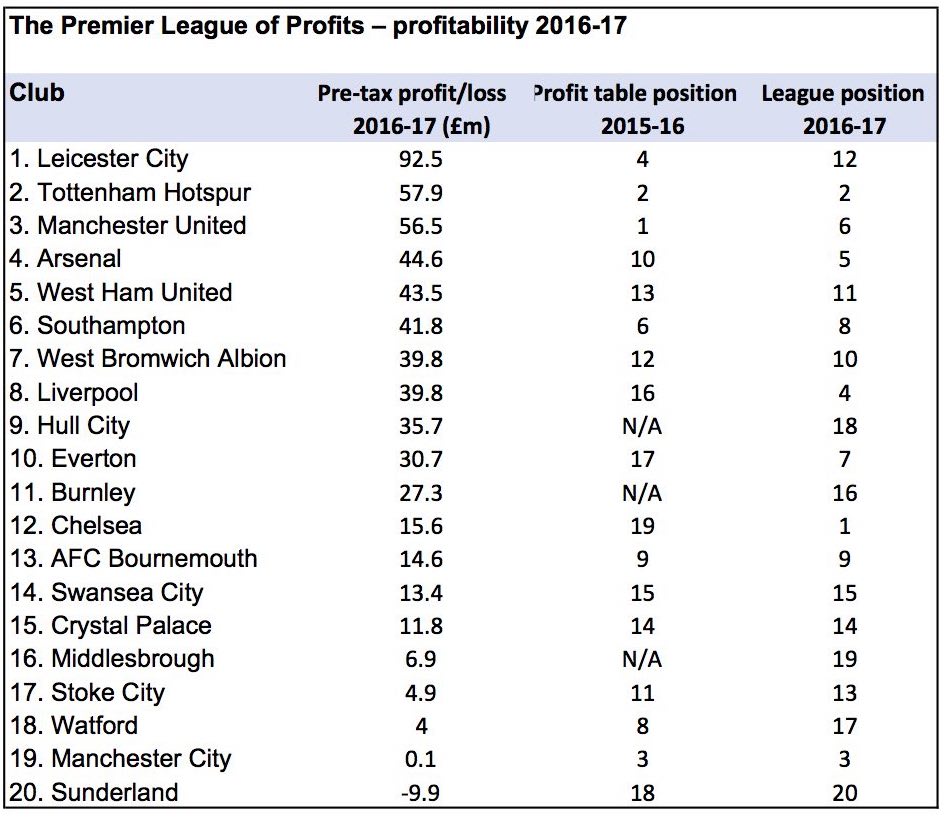 Contact the writer of this story at moc.l1611329179labto1611329179ofdlr1611329179owedi1611329179sni@n1611329179ewo.d1611329179ivad1611329179