By Paul Nicholson
October 5 – The English Premier League are entering the esports business with the launch of ePremier League with league partner Electronic Arts. The ePL will be played on the FIFA19 game and operated by esports tournament organisers Gfinity.
The first tournament will be begin in January  running through to a finals competition on March 28-29 in London. All 20 Premier League clubs will play in the tournament. The finals will be broadcast live on Sky Sports and Premier League social media channels.
Registration for the tournament starts December 3 and is open to all fans. Online qualification will be hosted by each of the clubs with players aiming for the live club playoff round and qualification for the London finals. Each club will qualify two players for the final, one in each of the PS4 and Xbox One platforms.
Richard Masters, Premier League Managing Director, had this to say: "EA SPORTS is a fantastic partner for the Premier League and we are looking forward to launching ePremier League with them. We know that millions of fans play FIFA and this new esports competition will provide our clubs with an exciting opportunity to engage with them."
While football-based esports leagues in Europe are rapidly growing in number, the Premier League is the first of Europe's big leagues to involve all 20 of its teams in an official competition.
From the information provided so far it looks the tournament initiative at this stage is focussed on generating fan engagement rather new income streams. A number of Premier League clubs, including Manchester City and West Ham, already have professional gamers competing in their club colours.
"The Premier League's global reach and intensely passionate fanbase push EA SPORTS FIFA competition to unprecedented heights as we accelerate esports growth through traditional sports," said Todd Sitrin, SVP and GM of the EA Competitive Gaming Division.
"Through the ePL, this partnership carves a critical path forward in expanding competition not only for players but for the hundreds of millions watching Premier League games who now can support their club on the virtual and the traditional pitch."
However, sponsorship of the ePremier League is unlikely to be far away. France's eLigue1 has Orange as its title sponsor. Deloitte predicts that by 2020, the global eSports market will generate $1.5 billion in annual revenues ass income from sponsorship and advertising kicks in. Deloitte estimates that up to 600 million people could be regarded as eSports fans.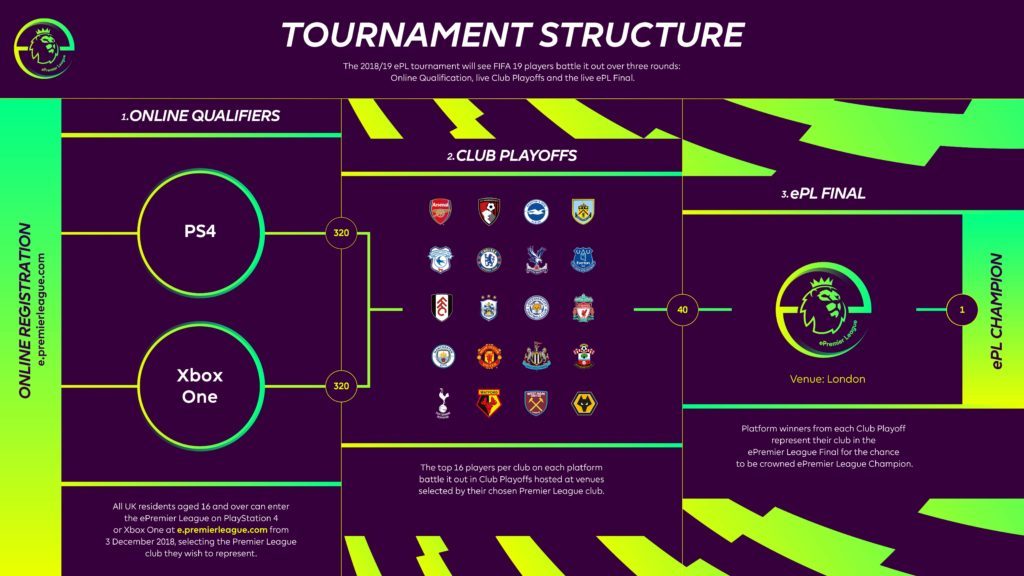 Contact the writer of this story at moc.l1563220380labto1563220380ofdlr1563220380owedi1563220380sni@n1563220380osloh1563220380cin.l1563220380uap1563220380