December 12 – As Spanish football manages an international transition from the individual appeal of Cristiano Ronaldo and Lionel Messi, the KPMG Football Benchmark team has taken a look at the impact this could have on LaLiga's business.
Their conclusion is that LaLiga "has strong momentum to continue growing and to ensure the shift from the Ronaldo-Messi era – whenever that will completely come to an end – is as seamless as possible."
But "LaLiga's challenge is to retain the glamour, the economic power and investor interest to keep pace with other major leagues." Pointing to the brand strengths and size of clubs Real Madrid, Barcelona and Atlético de Madrid, versus the globally leading brand strengths of the Messi-Ronaldo axis, the report authors say "the league is arguably robust enough to handle the transition."
It is not a resounding conclusion but looking at the numbers the broadcast and global fan footprints are key to the LaLiga's future.
"Although LaLiga's match attendances – average 27,000 in 2017-18 – trail some way behind Germany's Bundesliga (44,500) and the English Premier League (38,300), in terms of broadcasting revenues, LaLiga has the second highest level of income from TV. In six years, LaLiga more than doubled its broadcasting revenues from EUR 690m in 2011-12 to EUR 1.7 bn in 2016-17," say the authors who also point to a 30% increase in the €4.5 billion domestic TV deal that runs 2019 to 2024.
But perhaps most important for the future is LaLiga's commitment to a digital future. "Equally relevant has been LaLiga's drive for technical reinvention, starting with a more consistent approach to media – signalling and production – around the league's stadiums," say the report authors. "The league has also taken fan engagement to a new level, producing digital content for the current tech-savvy generation, in collaboration with Microsoft."
Under LaLiga president Javier Tebas, the league has grown from less than 40 to more than 400 employees globally.
"The president sees the league not as a purely football institution, but as a pivotal figure in the leisure and entertainment sector," says the report.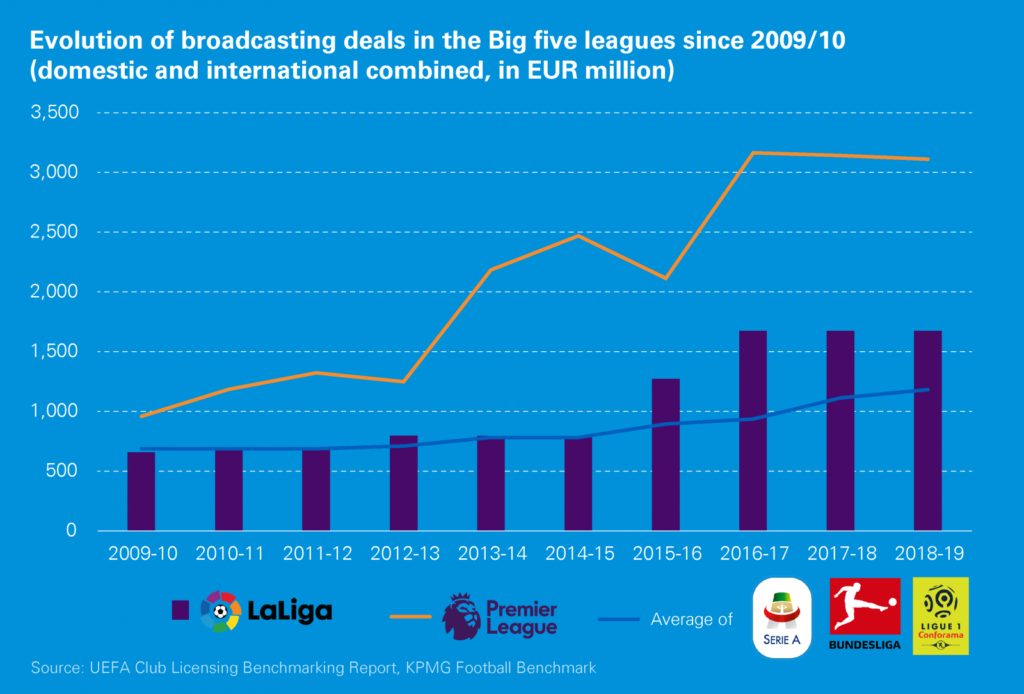 See the full report at https://www.footballbenchmark.com/after_the_party_laliga_prepares_for_life_without_its_principal_stars
Contact the writer of this story at moc.l1581923124labto1581923124ofdlr1581923124owedi1581923124sni@n1581923124osloh1581923124cin.l1581923124uap1581923124