December 18 – Wolves are more likely to win maximum league points if Diogo Jota is in the starting line-up than if he isn't. The same for Chelsea if Ross Barklay and/or Pedro Rodriguez starts.
In Spain Ruben Rochina is the talisman for Levante, Andeas Beck for Stuttgart in the Bundesliga, Christophe Jallet for OGC Nice in France and Goran Pandev for Genoa.
The CIES Football Observatory has looked at data for players whose teams have achieved the most or least points per match when they were in the starting 11 than when this was not the case. "The most positive gap in absolute was recorded for Jallet: 7 wins out of the 7 matches that he started compared to only 0.44 points per match for the remaining games," says the report.
The most negative gaps per league were registered for Massimo Gobbi  (Parma), Gerard Gumbau  (Leganés), Denis Zakaria (Borussia Mönchengladbach), Anthony Knockaert (Brighton & Hove) and Olivier Boscagli  (OGC Nice).
"However, it is useful to remind that these results are in part a random fact," says the report. That will be a relief for Man Utd's Ander Hererra who averages just a point per game, compared to the 1.91 points per game when he isn't in the starting line up.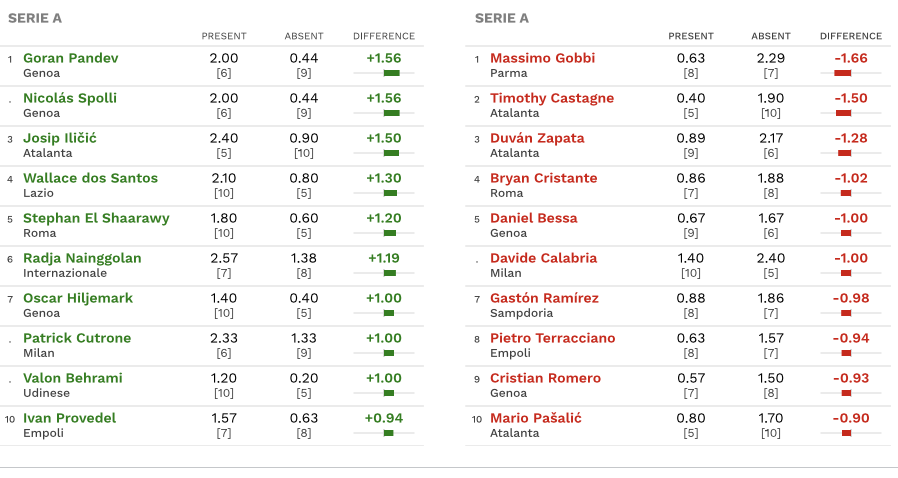 See the full report at http://www.football-observatory.com/IMG/sites/b5wp/2018/244/en/
Contact the writer of this story at moc.l1620324333labto1620324333ofdlr1620324333owedi1620324333sni@n1620324333osloh1620324333cin.l1620324333uap1620324333