February 15 – Europe's big five leagues spent a combined $642.8 million in the January transfer market, a dip of 37.5% on 2018. Italian clubs bucked the downward trend by more than quadrupling their spend, but still laying out less than English clubs. 
The English clubs, unsurprisingly, topped the spending league with $178.2 million, a staggering 65% decrease compared to a record-breaking 2018 winter window, according to the latest report from FIFA's TMS system.
The report notes: "(For) 162 of the 211 FIFA member associations a registration period was open at some point during the month of January. Throughout the world, 3,716 international transfers were completed in January 2019, 9.2% more than in January 2018. Global spending on international transfer fees in January was USD 1.09 billion." This is a 19.4% drop against 2018 figures.
Italian clubs spent $144.6 million compared to just $25.9 million the previous year. AC Milan went big as they acquired the services of Genoa striker Krzysztof Piatek for $39.4 million and Flamengo midfielder Brazilian Lucas Paqueta for about $40 million.
Germany came in third with a spend of $112.5 million, 97% of that sum going on U-21 players or under. Spanish clubs spent $112 million with France totalling $95.4 million. The Spanish clubs splashed out 70% less than last season, but spending in France soared comparatively by 104%.
Overall business in the big five leagues decreased by a steep 37.5% from last year, but FIFA dismissed the notion that clubs have become more conservative, their parsimonious spending a reflection of perhaps a more calibrated long-term budgetary vision.
"Rather than an inversion of the long-term trend, the decrease in spending from January 2018 seems to be a consequence of exceptionally high spending that occurred last year, which was mostly due to the presence of a small number of big transfers," read FIFA's report.
Mexican clubs were the biggest spenders outside the 'Big Five' European leagues with $58.5 million, followed by Saudi Arabia and Turkey, who spent $49.2 million and $34.2 million respectively.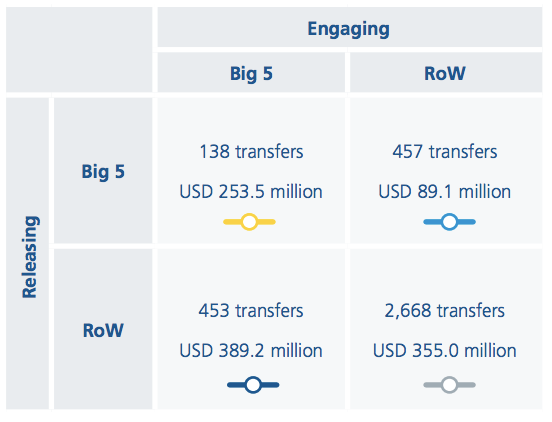 Contact the writer of this story, Samindra Kunti, at moc.l1558478497labto1558478497ofdlr1558478497owedi1558478497sni@o1558478497fni1558478497