April 25 – In the 2017-18 season English Premier League football clubs' revenues reached a new high, but that was offset in the pre-tax profits by increased spending on player wages, according to a report by Deloitte.
The analysis reveals that Premier League clubs have a collective pre-tax profit for the fourth time in the last five years with three clubs Arsenal, Liverpool and Tottenham contributing over 75% of this total. The overall revenues amounted to £4.8 billion In part that revenue rise is attributable to the Premier League having record five representatives in the Champions League, who all progressed to the knockout stages. That European presence led to a £71 million increase from money distributed by UEFA.
Matchday and commercial revenue also grew by 8 and 12 per cent respectively. Pre-tax profit fell from £500m to £400m. "Tottenham Hotspur's relocation to Wembley Stadium and increased commercial activity, including the commencement of their new kit deal with Nike, contributed more than half of the Premier League's matchday revenue growth and almost a quarter of the Premier League's commercial revenue growth respectively, driving the club's record levels of pre-tax profitability," said partner and head of the Sports Business Group at Deloitte Dan Jones.
Clubs' combined wage expenditure increased by £0.4 billion to a record £2.9 billion in 2017/18, with Premier League average wage/revenue ratio rising from 55% to 59%.
"We have seen clubs' wage expenditure increase at a faster rate than revenue growth in 2017-18,' said Jones. "This is the same pattern as observed in the second year of the previous Premier League broadcast rights cycles, as clubs continue to invest in playing talent. Fifty-nine per cent is the lowest wages/revenue ratio outside the first year of a broadcast rights cycle since the 1998-99 season."
Deloitte analysis was based on the latest available financial statements filed at Companies House.
See: Spurs and Liverpool set new standards in second-best season for Premier League profits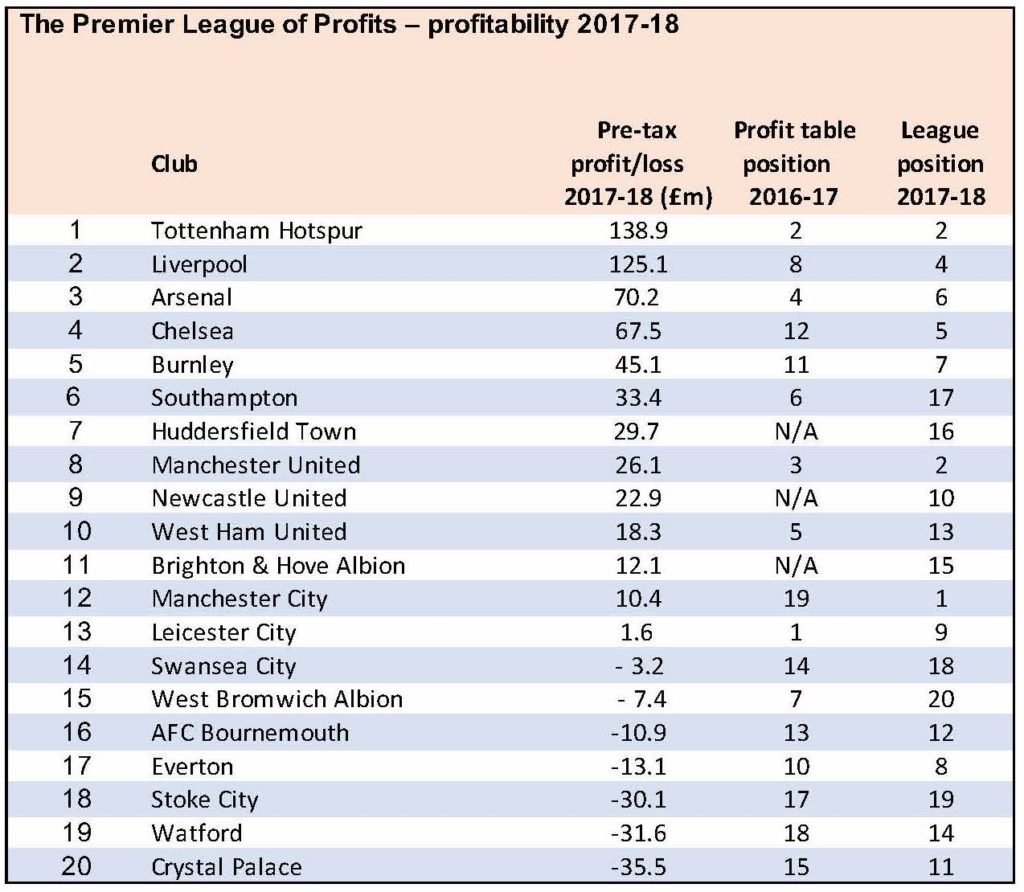 Source: Insideworldfootball
Contact the writer of this story, Samindra Kunti, at moc.l1590513556labto1590513556ofdlr1590513556owedi1590513556sni@o1590513556fni1590513556