By Paul Nicholson
May 1 – Manchester United may have generated £90 million more in revenue than Manchester City in the 2017/18 financial year (£590 million vs £500 million), but City have overtaken their red rivals and are currently worth almost £275 million more as a club.
The club valuation figures come from an analysis of Premier League clubs by the University of Liverpool's Centre for Sports Business. The valuations also show that Spurs are currently worth more £222 million than Liverpool and Chelsea who are valued equally.
Spurs, benefitting from the extra revenue of playing at Wembley, Champions League competition and a wage bill half that of Manchester United, are valued at £1.83 billion against valuations of £1.615 billion for Liverpool and Chelsea.
The two Manchester club valuations both break the £2 billion mark (City: £2.364 billion, Utd: £2.087 billion).
The gap between the top six clubs and the rest of the Premier League in terms of revenue and valuation is significantl "and their dominance of revenue streams is likely to ensure that the gap between themselves and the remaining clubs in the Premier League is maintained," say the report authors.
"The value of Premier League clubs decreased by 1.6% overall to £14.7 billion, with the 'Big Six' (Manchester United and City, Liverpool, Arsenal, Chelsea and Spurs) making up £10.9 billion (74%) of this total (2017: £9.9 billion 67%)…" they say.
"The gap between the bottom club in the 'Big Six' and the next highest valuation is now nearly £1 billion.
The valuations have been made using the Markham Multivariate Model created by Dr Tom Markham, a senior executive for Sports Interactive, creators of Football Manager.
The model takes into consideration revenue, profits, non-recurring costs, average profits on player sales over a three-year period (which ties into how the Premier League calculates profits for Financial Fair Play purposes), net assets, wage control and proportion of seats sold.
The figures are taken from the financial statements sent to Companies House.
It appears a pretty accurate reflection of the marketplace for club share deals.The authors point out that the "only major deal in the Premier League during 2017/18 was in relation to Stan Kroenke acquiring the remaining 30% of the shares in Arsenal that he didn't already possess for £550 million, which valued the club as £1.83 billion. In our 2017 club valuation report we estimated Arsenal to be worth £1.82 billion."
The report highlights smaller falls in the value of some mid-tier clubs due to weaker cost control in a season where revenue in the Premier League increased by £253 million wages rose by £356 million.
Wage control is clearly the biggest challenge for Premier League. "Wages as a proportion of revenue fell to the lowest figure in a decade in 2016/17 when the new broadcast deal commenced but increased in 2017/18 and could easily exceed 60% in the next season."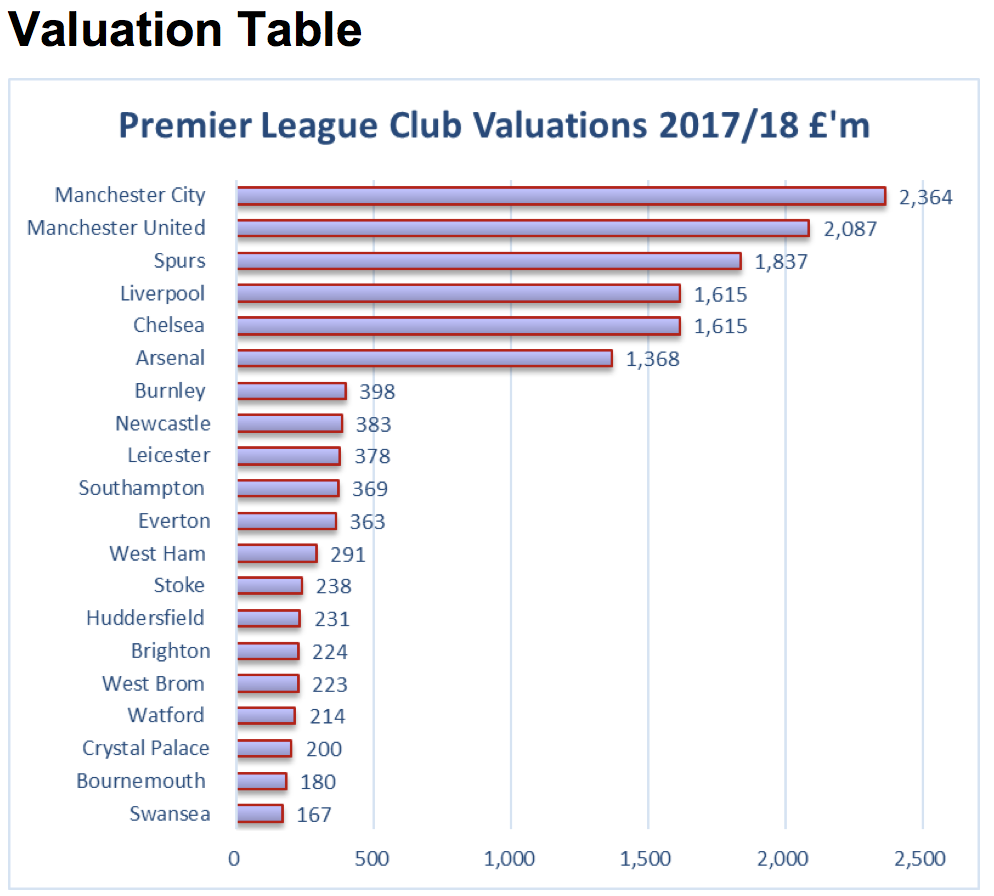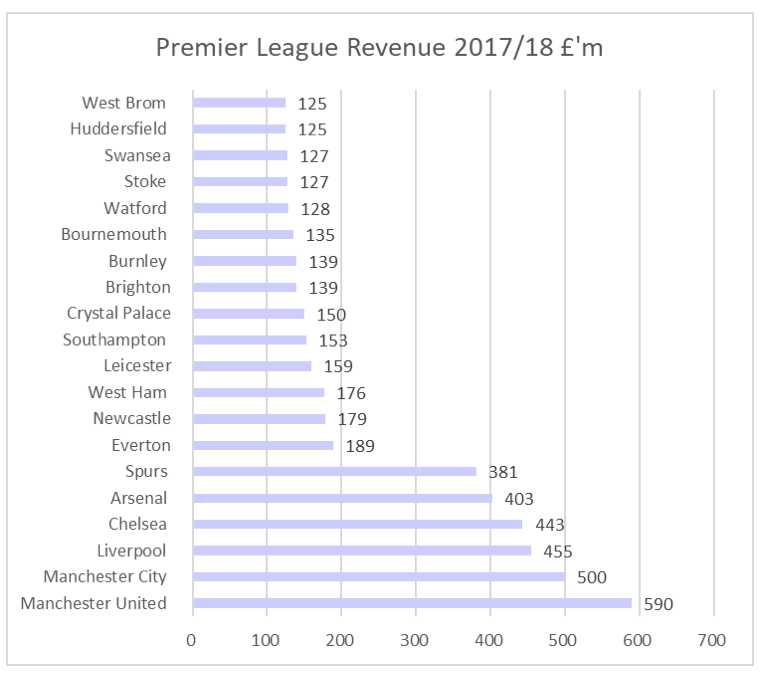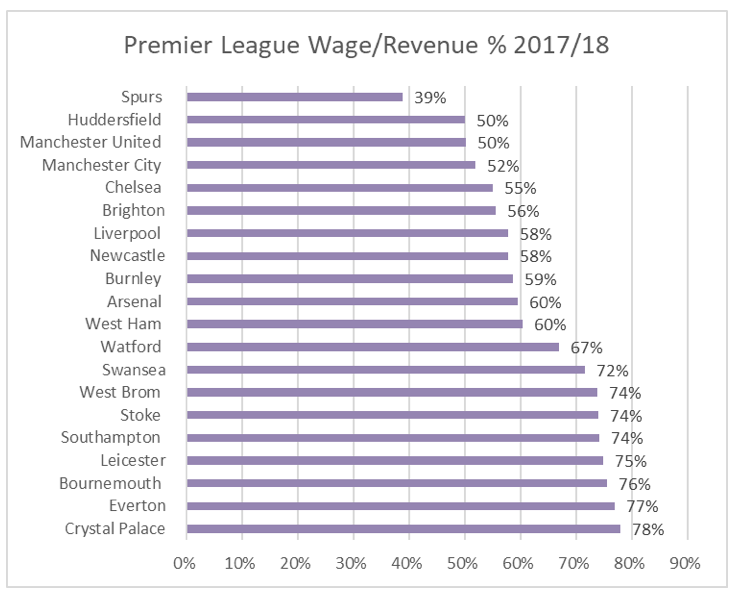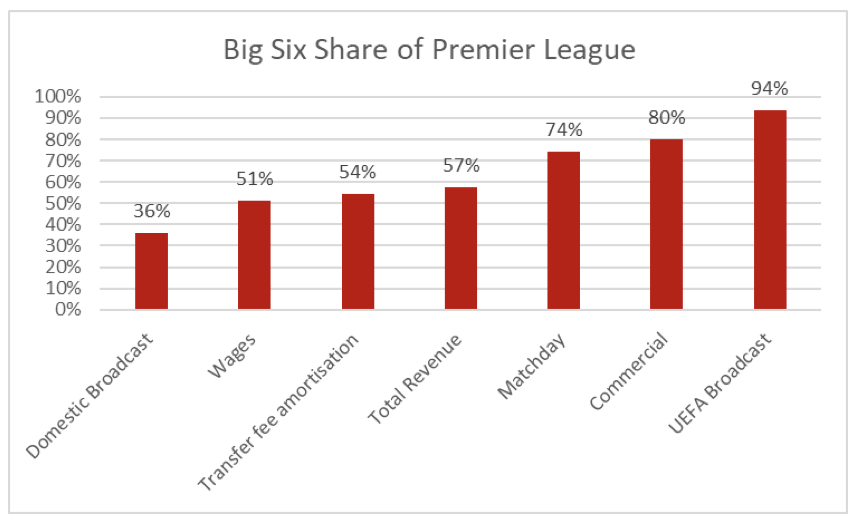 Source: University of Liverpool Centre for Sports Business
Contact the writer of this story at moc.l1590804203labto1590804203ofdlr1590804203owedi1590804203sni@n1590804203osloh1590804203cin.l1590804203uap1590804203