May 24 – Dubbed the £170 million game, the Championship play off for a spot in the English Premier League to be played between Aston Villa and Derby County on Monday is the most lucrative one-off fixture in world football. And it could be worth as much £300 million.
According to analysis from Deloitte's Sports Business Group, the £170 million is a combination of the extra revenue they will earn from playing in the Premier League including an extra £95 million from EPL broadcast and commercial payouts.
If they are relegated after one season they will receive parachute payments in 2020/21 and 2021/22 totalling about £75 million. But if they survive the tricky first season in the Premier League, Deloittes say their revenue figure will rise to at least £300 million.
Dan Jones, partner and head of the Sports Business Group at Deloitte, said: "This year's final sees two clubs, who have both endured play-off defeats in recent years, fighting for a place in the financially-lucrative Premier League… The UEFA Champions League Final may draw the bigger worldwide audience of the two games but with Liverpool and Tottenham already assured of Champions League football next season, and a comparatively small bonus of £6.6m for the winner, the guaranteed financial reward on offer in North London is significantly higher than that in Madrid."
In the last 10 seasons, 19 (63%) of the 30 promoted clubs avoided relegation in their first top-flight season, point out Deloittes. The 2017/18 season was the first in six years where all three of the promoted clubs avoided first-year relegation, but only Wolverhampton Wanderers managed this in the 2018/19 season.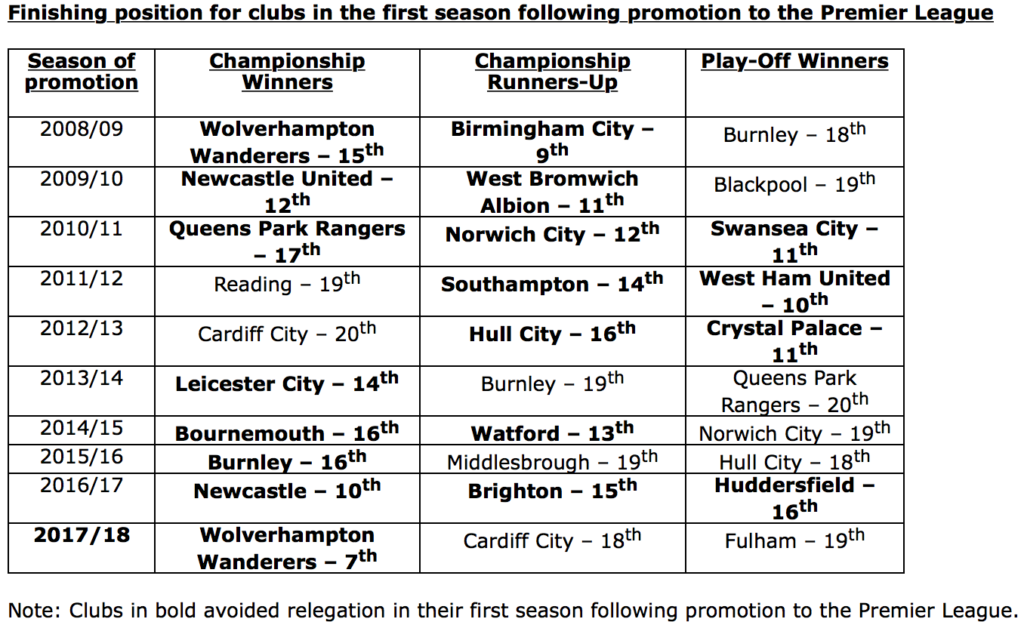 Contact the writer of this story at moc.l1634930285labto1634930285ofdlr1634930285owedi1634930285sni@n1634930285osloh1634930285cin.l1634930285uap1634930285