By Paul Nicholson
May 29 – A new ranking of the value of European clubs on first glance shows few immediate surprise but a deeper look at the numbers shows the stunning growth in value of these football businesses over the past three years in comparison to other industries and Europe's economy in general.
The data, compiled and analysed by the KPMG Football Benchmark team, ranks the 32 leading European football clubs by what KPMG calls their Enterprise Value (EV) as at 1 January 2019.  The numbers since KPMG have started their analysis and benchmarking four years ago have only trended upward.
"For the third consecutive year, the overall EV of the 32 most prominent European football clubs has increased by 9% (35% over the past three years). This growth rate is in contrast with the overall trend of the major European Stock Exchanges, notably the STOXX Europe 50 Index1, showing a year-on-year decrease of -13% (-9% from 2016), and demonstrating the different pace at which the football industry is evolving," said Andrea Sartori, KPMG's Global Head of Sports.
Top of the ranking sees Real Madrid, overtaking last year's ranking leader Manchester United – they are the only two clubs with a value over €3 billion – while Bayern Munich leapfrogged Barcelona to take third place.
While the numbers are huge for the top clubs they also point towards a levelling off of value growth. "Real Madrid jumped above the €3 billion EV level for the first time, however, their current EV is lower than Manchester United's EV was last year, which has decreased by €48 million over the year," say the ranking authors.
The real growth in value has been shown by the clubs lower down the rankings. Champions League finalists Liverpool and Tottenham Hotspur achieved 33% and 33% annual EV growth, but even they paled in comparison to Inter Milan's 41% year-on-year increase.
English clubs dominate with six teams in the top 10 but tail off as the ranking goes down with only another three in the next 22. 27 out of the 32 teams are from Europe's Big 5 leagues.
A notable new entry to the ranking is Celtic in 30th spot. Also notable is Olympique Lyonnais' 150% overall increase over the three years
Football has always been the opium of the people. It has similarly become a drug chased by investors. But they need to be aware of a crash.
Sartori issues a warning regarding the crash danger. "The transition of major clubs into media and entertainment companies, with global brand exposure, also helps create more stable and predictable cash flows and consequently better warranties to investors and financiers. It comes as no surprise, that such remarkable growth has heated the debate concerning the transformation of European clubs' competition structure. However, the stakeholders involved do not necessarily share the same interests and instead have opposing positions that are likely to make future decisions even more challenging," he said.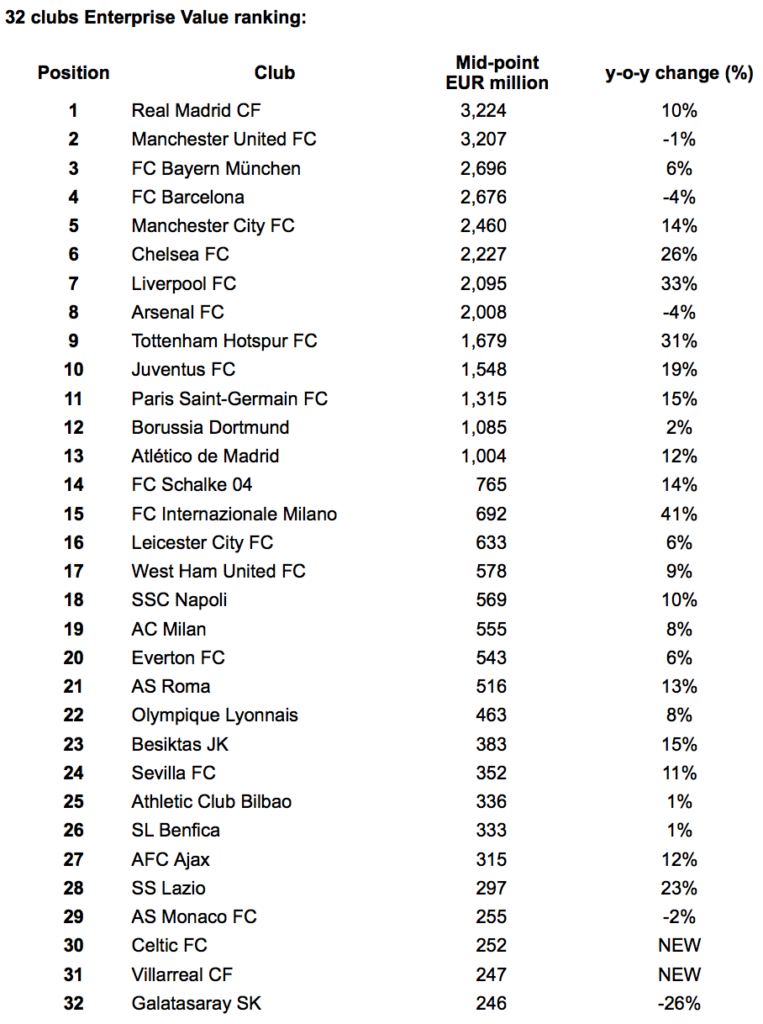 Contact the writer of this story at moc.l1606925823labto1606925823ofdlr1606925823owedi1606925823sni@n1606925823osloh1606925823cin.l1606925823uap1606925823