By Andrew Warshaw in Paris
June 6 – Everything seemed to be running so smoothly for the FIFA administration. A trouble-free election victory for Gianni Infantino, the shortest of Congresses, a first ever women's football convention extolling the sporting virtues of female players and the eagerly anticipated opening of the Women's World Cup.
The last thing FIFA needed was a negative story to spoil all the goodwill and expectation.
But that's exactly what they got as the nightmare scenario of four years ago and those infamous arrests that heralded the FifaGate scandal was rekindled and the whiff of corruption returned.
Of course not as deep as in 2015 but foul smelling nevertheless in an organisation that repeatedly tells its constituents and the rest of the world it is now 'clean' and enough to get collective tongues wagging and deflect attention away from what should have been one of the most triumphant weeks of Infantino's reign.
Before FIFA bigwigs had even finished their breakfast, officers from France's Central Office for Combating Corruption and Financial and Tax Crimes (OCLCIFF) swooped on under-fire African football chief Ahmad Ahmad relating to a contract he had reportedly brokered with French company Tactical Steel.
At the hotel de Berri in a side street off the Champs Elysees where Ahmad, a FIFA vice-president as well as head of the Confederation of African Football, had been staying with the rest of the FIFA Council until being hauled off for questioning by police, there was an eerie quiet in contrast to the lobby banter at other official FIFA hotels across the capital.
Maybe they had all gone off to watch an exhibition game arranged by FIFA. The only sign that something unusual had occurred a few hours earlier was the sight of two security guards standing at the hotel entrance refusing to allow this correspondent even to step inside and inspect the opulent luxury.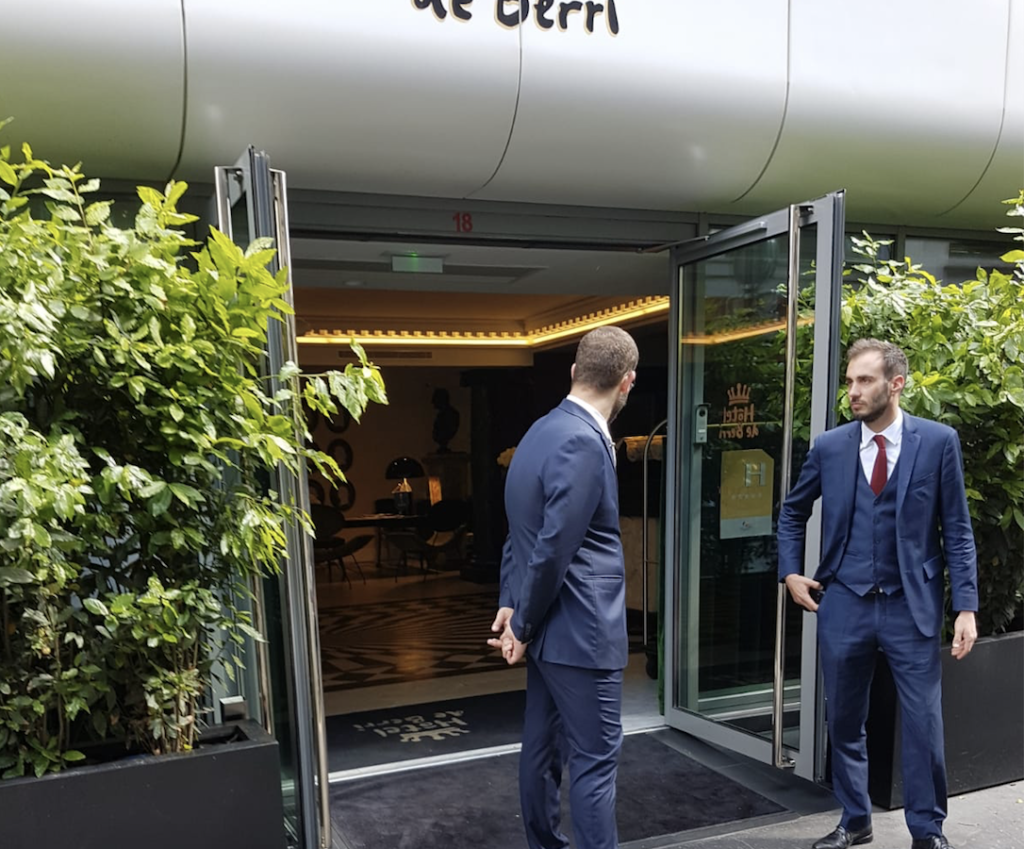 But they knew full well, as we all did, exactly what had happened.
So much for Infantino's tub-thumping rhetoric about "credibility, trust and integrity" when he declared in his presidential address that corruption was a thing of the past that couldn't happen on his watch.
So much for Ahmad's own rallying cry 24 hours beforehand that African football needed cleaning up and he was the man to do it.
So unexpected was his arrest despite a string of damaging financial mismanagement allegations against him and unconfirmed reports that he is already being investigated by FIFA's ethics committee that it took his inner circle and the entire African representation here totally by surprise.
One  Ugandan official who declined to give his name but was attending FIFA's women's football symposium 30 minutes from where Ahmad was arrested, told Insideworldfootball: "If this is true it is terrible.
"It would have been better if he had been arrested in Africa. I have been following the story about Tactical Steel but don't know too much more than what I have read. I only hope and pray he will clear his name. We have to give him the benefit of doubt until he is proved guilty."
South African football chief Danny Jordaan, a member of CAF's executive committee, was equally surprised. "From the information we have, it doesn't look good," Jordaan told Insideworldfootball. "We have to deal with any issue which tarnishes our image. But we will have to wait."
Although no official charges were made against Ahmad, the damage, in a sense, has already been done, further undermining African football after a spate of mistakes and blunders on and off the field during Ahmad's controversial two-year reign – as well as moving corruption back to the top of the media narrative just when FIFA, and Infantino, were at such pains to move on.
At first unable to confirm that Ahmad had been detained, FIFA put out a defensive statement clearly aimed at damage limitation.
The organisation, it insisted, was "clean from the scandals that damaged its reputation" and was "committed to eradicating all forms of wrongdoing at any level in football."
Even though FIFA never comments on ethics processes, the statement then provided the boldest hint so far that Ahmad is being probed.  "FIFA is asking the French authorities for any information that might be relevant to investigations taking place within its Ethics Committee," the statement added.
The timing for Infantino and his new-look management team of course stinks, just when Fifa is at pains to  focus on the women's World Cup and everything positive it represents.
To make matters worse, cringingly at CAF's own regional congress here Tuesday, Ahmad lavished praise on his trusted colleague Infantino who returned the favour.
"I know what's happening at the moment and that there is a certain amount or turbulence," Infantino told African delegates. "But I believe in Africa. Keep your cool, maintain solidarity… and try to find solutions."
That will be a lot harder now.
Contact the writer of this story at [email protected]