July 22 – The changes taking place in the 'disrupted' sports TV market are highlighted in a new analysis that finds that 23% of the world's top leagues and federations now have their own OTT streaming services.
It is a trend that is growing as OTT services target younger age groups and 'cord-cutters' (generally defined as people dropping their pay-TV subscriptions).
It has forced a rights rethink by pay TV operators globally who have become more aggressive in their rights acquisition both in terms of price and content.
One of the knock-on effects for pay broadcasters is being seen through the launch of so-called 'skinny bundles'.
In Europe, Sky has launched sports packages that enable access to the Premier League through Now TV in the UK and the Bundesliga through Sky Ticket in Germany. Consumers can buy access to sports rights for just a day without having to sign up to a larger package.
With the obvious move into OTT by the major broadcasters as supplementary broadcast platforms, the rights market is very much in the process of being re-ordered, though the big live rights fees for the biggest leagues, championships and tournaments look to have a greater security as long as they maintain their market-leading audience advantages.
It is more in the area of the 'fringe' content away from the Live games that clubs and federations are finding their broadcast feet.
"Half of the global top ten football clubs (by revenue), and a third of the top 25, currently offer a paid OTT service. As with the major leagues and federations, club OTT services offer added value rather than live content in the majority of cases, including behind-the-scenes footage and interviews, in order to complement rather than replace lucrative pay-TV rights deals. Many other clubs prefer to offer free content designed to drive higher fan engagement and boost value for sponsors," says the report by broadcast consultancy firm Nagra.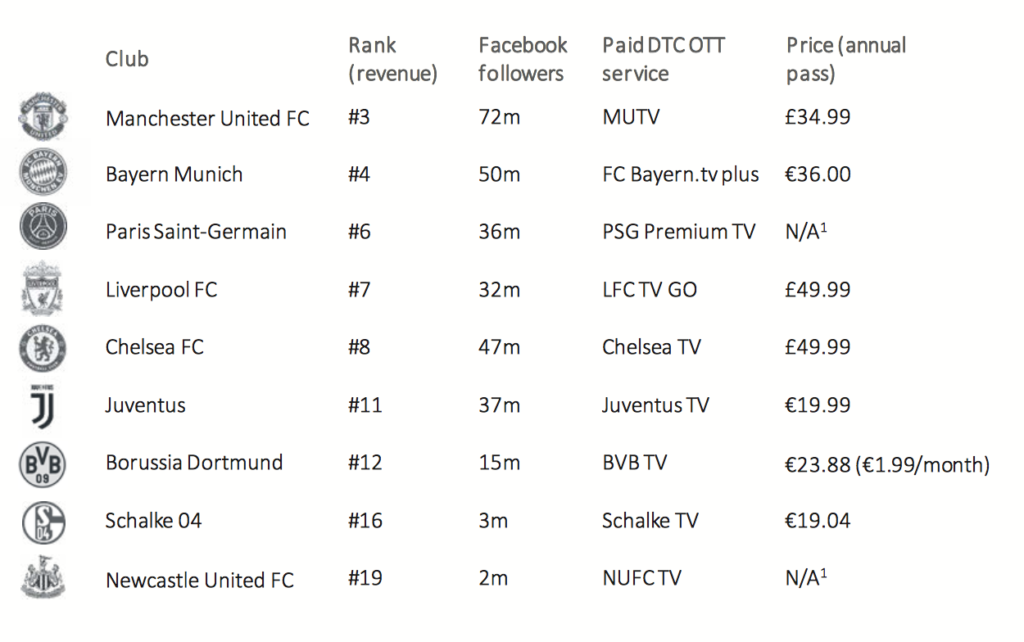 Source: MTM Analysis
Looking at governing bodies and major leagues, the report notes: "Six of the top ten global sports leagues and federations by revenue – notably those in the US market – have launched premium OTT services to drive additional engagement and revenues from their most loyal fans.
"European sports leagues are showing signs of following suit: La Liga has launched a free
OTT service featuring coverage of Spanish sports content (albeit without live La Liga games yet), and UEFA is set to launch an OTT streaming platform later in 2019. The English Premier League, the most valuable sports league outside of the US, is also reportedly exploring the launch of a new OTT service."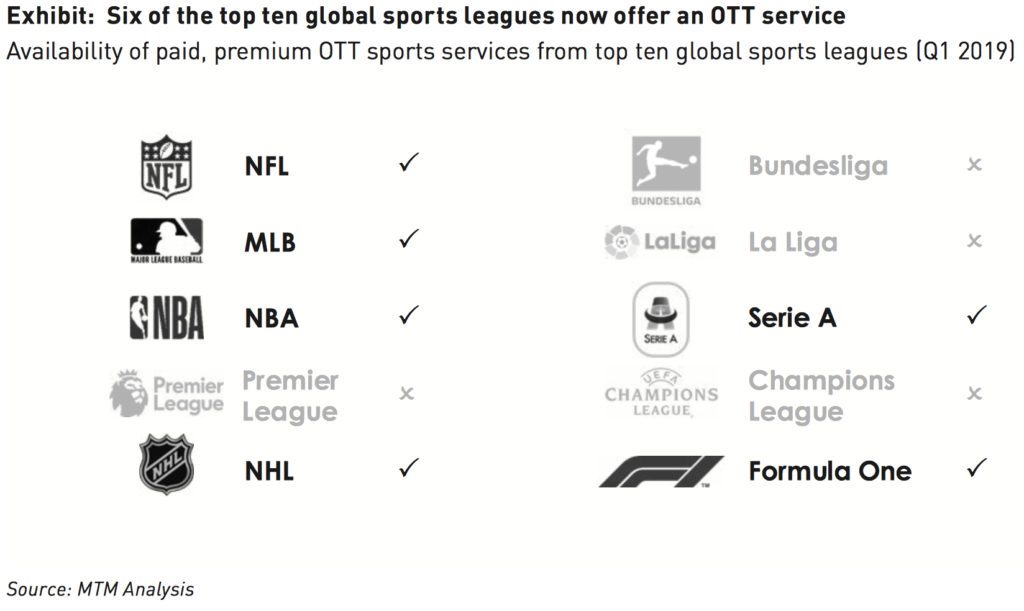 For the full report click here
Contact the writer of this story at moc.l1601204822labto1601204822ofdlr1601204822owedi1601204822sni@n1601204822osloh1601204822cin.l1601204822uap1601204822