July 26 – Everton have unveiled designs for their new £500 million stadium to be built on semi-abandoned dockland in north Liverpool. The clubs the new stadium will deliver a huge economic benefit to the city, regenerating a part of Liverpool.
The Merseyside club want to complete the project at the Bramley‑Moore dock site by 2023. Everton play their current home matches at Goodison Park, a historic venue completed in 1892.
The plans are expected to be submitted for approval before the end of this year after a period of public consultation. If approval is granted in 2020, a three‑year build is envisaged. Everton could move out of Goodison Park in 2023 at the earliest and demolish their old ground which the club intends to use as public space with a variety of community initiatives, rather than sell it off to property developers.
Everton CEO Denise Barrett-Baxendale said the proposed development could be a "game changer" for the club and the city.
"This is an incredibly important milestone for both," said Barrett-Baxendale. "It is first and foremost a stadium for football, for our passionate fans and for our players, a stadium that gives Everton a platform for growth both commercially and socially. But it is also a stadium for the entire city and a development that will deliver transformative benefits in terms of regeneration for the whole region."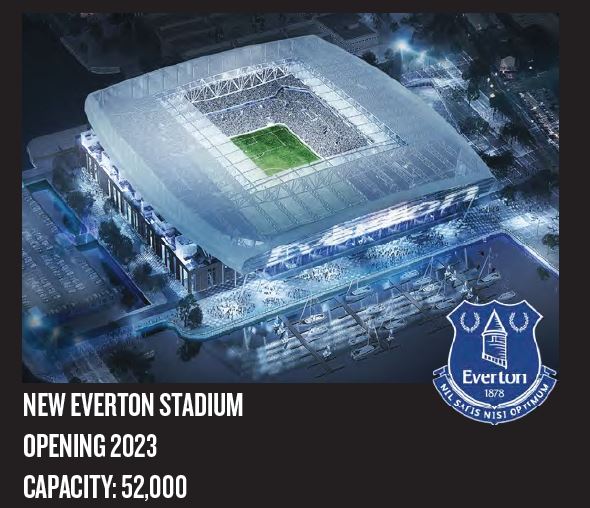 The new 52,000-capacity stadium would have a startling presence on the waterfront and incorporate a steep bank of seats behind one of the goals, modelling itself after Borussia Dortmund's Yellow Wall. The 13,000 seat South Stand aims to boost atmosphere and would be convertible into a safe-standing area, legislation permitting.
Architect Dan Meis was briefed to try and capture the intensity and intimacy of Goodison Park by keeping the distance between stands and pitch as short as possible. The design strikes a balance between the past and the present, incorporating Goodison Park's famous Archibald Leitch lattice work, the historic maritime buildings nearby and a steel and glass finish.
Contact the writer of this story, Samindra Kunti, at moc.l1634803830labto1634803830ofdlr1634803830owedi1634803830sni@t1634803830catno1634803830c1634803830