September 4 – Qatar 2022 World Cup organisers have launched the event's Official Emblem in an unveiling that was timed for 20:22 local time in Doha and projected simultaneously on some of Qatar's most iconic buildings, as well as in a number of major cities around the world.
"The emblem's design embodies the vision of an event that connects and engages the entire world, while also featuring striking elements of local and regional Arab culture and allusions to the beautiful game," said a Qatar 2022 press release.
The Qataris have made modern design concepts a key feature and platform for the 2022 event, nowhere more evident than in their stadium builds that will not only feature state of the art facilities for fans but are striking in their architectural design and contribution to their landscapes.
The official emblem similarly aims to reflect both the country and Arabic culture, as well as embracing a modern football event.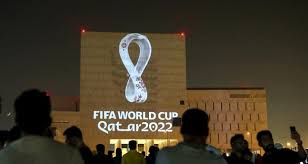 "The swooping curves of the emblem represent the undulations of desert dunes and the unbroken loop depicts both the number eight – a reminder of the eight astonishing stadiums that will host matches – and the infinity symbol, reflecting the interconnected nature of the event. Besides echoing the shape of the iconic FIFA World Cup Trophy, the emblem's central form takes inspiration from a traditional woollen shawl. During winter months, shawls are worn around the world and in the Arab and Gulf region in particular by a variety of people and in various styles," said the press release.
Contact the writer of this story at moc.l1580064312labto1580064312ofdlr1580064312owedi1580064312sni@n1580064312osloh1580064312cin.l1580064312uap1580064312