October 1 – 'Possession is nine-tenths of the law' is perhaps a phrase that can be applied to football. If you have the majority of the ball the stats indicate that you are likely to win.
But sometimes it can go spectacularly wrong as Spurs will attest to, having had 74.8% of possession against Newcastle on August 25, but losing 0-1.
That result is the only one in the top 10 of a ranking by the CIES Football Observatory of possession figures across 35 European championships that showed the team with majority possession losing. Eight of the other top 10 ranked matches saw the teams with the most possession win. There was one draw.
The record figure for current season was measured for Fulham against Millwall on August 21 at 78.7%. Fulham won 4-0.
A look across the Big 5 leagues sees the top sides dominating possession – PSG in France, Dortmund and Leverkusen in Germany, and Barcelona in Spain.
In the Premier League there are more anomalies with both Manchester City and Manchester United recording losses against Norwich and Crystal Palace when they dominated with 69.7% and 67.9% of possession respectively.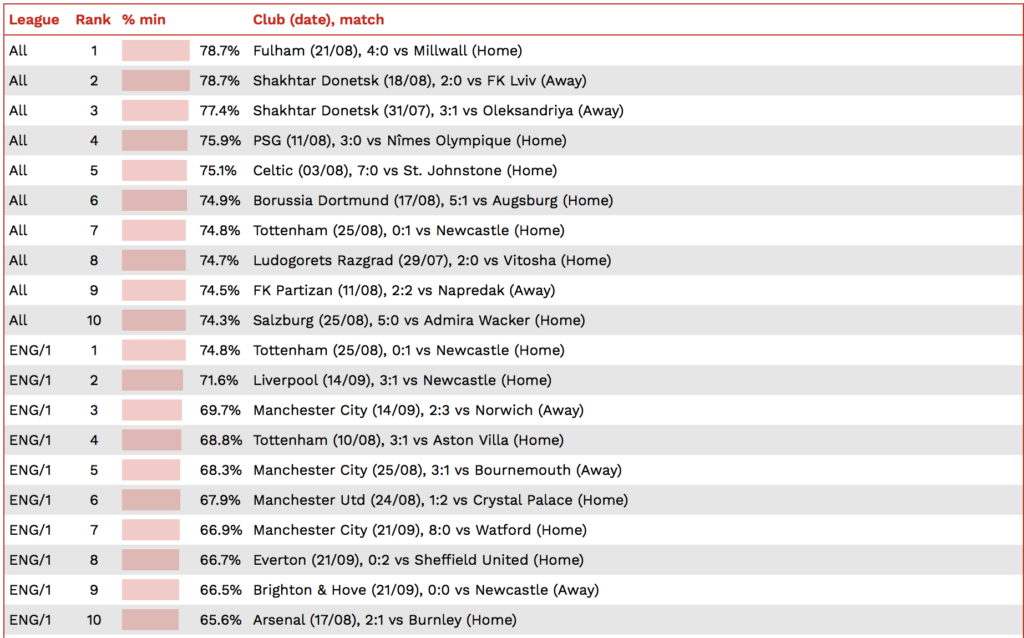 Source: CIES Football Observatory
To see the full stats go to https://football-observatory.com/IMG/sites/b5wp/2019/wp269/en/
Contact the writer of this story at moc.l1611696462labto1611696462ofdlr1611696462owedi1611696462sni@n1611696462osloh1611696462cin.l1611696462uap1611696462