November 7 – Premier League fans are paying 31% more in England to follow their teams and the league than they were in 2014/15 season despite the cost of tickets having risen by just 1% over the same period.
Research by trading platform eToro in association with KPMG Football Benchmark finds that "dedicated fans will spend £1,888 this season, 8% of the average UK take home salary." The report defines a dedicated fan as an adult fan who attends all 19 home games and travels to at least five away games.
In total fans will spend, in total, a whopping £1.3 billion across the country following their teams.
While ticket prices have remained stable the biggest prices changes are the necessary ancillary purchases that fans make – TV subscriptions (up by 40%), merchandise (+21%), home tickets (+14%) and food and beverage (+11%).
Arsenal, who are continually under fire from away supporters over the cost of their tickets, are similarly expensive for home fans, coming up top of the ranking as the most expensive English club to follow at £2,238 per season. However, that cost has risen by just 2.4%, the least of any current Premier League club since 2014/15.
Second in the list are Newcastle United which the report authors say is "largely due to the increase in season ticket and food and beverage prices, leading to a forecasted 4.1% increase in spend year-on-year and a 16.7% increase since 2014. Travel also plays a part. It should come as no surprise that this season Newcastle United fans will travel 68% more miles by train and 65% more miles by car to away matches, than the average Premier League fan."
The cheapest clubs to follow are Aston Villa (at £1,605) and Burnley (£1,641).
In terms of value for money then Manchester City are way ahead of their rivals in 17th place and costing a dedicated fan a projected £1,665 for the 2019-20 season. That is £31 less than Premier League newcomers Sheffield United.
Manchester City fans also got the most entertainment for their money paying £16.90 per goal and £16.30 per point last season.
Andrea Sartori, Global Head of Sports at KPMG said, "The data shows that not all costs have risen equally and that the most significant increases are due to external factors outside of the clubs' control such as travel, TV subscriptions and merchandise. This research also reveals that it is not all doom and gloom for Premier League fans. Initiatives, such as the price cap on away game ticket prices means that the overall cost of tickets has risen only 1% since 2014/15, which is significantly below inflation."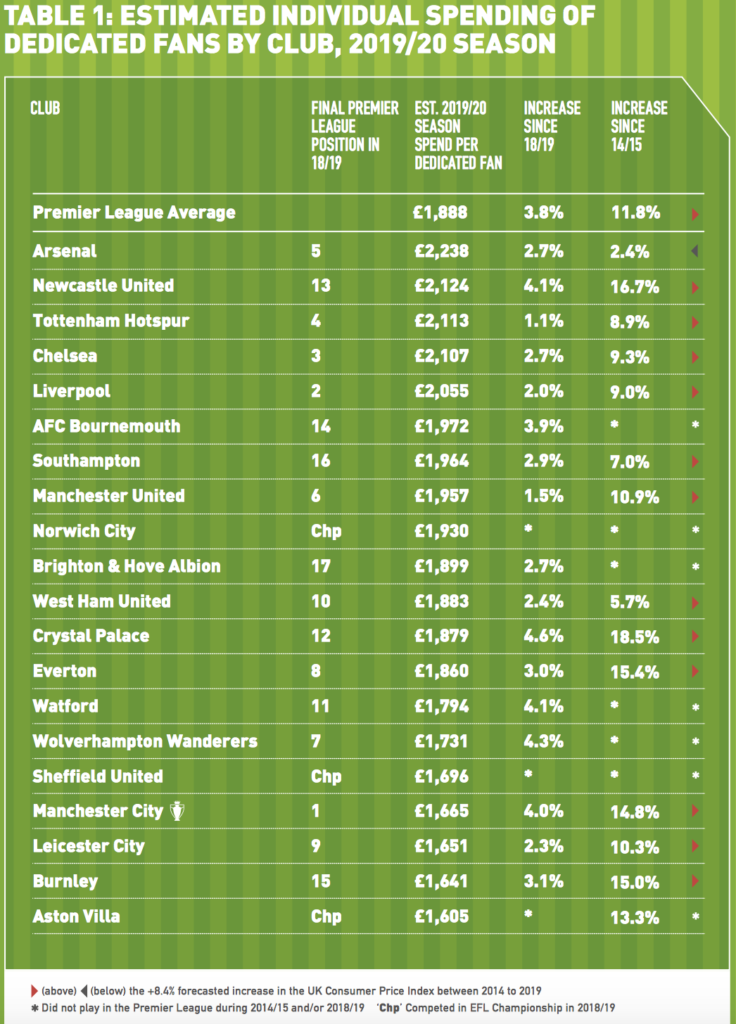 Click on the link to view the full eToro Fan Financial Statement
Contact the writer of this story at moc.l1597317529labto1597317529ofdlr1597317529owedi1597317529sni@n1597317529osloh1597317529cin.l1597317529uap1597317529