By David Owen
January 14 – Barcelona have supplanted bitter rivals Real Madrid at the top of this year's Deloitte Football Money League, heading the ranking of the 20 highest revenue-generating world football clubs for the first time.
The pride of Catalonia achieved revenue of €840.8 million in 2018-19, moving well ahead of Real, with Manchester United, still the best-performing England-based club in revenue terms, in third place. In the process, Lionel Messi's club became the first to break the €800 million barrier.
Deloitte attributed Barcelona's advance largely to the club's decision to bring merchandising and licensing activities in-house. "The club has taken greater control of its merchandising and licensing operations, rather than relying on third parties for these services," the professional services firm said. "This has given the club additional control over how its products are promoted and sold and the ability to report this revenue on a gross, rather than a net, basis."
All told, the top 20 clubs, all of whom play in one of the big five West European leagues, generated combined revenues of €9.3 billion, an increase of 11%.
The exercise, now in its 23rd year, provides only a partial picture of Big Football's financial performance, however. Because it focuses purely on the top-line, it offers insight only into the top clubs' respective revenue-generation power. It tells us nothing about how effectively they use that revenue or control costs.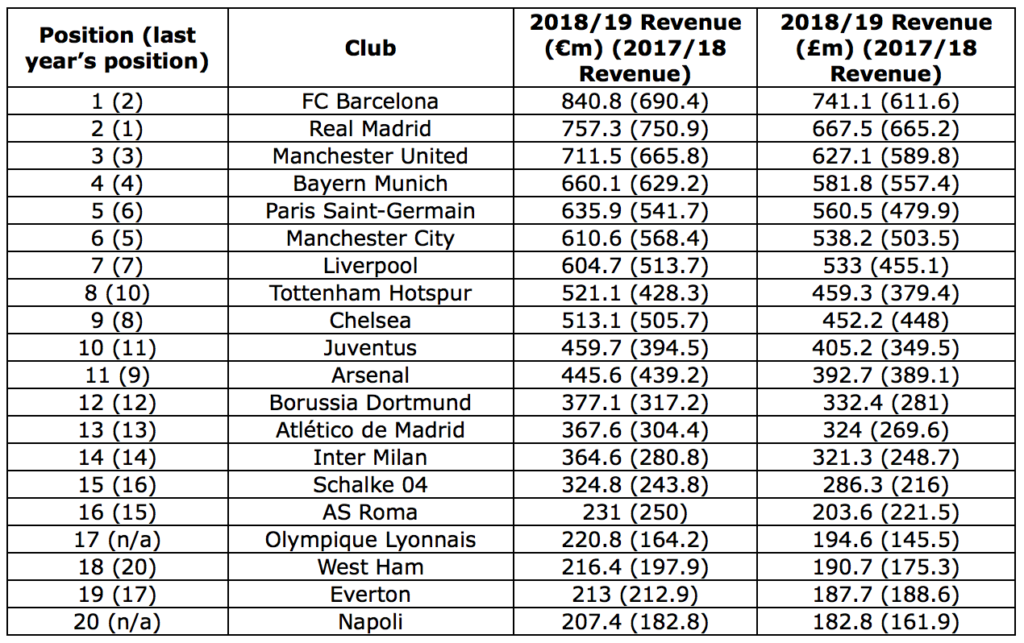 Early 2018-19 results suggest that profitability among Premier League clubs over this period will be significantly lower than in the past two seasons, although a small number, in particular Liverpool, the reigning European and world club champions, are expected to have continued to perform extremely well.
The Reds, holding steady in seventh place, are one of eight English clubs in this year's listing, down from nine a year ago.
Tottenham Hotspur – who, like Liverpool, enjoyed an outstanding year both on and off the pitch last season – have overhauled local rivals Chelsea and Arsenal to take over as London's highest revenue-generating club for the first time since 1996-97. West Ham also make the Top 20 in 18thspot.
French representation in the listing has doubled from one to two, with Olympique Lyonnais one of just two newcomers in this year's ranking. Italy's Napoli also return to the top 20 in the anchor spot. Newcastle and AC Milan are the clubs that make way.
Beyond England and France, Germany supplies three clubs in the ranking, headed by Bayern Munich in fourth place, Italy has four, with Juventus in 10th the highest, and Spain three. Atlético Madrid in 13th place are the only Spanish club beyond the big two at the head of affairs to make the 2018-19 table.
The fluctuating sterling/euro exchange rate has not had too much of a bearing on the new ranking, with the value of a pound said to have been just over €1.13 on average, as against just under €1.13 last time.
Contact the writer of this story at moc.l1590886562labto1590886562ofdlr1590886562owedi1590886562sni@n1590886562ewo.d1590886562ivad1590886562